Evans hits game-winner as Pelicans hand Raptors another home loss
DeMar DeRozan scored 22 points in a losing effort for Toronto on Sunday, as the Raptors dropped a 95-93 decision to the New Orleans Pelicans. The Raptors ended their six-game homestand 2-4, and have lost seven of their last 10 games.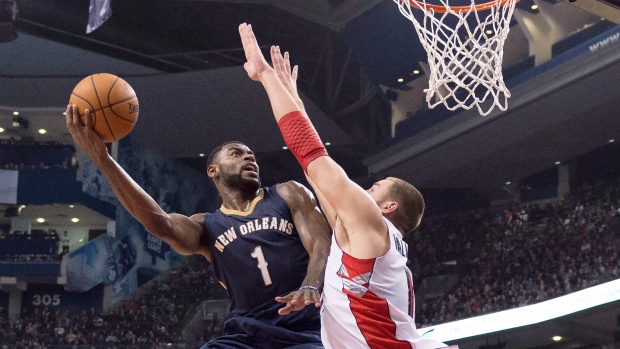 TORONTO - The Toronto Raptors are playing like they have the weight of the world on their shoulders, says coach Dwane Casey.
Mired in their first real slump in recent memory, the Raptors dropped a 95-93 decision to the New Orleans Pelicans on Sunday.
Then they departed the Air Canada Centre with heads hanging, as the six-game homestand they had hoped would turn their fortunes in their favour ended with just two wins.
"We're playing in mud right now," Casey said. "Confidence wise, we have to come out believing that you're going to make a play. . . we have to play with that type of confidence, that type of belief that you can get it done. Somehow, some way, we have to get back to playing basketball and not feeling that weight on our shoulders."
DeMar DeRozan scored 22 points for the Raptors (26-14), who have lost seven of their last nine games, and dropped back-to-back home games for the first time since last March. Greivis Vasquez, who started the second half in place of scoreless Terrence Ross, finished with 16 points, Amir Johnson had 14 points and 10 rebounds, and Patrick Patterson added 10 points.
Tyreke Evans scored 26 points, including the driving layup with two seconds to go that gave New Orleans the win. Alexis Ajinca finished with 22 for the Pelicans (20-20), who were playing without starters Anthony Davis and Jrue Holiday.
"This team actually started to win last year and you guys haven't seen any struggles since we started winning," an emotional Vasquez told reporters in a quiet post-game locker-room. "Everything was heaven, everything was blue, beautiful, clear. Now you're seeing some struggles.
"Every NBA team. . . I remember Atlanta a month and a half ago was struggling, now they're probably the best team in the NBA and good for them, credit to them. We're trying to search our identity back and it's about being humble and hungry."
The Raptors had looked forward to being home after a disappointing six-game road trip out west, but the misery continued at the Air Canada Centre, and Friday's 110-89 rout by the Atlanta Hawks prompted a players-only meeting.
Toronto got off to its worst start of the season Sunday, with season lows for both the first quarter — 14 points — and first half — 36 points. They headed for the locker-room at halftime amid a smattering of boos, something that hasn't been heard at a Raptors game in more than a year.
"Fans have to be patient," Vasquez said. "Discouraged how they boo us. I don't think that's very nice because we are really playing hard for them and representing the city. We want the best and we want to win."
The Raptors finally showed some life in the third, outscoring the Pelicans 35-14 in the frame to take a 71-65 lead into the fourth. They would stretch their advantage to 12 points on a pair of free throws from Williams with 6:39 to play. And then, the Raptors hit the proverbial wall once again, as the Pelicans — missing Davis to a sprained toe and Holiday to a sore right ankle — roared back to take the lead in the final minute.
DeRozan drained two free throws to tie the game with 43 seconds to play, but Evans dribbled down the clock and scored with 1.6 seconds remaining, to the dismay of the ACC crowd, then DeRozan missed on a last-ditch shot at the final buzzer to send the Raptors into Monday's game at Milwaukee having lost two in a row.
The slumping Ross, meanwhile, sat at the end of the Raptors' bench for the entire second half, his final play of the game an air ball on a three-point attempt he chucked up to end the first half.
"We've just got to be there for him the best way we can, help lift him, just like we do everybody else," DeRozan said. "We've all been there, playing in this league, everybody's been there in some type of way. We've just got to help him out the best way we can, and get him back on his feet. Once he gets rolling, it's going to be something he definitely needed when he looks back at it."
Casey said he won't give up on Ross, who hasn't looked anything like the player who tied the franchise record with his 51-point performance last season.
"He's a young man, all young players are going to be up and down, we just have to help him any way we can," Casey said. "Whether it's extra work, if coming out of the lineup is going to help him and his confidence, whatever it takes to get his mojo going. We're playing for something and it is an important time for us to come out of it."
The Raptors were clobbered in the paint 62-34, and beaten on second-chance points 18-9.
The Raptors staggered out to their lowest-scoring first quarter of the season, shooting just 26 per cent from the field and 1-for-8 from three point range. They didn't reach double digits until more than eight minutes into the game, and trailed 21-14 heading into the second quarter.
"Obviously we played against a team that's picked to do well in the East, and doing that without Jrue and AD (Davis) was big for us," said Pelicans coach Monty Williams.
The poor play continued into the second. Evans scored 13 points to lead the way for the Pelicans, who outscored Toronto 29-22 in the quarter and took a 50-36 advantage into halftime.
DeRozan led the way with 13 points in a third quarter that saw Toronto outscore its guests 35-14.