Experienced Team Koe rolls into Sunday's final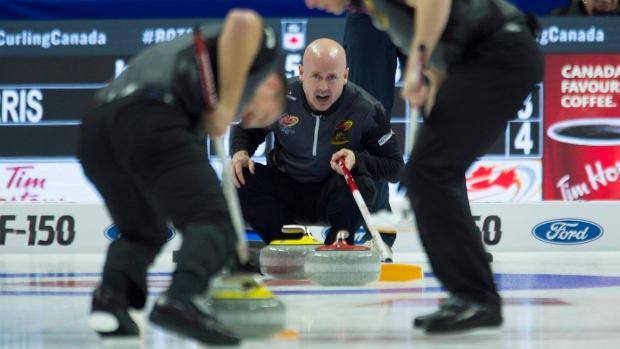 Marc Kennedy has been here before.
Back at the 2009 Olympic trials, as a second for Kevin Martin's squad, Kennedy helped get his team to a round-robin record of 6-1 and an instant ticket to the final as the first-place team. They would win that final, 7-3, over Glenn Howard before capturing Olympic gold in Vancouver.
Now eight years later, Kennedy is in the same position after his Calgary rink clinched a berth in the final with a 7-4 victory over former teammate John Morris Thursday afternoon.
The vice for Kevin Koe says it's hard to compare the two teams, despite lead Ben Hebert being a part of both, but is reassured by the fact he knows what to expect come Sunday night.
"They're two completely different teams. I'm certainly thankful that we've had that experience before because now we know what to expect," Kennedy told TSN.ca. "You know how you're going to feel in that final. It's a hard one to play in. It's hard not to think of what's on the line and just to go out there and play your best. A couple of us have been there before so hopefully [we can] lead through experience and put on a good performance."
Second Brent Laing played in that 2009 final as a member of Howard's rink.
With the victory on Thursday, Team Koe pushed their record to 7-0. The foursome has been rolling all week long, shooting an average of 90 per cent per game.
"Mission accomplished," Kennedy said when asked about getting the semi-final bye.
"Get to the final as quick as possible and not have to battle one of the best teams in the world in the semi-final...that's big. It will give us a couple days of rest to get the body feeling good and to come off a game where we played pretty feel in the last half. So everything is working out for us so far and we're in a good position for Sunday."
Team Koe finish off their round robin schedule Friday night against Brad Gushue and the Brier champs from St. John's. It won't mean anything for them in the standings, but the skipper isn't viewing the contest that way.
"It's still a pretty big game for us. After (Friday) we're still going to have two days off, so it's big for us to come out and play a big game," said Koe. "Just to keep our confidence going and Brad looks like he is playing good and getting better so it will be a good test."
With Saturday being an off-day and the final not until 7pm et on Sunday, is there any worry that the team might lose its concentration or flow?
Not the case, says Kennedy.
"Too be honest I think it's easy. I think we might even take a little bit of a mental break for a day," he said. "It's been a long, hard week. But, we've all been here before. The layoff isn't going to be a bad thing for us. We're getting older, man. We need the break. We want to come out on Sunday night and feel refreshed. I think now we're going to have that opportunity."
This foursome was assembled near the conclusion of the 2013-14 season with the sole intention of winning gold in South Korea in 2018. Together they are one of the most decorated teams in the game, sharing a combined 12 national championships, nine world titles and two Olympic golds.
The 42-year-old Koe has three Brier and two world titles under his belt, but not that coveted medal.
"Whenever I'm done. Whenever I step away, I would obviously have a pretty good career, a few Briers and a couple worlds," said Koe. "I'm not quitting anytime soon, but if we can win on Sunday and go get a medal at the Olympics that would be special."