Fall of Stars, rise of Predators, Canucks, Flames among early-season surprises
Tyler Seguin thought the Dallas Stars could've been a contender. They still might be, but it'll take some work. More than a quarter of the way through the regular season, the Stars are 11th in the competitive Western Conference and five points back of a playoff spot.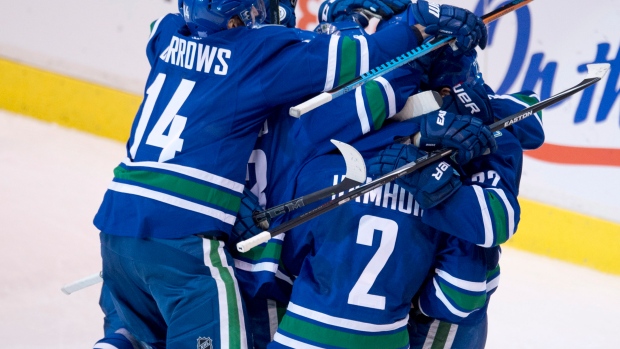 Tyler Seguin thought the Dallas Stars could've been a contender. They still might be, but it'll take some work.
More than a quarter of the way through the regular season, the Stars are 11th in the competitive Western Conference and five points back of a playoff spot. Along with the successes of the Nashville Predators, Vancouver Canucks, Calgary Flames and Montreal Canadiens, the Stars' struggles have been among the biggest surprises in the NHL so far.
"We've lost games we probably should've won," general manager Jim Nill said recently. "But it's that old analogy: When you dig a hole, it takes more dirt to fill it in. We're finding more dirt right now."
Seguin said before training camp that Dallas was ready to contend with the Los Angeles Kings, Chicago Blackhawks and St. Louis Blues, the top teams in the West. A trip to the playoffs last season, even though it ended in the first round at the hands of the Anaheim Ducks, infused plenty of belief in the Stars, and off-season additions of Jason Spezza and Ales Hemsky added to that.
"(Being a contender is) something earned more than just given, and I think we did that last year," Seguin said in September. "But that's one year. We want to be a consistent team."
Consistent, the Stars have not been. Coming into Tuesday night's game at the Toronto Maple Leafs, Dallas is 3-4-1 in its past eight games.
Starting goaltender Kari Lehtonen (.905 save percentage) hasn't played well, and backup Anders Lindback — whose struggles in replacing Ben Bishop for the Tampa Bay Lightning last spring all but handed a first-round victory to the Canadiens — has been worse with a goals-against average of 4.63 and save percentage of .861.
A young, unproven defence hasn't helped, so Nill changed up his blue-line by trading veteran Sergei Gonchar to Montreal for forward Travis Moen and Brenden Dillon to San Jose for Jason Demers. Kevin Connauton was claimed off waivers by the Columbus Blue Jackets, and call-up John Klingberg (three goals and five assists in 10 games) has been better than advertised.
Up front, the Stars are without winger Valeri Nichushkin until March after he had hip surgery. And Hemsky still hasn't panned out with just a goal and five assists in 23 games.
"We've had a lot of guys on our team (who) just haven't clicked," Nill said.
The opposite is true for the Predators, whose 34 points through 23 games were tied for tops in the league pending the Lightning's game Monday night at the New York Rangers. Nashville has gotten superb goaltending from Pekka Rinne, who leads all starters with a 1.82 GAA and .933 save percentage.
"There's no question that psychologically you probably play a little bit different with Pekka in net than we did last year for 51 games that he wasn't there," GM David Poile said. "It's a good difference and it's a big difference and it's one of the huge factors of why we're winning more games than we're losing right now."
Rinne missed much of last season with a hip injury and an infection. He returned for the end of 2013-14 and starred for Finland at the world championships.
Now that he's in a groove again on a winning team, Rinne said, "It's great to be back."
The Predators are back in contention under new coach Peter Laviolette thanks in large part to some new additions. Twenty-year-old Filip Forsberg is Nashville's leading scorer, and his linemates — free-agent signee Mike Ribeiro and trade acquisition James Neal — have produced plenty, as well.
"We believe that we have a good team here and we can compete against any team," Ribeiro said. "Obviously we have one of the top goalies, the defence corps, and if we can play well defensively and be able to score two to three goals, it gives you a chance to win with the goalie that we have."
Goaltending has been crucial to the early success of three Canadian teams: Ryan Miller's Canucks, Jonas Hiller's Flames and Carey Price's Canadiens.
Miller (2.42, .911) has stabilized the position in Vancouver after a few years of drama surrounding Cory Schneider and Roberto Luongo. After shutting out Columbus last week, Miller said he's "still building the right kind of game to play with this team."
So is Hiller, signed to be the Flames' starter after getting pushed out by younger depth in Anaheim. He and Karri Ramo have been excellent in Calgary, and defensive scoring has gotten GM Brad Treliving's team into a playoff spot in the early going.
"Early on it was our goaltender making a bunch of saves and our defence scoring," Treliving said. "We needed more than that to have sustained success. We've got a lot of season. We're encouraged of how we're playing and where we are, but we there's a lot to clean up and a lot to get better in. For me it's encouraging that we're having some success."
Coach Bob Hartley is up there with Laviolette among early Jack Adams Award candidates, but Treliving didn't want to comment on a possible extension. This was supposed to be another rebuilding year for the Flames, which also means they won't be hard-core buyers at the trade deadline, even if this kind of winning continues.
"We're still looking at this as taking a long-term view," Treliving said. We're not going to give up young assets, long-term assets for something that's going to help us for two weeks."
Montreal GM Marc Bergevin has already been making moves, specifically to add depth on defence and free up cap space in 2015-16. In addition to turning two more years of Moen into one of Gonchar, Bergevin sent Rene Bourque and his contract to Anaheim for Bryan Allen and his expiring one.
Second in the Atlantic Division to the Lightning going into Monday's action, the Canadiens have relied on Price (2.34, .922) in a major way.
"Obviously goaltending's been very good," Bergevin said. "Overall I think our compete level's been there most of the year, and when you compete and you have good goaltending, you'll win your share of games."
---
Follow @SWhyno on Twitter