Farber: Kariya has no memory of Game 6, 'it's pretty frightening'
As far as Michael Farber can recall, Paul Kariya has skated just once since formally retiring in 2011. Kariya has been a relative recluse to the hockey world since his retirement in 2011, but on Wednesday night Kariya will tell his side of the story. Watch the TSN Original "Surfacing" on Sportscentre at 6pm et/3pm pt.
Mike Hetherington, TSN.ca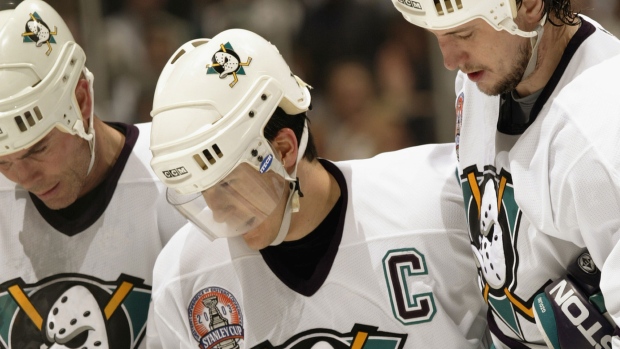 As far as Michael Farber can recall, Paul Kariya has skated just once since formally retiring in 2011.
The 42-year-old has stayed out of the spotlight and remained a relative recluse to the hockey world since a sixth documented concussion essentially ended his hockey career.
Kariya, who scored 402 goals and posted 989 points over his 989 career games, was elected to the Hockey Hall of Fame earlier this year and on Wednesday night, Kariya will tell his side of the story.
In an exclusive interview premiering on SportsCentre at 6pm et/3pm pt and viewable worldwide on TSN.ca, Kariya opens up on his career and the concussions that ended it.
Farber followed Kariya throughout his career and hoped to one day have Kariya open up on his hockey life. The looming Hockey Hall of Fame induction presented the perfect opportunity.
"I have known Paul since 1994, since he played for Canada in the Olympics in Lillehammer," Farber told TSN Radio 1050 Wednesday. "I stayed in touch with him every few months after he retired. At first, he was a little bitter about concussions and concussion protocol and what have you. And, I'd always say 'You know, Paul, I'm going to come out and visit you and bring a camera.' And he said 'No, no, no. Just come out and visit and we'll have dinner.' …We'd talk periodically and after the Hall of Fame (announcement), I called him and I said, 'Well, now you have no choice, I'm bringing a camera.' And he said, 'Yeah, OK, come on.' So that's why he agreed to do the piece.
"He's been reclusive, elusive - he didn't want to be a public figure. He's a private person and he wanted to keep it that way. "
Kariya's Hall of Fame career came to an end after the 2010 season. He'd suffered his sixth concussion - dating back to junior hockey - in 2009 on an elbow to the head from Buffalo Sabres forward Patrick Kaleta.
"It took him a couple of years after he retired for him to fully regain his sense of being himself," Farber said of Kariya's head injury history. "He was angry, but I think he is in a really good place now."
Farber added Kariya took up ballroom dancing to help retrain his brain and still works on brain puzzles to keep his mind in shape.
The most infamous concussion of Kariya's career came in Game 6 of 2003 Stanley Cup Final, when the Anaheim Ducks captain took a blindside headshot from Scott Stevens after dumping the puck into the New Jersey Devils' zone. He spent 48 seconds lying on the ice motionless after hitting the ice.
"So many people remember just that moment because it was so startling," Farber told TSN 1200. "I'm sitting there in the building and I thought he was dead. Honest to goodness, I thought he was dead. Or could have been dead. He didn't breathe, most people in the Honda Center didn't breathe as well because there was that fear."
Kariya eventually took a deep breathe, fogging his visor, and opening his eyes. He left for the dressing room, but returned just minutes later. He went on to score the game's winning goal on a slapshot as the Ducks kept their season alive. Fourteen years later, Kariya told Farber he has no recollection of the game.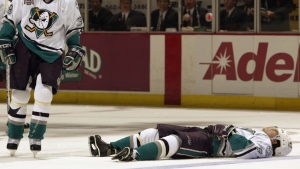 "Speaking to Mike Babcock about it, who was coaching the Ducks then, he said if that had happened now, we wouldn't have seen Paul forever," Farber explained. "Paul went into the dressing room, came back to the bench scored a goal and has no recollection of scoring it and doesn't remember playing in Game 7 back in New Jersey, either.
"It's pretty frightening."
Many believe Kariya's career was never the same after Stevens' hit in the Stanley Cup Final. However, Farber argues Kariya's career – and potentially hockey history - was knocked off its trajectory six years earlier. Farber points back to Kariya's 1997 injury, a result of a cross-check to the face by Gary Suter of Chicago Blackhawks as a key moment in Kariya's promising career.
"So many people default to the Scott Stevens hit in '03. But if you go back to what happened with Sutor just prior to the (1998 Nagano Olympic Games)… I thought Kariya might have been the best player in the world at that time. Just a dashing player, 24 years old, spectacular.
"If you look back at a time when there were really good left wingers in the game, and that includes (Brendan) Shanahan, and (Keith) Tkachuk, and John LeClair and Luc Robitaille – Kariya was better. Kariya was a five-time All-Star, three-time First Team, Second Team twice. He was spectacular.
"I believe if Paul Kariya had been able to play in Nagano, I suspect not only would he have been the best story, because he came from a Japanese background, but he might have lifted Canada past Dominik Hasek and the Czechs in the semifinals and really re-written modern hockey history. He was that good and I don't think he was ever that good again."
Farber notes Kariya has begun to make some public appearances over the past year, in the Ducks locker room during the playoffs, and at a Maine University event this month, but he will not become the face of concussions in the public eye.
"You're not going to see him dropping the puck everywhere; you're not going to see him as the spokesman for concussions," Farber said. "Paul doesn't want to be that person. He's very happy in his own skin and I'm sure hockey will be very happy to see him in Toronto at Hall of Fame weekend in November."
Farber believes the Hall of Fame ceremony will be shining moment for the reserved Kariya, who will enter alongside long-time teammate Teemu Selanne.
"For the first time since he retired, he will be skating with gear," Farber said of the November weekend. "I think he's skated once, with his niece, and that's the only time he's skated since he formally retired in 2011."