Flames acquire Elliott from Blues for pick
The Calgary Flames have acquired goalie Brian Elliott from the St. Louis Blues for the 35th overall pick in the 2016 Draft and a conditional third round pick in 2018.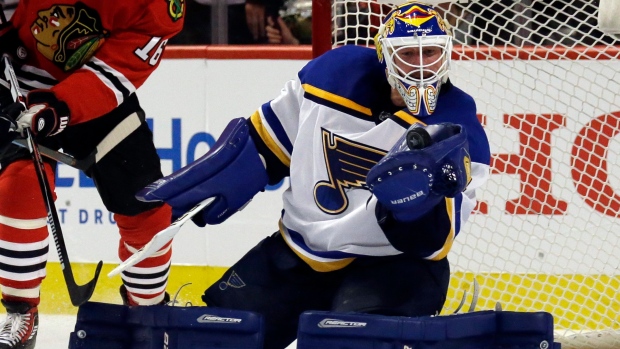 BUFFALO, N.Y. — The Calgary Flames needed a fix for their troubled goaltending ranks and believe they landed one such solution.
The Flames acquired Brian Elliott from the St. Louis Blues during the first round of the NHL draft on Friday night. Elliott boasted a .930 save percentage for the Blues last season and holds the second-best save percentage (.925) of any goaltender over the past five seasons.
"We really like Brian," said Flames general manager Brad Treliving. "You really dig into the numbers, this guy's been one of the best goaltenders in the league for the last number of years."
Elliott becomes the unquestioned Flames No. 1 goaltender after battling with Jake Allen for opportunity in St. Louis this past season. Allen started 44 games to 38 for Elliott, though it was Elliott who started 18-of-20 games for the Blues in the post-season, posting a .921 save percentage.
The Flames, meanwhile, bounced between four goaltenders during the regular season, none of whom performed near adequate enough. Karri Ramo led the bunch with a less than scintillating .909 save percentage in 37 starts.
Calgary entered the draft with 10 picks, dealing the 35th overall selection to the Blues along with a conditional third-round pick in 2018 for Elliott.
Treliving said the information he gathered on his new goaltender was all positive.
Former teammates described him as a relentless worker who would drive the pace of practice and a beloved personality in the dressing room.
Treliving wouldn't rule out an extension for the 31-year-old, who has one year remaining on a three-year contract that carries a $2.5 million US cap hit.
"He is loved by people that he plays with and we think that's a really important thing," Treliving said.
"I felt when you look at the combination of the player, the person, the acquisition cost, the contract, we thought it was a smart move for us."