Flames ask judge to dismiss NHL referee's lawsuit
Application comes two months after Don Henderson filed a $10.25-million lawsuit, alleging he is still suffering the effects of being hit from behind by Calgary defenceman Dennis Wideman during an NHL game.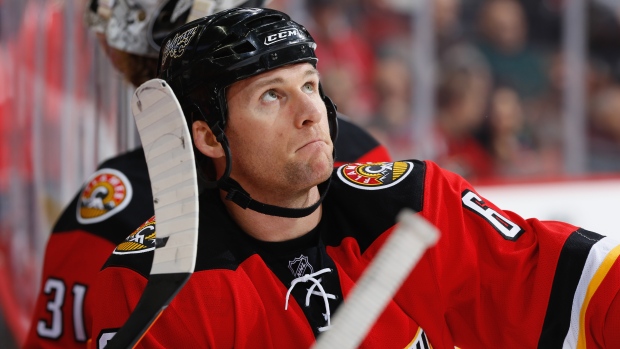 The Calgary Flames have asked a judge to dismiss a lawsuit filed by NHL referee Don Henderson against defenceman Dennis Wideman and the team.
In an application filed June 26 in Calgary court and obtained by CTV News reporter Chris Epp, the Flames said NHL commissioner Gary Bettman believes the dispute should be resolved in arbitration, as stated in the terms of the league's constitution.
The application comes two months after Henderson filed a $10.25-million lawsuit, alleging he is still suffering the effects of being hit from behind by Wideman during a Jan. 27, 2016, NHL game between the Flames and Nashville Predators.
In a June 21 affidavit, Flames chief operating officer John Bean testified that the NHL's constitution dictates the protocol to follow when there are disputes related to on-ice incidents.
"Don Henderson was employed with the NHL and was bound by terms of the constitution," Bean wrote in his affidavit.
"All claims against the defendants as described in the statement of claim fall under the full and exclusive authority of the Commissioner as set out in the NHL Constitution," he wrote. "In addition, the Commissioner has determined that all claims arising from the statement of claim are appropriate for arbitration. The arbitration clause is not null and void, inoperative or incapable of being performed. The statement of claim should be stayed permanently in favour of arbitration."
According to his lawsuit, Henderson suffered injuries to his head, neck back, shoulder, and right knee. He also allegedly suffered a concussion, pain, numbness and tingling in his right arm and hand, shock anxiety and depression, headaches and permanent and partial disability.
Henderson seeks general damages of $200,000, special damages to pay for housekeeping, yard work and hospital expenses of $50,000, and damages for loss of income and future loss of income of $10 million.
None of the allegations have been proven in court.
Wideman was suspended by the league for 20 games after he hit Henderson, the second-longest suspension in league history for abusing an official.
The NHL said in a video explaining the discipline that Wideman was diagnosed with a concussion after that game, but that his being disoriented was no excuse for "the nature and severity of the offence he committed on the ice."
After an independent arbitrator reduced Wideman's suspension to 10 games, the NHL went to court in New York in an attempt to vacate the arbitrator's decision. The league lost that court battle on March 15. Wideman is set to become an unrestricted free agent on July 1.
The government of Alberta is also listed as a plaintiff in the case.
According to the statement of claim, the government has asked the court to order Wideman and the Flames to cover the cost of in-patient and out-patient services provided in a hospital, dental surgery services, optometric services, chiropractic services, services provided by a podiatrist, mental health services, drug services, or any goods or services provided by a health service.