Flames' Russell is not a shutdown defenceman
Calgary Flames blueliner Kris Russell is going to get paid this off-season, but paying him like a top defensive defenceman would be a huge mistake, Travis Yost writes.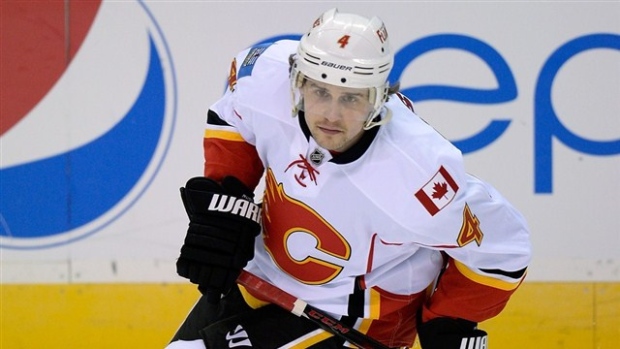 Not to sound like the ultimate company man, but I thought Bob McKenzie's trade primer piece was an excellent read.
I was fascinated by one point in particular regarding Calgary Flames defenceman Kris Russell. Among other things, McKenzie noted that it was more than within the realm of possibility that Russell could be staring down the barrel of a five-year, $5-million AAV deal. McKenzie noted that this sort of deal would be similar to what players like Edmonton's Andrej Sekera, Minnesota's Jared Spurgeon, and Montreal's Jeff Petry received in their respective deals.
I genuinely do believe that Russell is going to be paid this off-season, be it from Calgary or another team in the market for what they perceive to be a shutdown defenceman.
I just think it's a waste of money.
The perception of Russell as a lockdown defender is a textbook example of ignoring how hockey has evolved. There is little doubt in my mind that players cut from Russell's cloth had very real value in the yesteryear of hockey, where having a fearless shot blocker and general physical presence on the blueline was a necessity.
But the game has changed. True shutdown defensive defencemen are few and far between around the league, and they have generally stuck around because they are absolutely dominant specimens in the defensive zone. I think Chicago's Niklas Hjalmarsson is probably the best example – a guy who might chip in offensively from time to time, but whose real value comes from stifling presence in the home plate area of the defensive zone.
Far too often, general managers still see players like Russell and think Hjalmarsson. I think there's a massive distinction between the two. Types like Hjalmarsson bleed next to nothing in terms of shots against or scoring chances against, and consequently, they're rarely scored on. Types like Russell spend every waking shift in the defensive zone, having to block an endless supply of shots against because they can never breakout and flip the pressure onto their opposition.
I think everyone would agree that Hjalmarsson is a defensive defenceman of the highest order. I think everyone would agree that some of Russell's contract comparables – from Sekera, to Spurgeon, to Petry – are all over the map as it pertains to their defensive prowess. And I think everyone would agree that the take on Russell is that most of his perceived value is in the defensive zone. (After all, he's been out-scored by Scott Hannan over the last three years.)
At the very least, one would assume that Russell would show as a better defender than some of the above guys, particularly since some of the above guys also have established themselves a bit more in the offensive zone.
But is that the case?
I pulled the last three years of defensive zone data – scoring chances allowed, shots allowed, and goals allowed (bubble size) – for the purposes of analyzing these five defenders. Does anything stand out about Russell?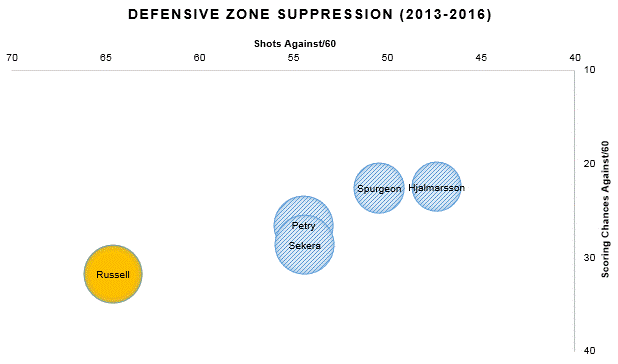 Relative to these four players – three contract comparables, and our gold standard defensive defenceman – Russell is an absolute sieve in his team's zone. He bleeds shots and scoring chances against, and his goals-against average is decimal points from being dead last (Petry just inches him out here).
What I think is manifesting here is that Russell's skill of shot-blocking isn't so much a skill as it is a necessity. Since he's always in the defensive third of the ice, he frequently has to block shots. Perhaps in some instances a single shot block will lead to a scoring chance turned aside and a breakout for his team. But in other instances, that shot block only acts as a stopgap of sorts – the opposition corralling the puck and, once again, firing a shot in on the net Russell is defending.
Ultimately, this is where I think Russell gets himself into trouble. For years now in Calgary he's won the hearts of fans as being the type of player who will lay it all on the line, and that's a great mentality to have. The problem is he's never really established himself as anything more than a shot-blocking presence who can pick up the occasional helper. His two bona fides – blocking shots and, generally, playing a physical brand of hockey – don't seem to help his game much in the defensive zone.
You're left to ask one question: What exactly does he bring to your team, and how does that translate into bunches of wins in the standings? I don't have a good answer to that question. I doubt many do.
Can Russell play for my team? On a third-pairing in a well-defined role, almost certainly. Can he play for my team on a $25-million contract that almost guarantees he'll be seeing top-four minutes? No. Not even close.
The Takeaway
Kris Russell's going to be billing himself as a shutdown defender who can chip in a bit offensively. I'm suspicious he's effective in any way at mitigating defensive zone damage, since he's been drastically out-played by alleged lesser players in the defensive zone, many of whom have played in similarly tough situations.