Fleury rolls on as Penguins beat Lightning
Marc-Andre Fleury stopped 28 shots in his fifth straight win, leading the Pittsburgh Penguins to a 6-2 victory over the Tampa Bay Lightning on Sunday. Fleury, who has not lost in regulation since allowing six goals to the Minnesota on Nov. 25, is 7-0-1 in his last eight decisions.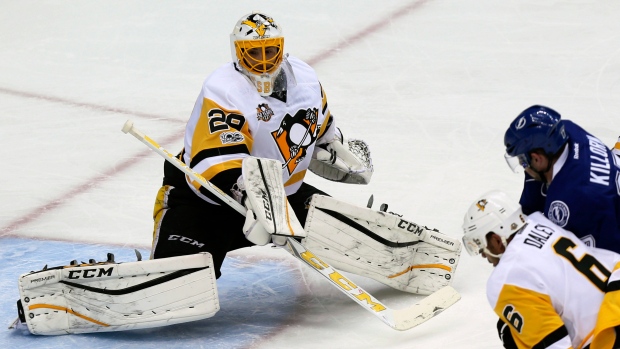 PITTSBURGH — The Pittsburgh Penguins were rested after a week off since their last game, while the Tampa Bay Lightning were playing for the third time in four days.
It showed.
Marc-Andre Fleury stopped 28 shots in his fifth straight win, leading the Penguins to a 6-2 victory over the Lightning on Sunday.
Fleury, who has not lost in regulation since allowing six goals to the Minnesota on Nov. 25, is 7-0-1 in his last eight decisions.
Connor Sheary had a goal and an assist, and Eric Fehr, Chris Kunitz, Scott Wilson, Phil Kessel and Kris Letang also scored for the Penguins. Sidney Crosby and Matt Cullen each two assists to help Pittsburgh win its fifth straight.
Pittsburgh, which hadn't played since defeating the Montreal Canadiens 4-3 in overtime on Dec. 31, continues to surge at home, where it improved to 18-2-2. The Penguins haven't lost in regulation at home since a 5-2 defeat to the New York Rangers on Nov. 21.
"I think our team enjoys playing in front of our fans," Penguins coach Mike Sullivan said. "I know they give us a boost, but it's not like we draw up a game plan for home and a game plan for away. We're trying to play the same game."
Jonathan Drouin and Vladislav Namestnikov scored for the Lightning, and Andrei Vasilevskiy made 31 saves in his third start in four days. Tampa Bay lost its fourth straight.
Tampa Bay has allowed 22 goals on its four-game losing streak. The Lightning surrendered six goals Sunday for the third time on the streak, but Drouin felt their effort improved over their 4-2 loss to the Philadelphia Flyers on Saturday.
"I thought we started well," Drouin said. "We're moving, skating, taking shots. They did the same thing. That's a good team. Definitely, the result sucks, but we played pretty well in the first."
Lighting coach Jon Cooper agreed, but also thought fatigue plagued Tampa Bay.
"Obviously, we're playing a really good team that had a long break. They have the bodies healthy," Cooper said. "And we're a tired group. When you're tired, you're bound to make a couple of mistakes. We did what we wanted to do. We got a lead and unfortunately, we broke down on the first (Penguins goal) and then the self-inflicted wounds started."
Drouin put the Lightning up 1-0 at 2:19 of the second period. Victor Hedman shot off Valterri Filppula in front of Fleury, and the puck slid to Drouin in the right circle and he one-timed a wrist shot past the outstretched goalie for his 12th of the season.
The Penguins then scored the next four goals to take control.
Sheary got Pittsburgh started with the tying score 4:25 later with his 10th. It came on a tap-in after a shot from Bryan Rust slid through Vasilevskiy's five-hole and Sheary pounced on the rebound before the goalie could recover.
Fehr put the Penguins ahead for good with 8:46 remaining in the opening period, one-timing a pass from Cullen past Vasilevskiy's blocker for his fifth.
Kunitz extended the lead to 3-1 at 2:33 of the third period with his 164th goal with Pittsburgh, tying him with Ron Francis for 10th on the Penguins' all-time list.
"I'm happy every time I score a goal," Kunitz said. "It's nice to contribute. You want to make sure you're in the right areas and finding the puck. It's come close to me in a couple of games. I want to get more pucks to the net and be around the net to find tips."
Wilson made it a three-goal lead just 55 seconds later.
Namestnikov pulled the Lightning to 4-2 with a power-play goal at 5:40.
However, Kessel restored the Penguins' three-goal lead at 7:50 and Letang closed the scoring with 2:40 left.
NOTES: Penguins G Matt Murray continues to recover from a lower-body injury sustained against Carolina on Dec. 28. He has started skating on his own, but has not rejoined the team for practice. ... Lightning F J.T. Brown did not play Sunday after being hit in the head by Philadelphia F Wayne Simmonds on Saturday. ... Pittsburgh F Evgeni Malkin remains one goal from tying Rick Kehoe for fifth place on the team's all-time goal scoring list with 312. ... Tampa Bay recalled F Michael Bournival and F Erik Condra from AHL Syracuse on Sunday.
UP NEXT
Lightning: Host Buffalo on Thursday night.
Penguins: At Washington on Wednesday night.