Free Agent Frenzy winners and losers
Historically, the opening of unrestricted free agency brings with it a furious run of bad contract signings, but that wasn't the case on July 1. Travis Yost checks in with winners and losers from the first day of NHL free agency.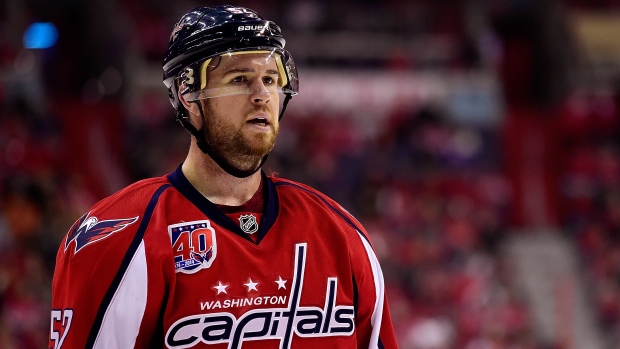 Historically, the opening of unrestricted free agency brings with it a furious run of bad contract signings. In fact, it's berthed the tradition of writing buyer/buyer beware articles prior to day one. There are many valuable contributors to be signed through unrestricted free agency each summer, but that pool of talent is often filled with landmines. And, for myriad reasons, it seems those landmines often command some of the bigger contracts.
This year was quite different. Not only were some of the perennially underrated/undervalued players signed to contracts on day one, but many of the potential 'red flag' players signed contracts that didn't far exceed their true value. It's hard to say if the league, collectively, has just grown sharper about the process or if this is simply an outlier year. But for the first time in a long time, the truly bad contracts were few and far between.
That said, there were still a few teams that tended to the poles – a handful of organizations who really made strides on Canada Day, offset by another handful of organizations whose moves (or lack thereof) graded out far less impressive.
Winners
Detroit Red Wings: Perhaps my estimates were a tad askew, but I figured Mike Green would command significantly more than the 3-year, $6-million AAV contract he signed with the Red Wings on Wednesday. Green's taken a bit of a beating over the years for alleged defensive flaws, but his offensive impact is still pretty considerable. Even if you isolate on the last three years of his play (which strips out some of his best performing years), he's still the eighth-best scoring defenseman. And his ScoringChance% has always been mint – save for that ridiculous Adam Oates year, Green's been a pretty positive contributor year over year.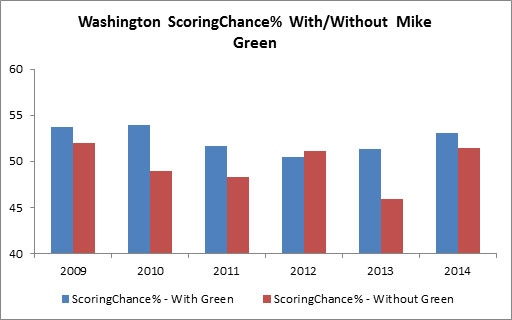 Tampa Bay Lightning: When you are a Stanley Cup contender, your roster is generally filled with talent across the board. Roster improvements usually need to occur at the margins – your bottom-six forwards, your third-pairing defensemen, and the like. So, perhaps we shouldn't be surprised that the Bolts locked down arguably the league's best fourth-line forward in Erik Condra, and at an unbelievable price of 3-years, $1.25MM AAV. We have talked about Erik Condra in the past, but it bears repeating. His career Corsi% (53.1%) is identical to skaters the talent of Nicklas Backstrom, David Backes, and Jakub Voracek. His career goals against per 60 (team relative) is second to ... not a single player in the National Hockey League. His contracts are regularly kept low because he's a very weak individual shooter, but there's no doubt about the kind of positive impact he has on his teammates.
Pittsburgh Penguins: The mega-trade that saw Phil Kessel ending in Pittsburgh was a decisive victory for the Penguins. Kessel, of course, is one of the league's premier goal scorers – his per-60 rates are better than guys like John Tavares, Patrick Kane, and perhaps his new linemate, Sidney Crosby. Having that kind of individual shooting talent in Pittsburgh can obviously spread some of the scoring burden off of the shoulders of Crosby and Evgeni Malkin, but it should also positively impact Phil Kessel individually. The concerns about Phil Kessel's defensive game are real, but he no longer has to fight uphill playing alongside a third-line center. The change from Bozak to Crosby (or Malkin!), on both ends of the ice, will be massive. And that might be underselling it. (Oh, and they didn't have to give up Derrick Pouliot or Olli Maatta.)
Washington Capitals: Late in the night of day one, the Washington Capitals and Justin Williams came to terms on a two-year deal. Any time you can get a very productive top-six forward on a two-year deal, it's a win. Doubly so if that forward is Justin Williams, whose underlying numbers are as good as any other forward in the analytics era. From Williams' perspective – well, there's a very real possibility he gets to play the twilight of his career with one or both of Alexander Ovechkin and Nicklas Backstrom.
Losers
Colorado Avalanche: I'm not going to kill the Colorado Avalanche here, because (a) they did address something of a need, and (b) it's likely they were looking for something of a stopgap until they can really address the issues on the back-end. Still, three-years for 35-year old Francois Beauchemin is a bit much. Beauchemin was playing second-fiddle towards the end of his run in Anaheim behind some really good and talented young defensemen, but his play was slipping too – he ran off consecutive seasons in Anaheim where his possession and scoring chances were under water relative to team averages, and his individual scoring has predictably regressed from some of the gaudy 30/40-point seasons he was posting during the prime of his career. Beauchemin's still going to get the job done on the defensive end, but you wonder if the aging curve is going to grow exceedingly harsh over the next few seasons.
Boston Bruins: Matt Beleskey didn't get the major contract many were anticipating – his squeezing of Anaheim on a 4-year, $16MM offer only led to one more year and a few more million from the Boston Bruins on the open market. Still, that's a five-year commitment to a player with enough red flags to give any hockey executive pause. I think Beleskey's a fine skater in a third-line role, but that's precisely the problem – if he's just going to end up a third-liner (and my wager that last year was more of a blip, less of a 'sign of things to come'), then Boston's going to lose this deal regardless of what our expectations were of the player going forward. Also, I am still speechless about how the team lost Dougie Hamilton.
St Louis Blues: This one still feels a bit 'to be determined', but for a team with Stanley Cup aspirations, you would have liked to see a bit more aggression either in free agency or via the trade market. The team's rightly allocated much of its interest in getting Vladimir Tarasenko's next contract figured out, but this is still a team – much like the Tampa Bay Lightning – who could have answered some of their depth questions. Instead, the only thing that really happened was an extension of Jori Lehtera and letting veteran defenseman Barret Jackman walk the way of Nashville. We'll see what the coming weeks hold for Doug Armstrong and company.
Christian Ehrhoff: I know, it's a player, and I'm deviating from the theme a touch. But it's hard not to feel for Christian Ehrhoff as he toils away in unrestricted free agency, just a couple of years removed from being one of the league's better puck-moving defenders. Recall that Ehrhoff – after a mega-buyout from the Buffalo Sabres – signed an unbelievably team-friendly deal with the Pittsburgh Penguins. An injury plagued season saw his run end there, and now he's looking for another contract. Ehrhoff's still a very effective player at 5-on-5, and even at the age of 32, there are likely a couple of more years left in the tank. And yet, it certainly seems as if the market's considerably chilled on him.