Gallant: Fleury will be Vegas' No. 1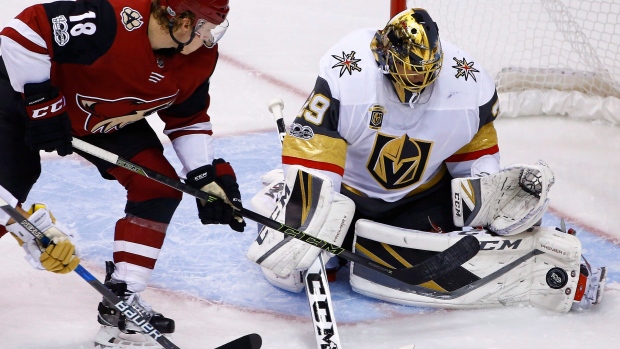 Marc-Andre Fleury is expected to make his first start since Oct. 13 on Tuesday against the Carolina Hurricanes.
Despite a two-month layoff due to a concussion, Golden Knights head coach Gerard Gallant said the team is expecting the 33-year-old to serve as their starter moving forward.
"Fleury's been our No. 1 man, and that's the plan and we're going to see how things go," Gallant told the Las Vegas Review-Journal on Monday. "He hasn't played in two months, so there's going to be a part of the schedule where Fleury plays some important games and he's probably going to play more games than the plan was earlier on in the year. Plans change every day."
In total, Fleury missed 25 games after starting the season 3-1 with the expansion team. He owns a .925 save percentage on the year with a 2.48 goals-against average.
Malcolm Subban, who replaced Fleury in October before he was injured, has served as the team's No. 1 since returning on Nov. 24, posting a 5-2 record. On the season, Subban owns a 7-2 record with a .924 save percentage and a 2.33 goals-against average.