Game of Throws: Rodgers overcomes injury to deliver another incredible comeback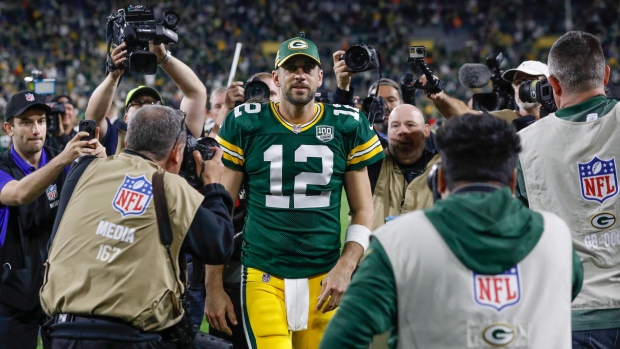 The Green Bay Packers signed star quarterback Aaron Rodgers to the highest guaranteed contract in NFL history this summer.
On Sunday Night Football, Rodgers proved once again why he deserves every penny of the $103-million deal.
It wasn't without a moment of panic.
Packers' fans held their collective breath when the two-time MVP was carted off the field after getting sacked in the second quarter.
Since 2008, Green Bay is 95-48 with Rodgers in the lineup. They are 6-11-1 without him.
DeShone Kizer's pick-six to Khalil Mack, who was absolutely dominant in his Chicago Bears debut, put the Packers down 17-0. No NFL quarterback has thrown more interceptions than the 23 Kizer has thrown since the start of last season.
I can imagine the dread football fans in Wisconsin felt watching Mack rumble to the end zone. Even after Rodgers returned following halftime, there was only a cautious sense of optimism at best since the full extent of his injury wasn't clear.
Then, it happened.
Staring down a 20-0 deficit, Rodgers went to work. He completed 16 of his next 19 pass attempts despite a noticeable limp. His 39-yard strike to Geronimo Allison in the back of the end zone gave the Lambeau Field faithful hope. His 12-yard touchdown pass to Davante Adams sent them in to an absolute frenzy.
I remember looking over at our NFL analyst Jabari Greer following the Allison score and asking, "The Packers are winning this game, aren't they?" All he could do is laugh. It wasn't likely, but we both knew it was possible.
When Green Bay got the ball back with 2:39 left on the clock, it seemed like the entire SportsCentre newsroom was just waiting for what happened next.
Even for the league's best passer, coming back from down 20 points in a half while struggling to put weight on one leg doesn't happen without a couple of fortunate breaks. So when Bears cornerback Kyle Fuller dropped what could have been a game-ending interception on the first play of the Packers final drive, Rodgers was granted the second chance he needed.
Two plays later, Rodgers found Randall Cobb with a short pass over the middle. Cobb turned and ran 64 yards to the house for a 75-yard go-ahead touchdown with 2:13 left on the clock.
The numbers Rodgers put up in the second half were outstanding. He went 17-of-23 for 273 yards and three touchdowns to match the largest comeback win of his NFL career. The fact that he did it without being able to put pressure on his left knee makes it that much more incredible.
It's the type of performance that separates Rodgers from his peers.
While Rodgers' brilliance will be lauded, he and the Packers could learn a valuable lesson from the success they had following his injury. His limited mobility forced Green Bay to rely a lot more on underneath routes, which in turn allowed Rodgers to get the ball out of his hands a lot quicker without taking any more hits.
That quick-strike offence resulted in one completion after another, and the Packers moved the football with ease. Rodgers wasn't sacked in the second half. The success of the short-to-intermediate passing game resulted in the Bears secondary pressing a little more. That left them a bit more vulnerable when Rodgers eventually decided to take a deep shot.
Considering how effectively Green Bay moved the football despite Rodgers' injury, it makes sense they consider maintaining a similar approach moving forward this season, even if he is healthy.
Head coach Mike McCarthy hasn't confirmed Rodgers status for Week 2, but did make the point that his star quarterback wants to play the Minnesota Vikings in an important NFC North showdown. The Packers will need him if they are going to have a chance against their division rival. No individual player is more important to the success of his team than Rodgers. That said, there are a number of key injuries that will have significant impacts looking forward to Week 2.
No team has been hit harder by injuries than the Tennessee Titans. Pro bowl tight end Delanie Walker will miss the rest of the season after he suffered a broken ankle and ligament damage. Quarterback Marcus Mariota's status is in doubt because of an elbow injury that sidelined him in Week 1. Finally, left tackle Taylor Lewan is under concussion protocol.
Expectations were high for Tennessee following last year's Wild Card appearance. Now they will have to overcome three significant injuries with games against the Houston Texans, Jacksonville Jaguars and Philadelphia Eagles to close out the first quarter of the season. All of a sudden the Titans are staring down the very real prospect of going 0-4 to open the year.
The Jacksonville Jaguars likely will have running back Leonard Fournette in the lineup against the New England Patriots on Sunday. However, Fournette won't be 100 per cent as he deals with a hamstring injury suffered in Week 1. T.J. Yeldon averaged 3.6 yards per carry after he took over for Fournette in Sunday's win over the New York Giants. He is a capable No. 2 option. However, if Fournette is hobbled and Yeldon is forced in to a heavy workload, it won't help the Jaguars chances to earn a measure of redemption following last year's AFC Championship game loss.
Finally, the Seattle Seahawks are expected to be without wide receiver Doug Baldwin for at least a couple of weeks because of a knee injury. Baldwin had already missed a month of training camp because of an injury to his left knee before he suffered a reported partial tear of his right MCL on Sunday. Seattle is already thin at wide receiver, so Baldwin's absence will make a bad situation worse. Tyler Lockett and Brandon Marshall combined for six catches and 105 yards in the Seahawks opener. Those two will be leaned on even more against the Bears on Monday Night Football.