Gibbons on board with Jays' chase of Sabathia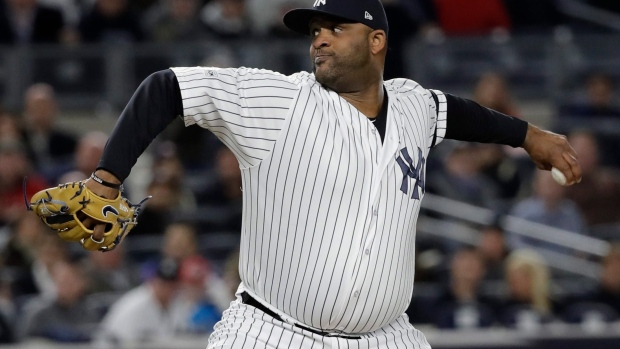 LAKE BUENA VISTA, Fla. — Since arriving at the Winter Meetings on Sunday, Toronto Blue Jays decision-makers have talked about adding to every single area of the roster.
The outfield is a clear priority. More middle infield depth, too.
On the pitching side, every GM in baseball is looking for arms, and that includes Ross Atkins, who quietly tried to woo 37-year-old lefty CC Sabathia on Tuesday in a suite at the Walt Disney World Swan and Dolphin resort.
John Gibbons claimed he wasn't at the recruitment meeting, but the Blue Jays manager was clearly excited about the possibility of Sabathia moving AL East locations.
"I love him," Gibbons said of the chunky southpaw with a career ERA of 3.70. "I've always liked him. He's coming off a big year, yeah. And he's available."
While Atkins scours the trade market for controllable bats that would fit the long-term plan, the search for arms seems to be about depth, bargains, and the ability to eat innings.
Sabathia, who most expect to return to the back end of the New York Yankees' rotation, could be an interesting short-term option for the Blue Jays, and his addition would help on a couple of fronts.
First of all, it would provide insurance for Aaron Sanchez and his ongoing blister issues.
But if Sanchez is all systems go in April, Sabathia would then likely bump Joe Biagini back to the bullpen, immediately upgrading the setup situation in front of Roberto Osuna.
Finally through the massive contract he originally signed in the Bronx in December 2008, Sabathia is now a much different pitcher and far from the menacing ace he was in his prime with the Yanks and Cleveland Indians, where he formed a bond with now-Blue Jays president Mark Shapiro.
That relationship could be key.
"I think he would talk about the impact Mark has had on him in his career and how much he trusts Mark Shapiro," said Atkins, who wouldn't confirm nor deny the Sabathia interest but had no problem chatting casually about the big lefty. "That's unusual. It's unusual for players to form bonds with executives to the extent that it becomes mentorship and leadership, beyond just respect and trust."
Contrary to his Indians days, Sabathia no longer blows hitters away, instead getting by on the unquantifiable veteran savvy, mixing pitches, and changing speeds.
"He's a workhorse, man," Gibbons said. "He's always pitched well against us. One of the great competitors in the game for a number of years. I thought he looked strong last year. He had that knee issue and some things that kind of hampered him, the hammy I think it was.
"I thought he looked really, really good last year. He's got that good breaking ball and he's a big, strong guy."
As Gibbons noted, Sabathia is also no sure thing health-wise, as he battled knee and hamstring problems last season, throwing just 148.2 innings on the year.
He hasn't eclipsed 200 innings since 2013, but the results when he has taken the mound over the past two seasons have been encouraging, registering a 3.91 ERA in 2016, following by a 3.69 mark last season.
In the AL East, that's more than acceptable.
Even better if you're a fifth starter, which Sabathia would arguably be behind Sanchez, Marcus Stroman, J.A. Happ and Marco Estrada in Gibbons' ideal rotation.
There's definitely a whole lot of volatility to stomach with that group of five, but it wouldn't be a stretch to say it would be among the top 10 rotations in baseball if everything breaks right.
"Leadership and big-game ability," Atkins said of what Sabathia can bring to a rotation at this stage of his career. "Big-game pitching. He's not going to back down from any challenge. Strike thrower. (He's pitched on) the biggest stages. He's proven that he's still more than effective."
Another added benefit of a Sabathia chase is his obvious knowledge and comfort level within the AL East.
He owns a sub-4.00 ERA in every AL East bandbox other than Fenway Park, where he's pitched to a 4.84-career ERA.
MLB Trade Rumors pegged a potential Sabathia deal at two years for $24 million, but many believe he may have to settle for a one-year pact.
The Rule 5 Draft wraps up the Winter Meetings on Thursday morning, and one of these days there's going to be a flurry of activity after so much groundwork was laid in Orlando.
"I think a lot of things will happen for a lot of teams, not just us, in the next week," Atkins said.