Gibson stops 50 shots as Ducks beat Panthers
John Gibson stopped 50 shots and the Anaheim Ducks held on to beat the Florida Panthers 3-2 on Sunday night for their first winning streak in three weeks.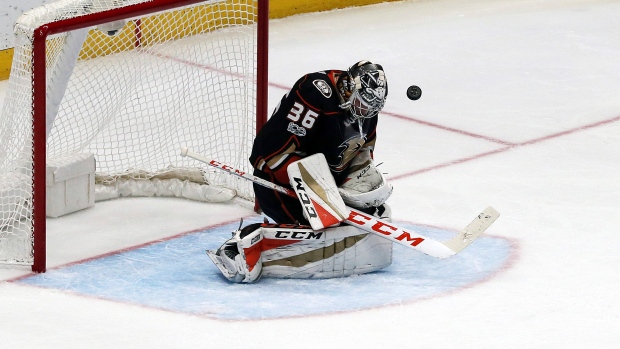 ANAHEIM, Calif. — Of all the ways to win a hockey game, this wasn't Anaheim's favourite.
John Gibson stopped 50 shots and the Ducks held on to beat the Florida Panthers 3-2 for their first winning streak in three weeks. The Ducks were outshot 52-28, but Gibson was able to make goals from Josh Manson, Rickard Rakell and Brandon Montour stand.
"He saved our butts," Ducks coach Randy Carlyle said.
Gibson was one save shy of tying his own franchise record, which he shares with Jonas Hiller.
"We got a stellar performance from our goaltender, simple as that," Carlyle said.
Florida fell to a disappointing 7-11-2, with only 16 points in 20 games.
"Same story, different night," Panthers coach Bob Boughner said. "We threw everything we had at them."
Anaheim had not won consecutive games since Oct. 28 and 29.
After the Ducks took a 2-0 lead, Florida — shut out Saturday by the Kings — finally snapped its scoreless streak in the second period on a power play. Vincent Trocheck's wrist shot went top shelf for his ninth goal.
That was all the offence the Panthers could manage despite their barrage on Gibson until Keith Yandle scored with a slap shot 17:01 into the third period to make it 3-2.
Gibson did the rest, if not exactly by Anaheim's design.
"We didn't have a very good outing from a standpoint of managing the puck," Carlyle said. "To tax our goaltender to the level we did tonight is unfair to him."
Gibson shrugged it all off.
"You don't have a choice," Gibson said. "When you come into the game and you might get 10, you might get 50. You have to be ready to play the game."
Gibson was put under additional stress because the Panthers had six power plays, though they cashed in on just one.
"We're running into hot goalies," Yandle said. "We're getting opportunities. It comes down to a couple of bounces. I thought our effort was great and we played hard, but it's never fun losing."
The Ducks took a 2-0 lead after Manson opened the scoring late in the first period when he stole the puck from Jonathan Huberdeau near centre ice and broke free on a breakaway.
Manson faked Roberto Luongo into committing right and slipped the puck by his other side for his second goal of the season.
"I didn't really know what to do, to tell you the truth," Manson said. "I just blacked out and it worked out."
Anaheim went up 2-0 on Rakell's power-play goal in the second period. Montour's power-play goal in the third gave Anaheim its 3-1 lead. It was his sixth, a career high.
"We were starving for offence the first 10 games," Carlyle said. "Our power play was pop-gun offence, it really wasn't a power play. It wasn't enough."
NOTES: The Ducks held a pregame ceremony to honour Teemu Selanne and Paul Kariya, who were inducted into the Hockey Hall of Fame last week. They were presented with gold pucks, and Ducks owner Henry Samueli called them the franchise's "first two true superstars." ... Florida D Aaron Ekblad matched a career high with nine shots on goal. ... Anaheim F Corey Perry had two assists, giving him three multi-assist games in four contests. ... Anaheim called up Mike Liambas from AHL San Diego for his Ducks debut. ... After playing one game in six days, Sunday marked the first of nine games in 14 days for the Ducks.
UP NEXT
Panthers: Return home on Wednesday to play Toronto.
Ducks: Travel to San Jose Monday to meet the Sharks in a one-game road trip.
___
For more NHL coverage: https://apnews.com/tag/NHLhockey