Goalie interference? NHL wants situation room to have final say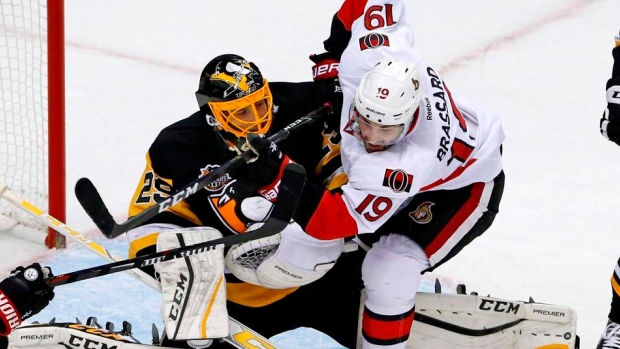 BOCA RATON, Fla. — The NHL is about to hand the final decision on video reviews of goalie interference to its hockey operations department.
The aim for general managers is more consistency with what has quickly become the league's most controversial rule, and there's a chance even bigger changes could be on the way by the time next season rolls around.
NHL commissioner Gary Bettman announced Wednesday that the ultimate say on goalie interference reviews will soon rest with the situation room in Toronto, hopefully in time for the start of the playoffs.
"It will be an improvement to the extent that the managers and the coaches were looking for consistency," Bettman told reporters at the conclusion of the GM meetings. "Hockey operations, we have to wear whatever decision is made anyway."
Using a tablet and headset, referees on the ice have been making the final determination on goalie interference challenges after speaking with hockey ops.
But following some controversial decisions this season, GMs now want the situation room to get the last word, with a retired referee also being added to the group to assist with calls.
Bettman said he didn't see a big problem with how the system has worked since coaches were first allowed to challenge plays in the crease beginning in 2015-16, while adding that the handful of high-profile instances forced the league to re-examine the process.
"If I'm a coach and I issue a challenge and I'm wrong, I'm going to be unhappy about that even if the challenge shouldn't have been made in the first instance," Bettman said in a boardroom at the Boca Beach Club resort. "So I get it, but some of the attention it got was way in disproportion to how this is working."
The NHL Players' Association, via the NHL/NHLPA competition committee, announced it had signed off on the change late Wednesday.
"First and foremost, the players want consistency in the application of the rule, and therefore support this proposed change in order to help accomplish that goal," NHLPA special assistant to the executive director Mathieu Schneider said in a statement.
The in-season tweak now needs unanimous approval from the league's board of governors, which should be nothing more than a formality at this point.
"Officials on the ice are still going to be involved in the decision," Bettman said. "The standard hasn't changed in terms of what goaltender interference is.
"There are just some close calls where it comes down to judgment. There will be another voice in the room, this one with a background in officiating. Ultimately, it's (now) a hockey operations call."
Deputy commissioner Bill Daly added a twist to the conversation by revealing there was also talk among GMs about assessing a two-minute penalty when a coach incorrectly challenges for goalie interference, much like the rule instituted this season that sees a minor handed out for an incorrect offside challenge.
The change to the offside review rule from a team losing a timeout to being penalized for a failed challenge was done in part to discourage coaches from using it as a delay tactic.
With regards to goalie interference, the theory goes that if there's more consistency, there will be fewer reasons to challenge.
And like offside reviews, which are way down compared to last season, coaches would have to be near 100 per cent certain when asking the league to look at contact on a netminder, which currently only sees the loss of a timeout when they get it wrong.
"It was discussed as one possibility during this meeting," Daly said. "It was kind of, 'Let's defer that to the summer.'
"It's a possibility."
The league said this week through more than 1,000 games in 2017-18 there were 170 combined challenges from coaches and the situation room for goalie interference.
Of those instances, referees stayed with the call on the ice 119 times and overturned the initial ruling on 51 occasions. The NHL said it only disagreed with a fraction of the calls made by its refs.
"Overwhelmingly there's been agreement between the officials on the ice and the people in Toronto," Bettman said. "It's been a handful of calls that have caused all the attention and if we can address those handful of calls, we're going to do it.
"We'd like to be perfect. We think we can get to even greater consistency by having a former referee working with hockey operations and coming to a final result."
After seeing some head-scratching reviews this season, Tampa Bay Lightning GM Steve Yzerman was strongly in favour of giving hockey ops the keys to goalie interference with the playoffs looming.
"If you have a smaller group of people making the decision, you should get more consistency out of it," he said. "It will become clearer over time whether we like the calls or not. That goes for people in the league, media, fans.
"Because it's the same guys over and over and over making the decisions, I would expect you'll get more consistency to instead of two calls that are very, very similar resulting in opposite calls."
Los Angeles Kings GM Rob Blake likes the idea of having a referee in the situation room to because it adds a different perspective.
"Once you go to video you take emotions out of it," he said. "But when you get an official with a background of what it feels like to be on the ice and make those calls in an instant, it probably flows with the consistency aspect we're looking for."
---
Follow @JClipperton_CP on Twitter