Gold at the FIBA U19s only the beginning for R.J. Barrett
TSN Rewind: Canada's U-19 gold a true accomplishment for the Barrett family
VIDEO SIGN OUT
R.J. Barrett and Canada's men's basketball team may have triumphed at the FIBA U19 World Cup on Sunday in Cairo, but the breadth of their accomplishment didn't hit home until the next day upon their return to Toronto's Pearson International Airport.
"We definitely knew that we made history, but we didn't really understand until we got home and saw everybody supporting us," Barrett told TSN.ca. "We thought our parents were going to be there, but we didn't know all the fans and all the cameras were going to be there.
"We really saw that we did something special for the country and we're really happy."
With their 79-60 over Italy in the final, head coach Roy Rana's team became the first Canadian squad to win an international basketball tournament at any level and the first to reach a final since the 1936 Berlin Summer Olympics. And their historic win came in large part to the team buying into Rana's message.
"He would say every day that we're a championship team," explained Barrett, heading into his junior year at Montverde Academy in Florida. "He said it so much that we started believing it and we started playing together and ended up winning it."
While winning the title was a major achievement, Canada's most impressive victory came in the semifinals when they downed the John Calipari-coached United States team, 99-87. The win came on the back of Barrett's sensational 38-points, 13-rebound and five assists, drawing rave reviews from Calipari. But Barrett says he was only doing what he thought would help the squad.
"I just wanted to win the game, so if it was me scoring 38 points and or me having 10 assists and scoring 10 points, it'd be whatever the team needed," he said. "It just happened to be the former that game and we won."
With the eye-opening win over the U.S., Barrett says that there was never any danger that the gold-medal game against Italy would've been a letdown.
"Not for us," he said. "We were really confident. Beating the US gave us even more confidence for the next game. We felt that no one could beat us after that."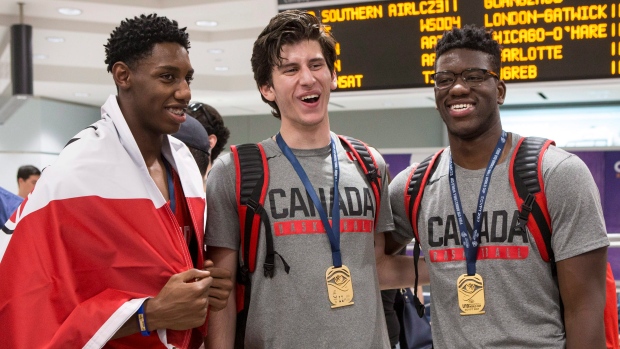 The challenge for Canada Basketball now is making sure that what comes next isn't a letdown. After its success in Cairo, the national program must now find a way to turn it into something sustained and prolonged.
Rowan Barrett, R.J.'s father and Canada Basketball's assistant general manager and executive vice president, believes it's up for the task.
"I think what probably most of the fans are looking for is they want to see it translate into the next level," the elder Barrett said. "For us, it's always the focus, clearly. I think right now, it's just to make sure we continue to solidify what we're doing at these young ages.
"Let these kids enjoy this championship experience and somehow make sure we can sustain. No team wins the world championship every single year in perpetuity. It doesn't happen, it's not realistic. However, you can always be in striking distance if you're doing the right things. So I think that's what we want to continue to build on within our provincial programs and within our junior academy, the seventh and eighth grades, to continue to build that out across the nation."
With the exposure that has begun to ensue in the aftermath of Cairo, Barrett believes that Canadian prospects don't necessarily need to leave the country anymore to attract interest from American schools.
"I think so especially in Ontario where there's the Ontario Scholastic Basketball League that's been created in conjunction with the provincial body," explained Barrett, who was a member of Canada's squad that went to the 2000 Summer Olympics in Sydney. "So many of our athletes have come back from the United States to play in that league and so the league has become more and more competitive.
"When you're looking around, you're seeing 6'7, 6'8, 6'9, 6'10 players all over the league. That usually is a pretty good sign and it will draw more schools up here to come and look at these players, which in turn will have more athletes deciding to stay at home. I think that's really good and, obviously, within this team that we just had was a mixture of kids from home and kids from in the States."
Barrett and Canada Basketball are now looking ahead to the 2020 Olympics in Tokyo, where the Mississauga, Ontario native believes the program will find itself in a good spot if they can develop the requisite amount of depth.
"We feel that our best players right now are going to be coming into their primes by 2020, right around that 27 to 29-year-old window, which is where teams that win championships are based," Barrett explained. "We had a starting lineup of 22-years-old in 2015. The reason we need to continue to build and build this youth is that we need to continue to stock the cupboards with talent."
Canada did not qualify for the 2016 Rio Games after failing to reach the gold medal game in the 2015 FIBA Americas tournament and came up short last summer in a qualifying tournament in the Philippines. In each of those tourneys, Canada was - in part or whole - without the likes of Andrew Wiggins, Tristan Thompson, Dwight Powell, Kelly Olynyk, Nik Stauskas, Jamal Murray and Andrew Nicholson, due to contract uncertainty, injury or an unwillingness to play.
Barrett knows that this can't happen again and measures to make sure it won't will be born out of a bigger selection of talent from which to draw.
"If somebody's got a contract issue one summer or somebody's getting married or having a baby or somebody's injured, we need the pool to be larger so we can backfill," Barrett explained. "If Andrew Wiggins doesn't play one summer, we're not dead in the water.
"Even though we gave a valiant effort, we needed a little more perimeter help with Nik Stauskas and Wiggins, potentially. I imagine we can backfill that with two or three more players like a Dillon Brooks, who's ready to play. I think those are some of the things we're focused on right now. We believe our style of play and all these things are validated with this win at the world championships."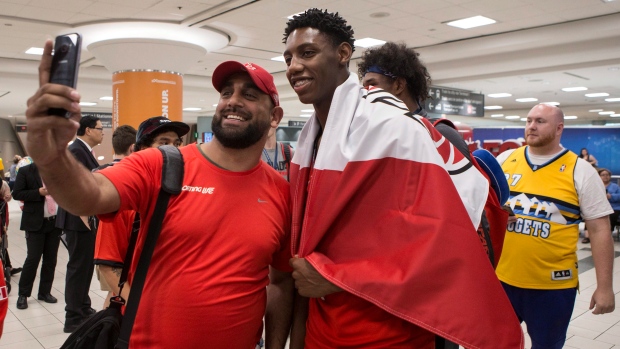 R.J. hopes to be a member of that 2020 Tokyo squad and his reasoning for wanting to go is pretty sound.
"My dad went to the Olympics, so he has that one over me," he explained. "So if I go there, I'm pretty sure he has nothing to say anymore."
And the elder Barrett admits that this role as a Canada Basketball executive and being R.J.'s father can come into conflict.
"It's very difficult," Barrett said. "I'm going to be very critical. There are things that we need to see. That's what I'm always thinking. You know, 'You've been working on that. Come on! You've gotta make that one!'
"You're always feeling that, so thank goodness for my wife who's there to help temper it. But I feel that keeping in mind the two-year age difference between him and the rest of the competition, I felt that he performed very, very well."
That's nothing new for Rowan Junior, though.
"I felt that when the level went up, he's shown consistency in life with this kind of thing," Rowan Senior said. "I remember at 14, he put up 37 points in the final to win the national championship with Ontario. I remember he played Lonzo Ball in his freshman year of high school and he was 31 with nine and six - No. 1 versus No. 2 in the country."
And it's unlikely that the Barretts are about to turn into a Canadian version of basketball's most noteworthy family any time soon.
"I don't think it's right for anyone to tell someone else how to parent their own child; I think that he has something that he believes maybe works for him," the elder Barrett said. "And now he's doubling, tripling and quadrupling down on that.
"That seems to work for them. That's not my method. That's not my style at all. I removed myself from coaching him when he was in the seventh grade. I put people there that I believe I can trust to do the job. Once he showed me and told me that he was ready to start training, I was ready. I had the people and I was chomping at the bit, but we had to do it when he felt he was ready. I put those people there so that we could have a relationship, so I wasn't going to push and drive him into the ground and do all that. We put people there that we trusted. So my role here, at times it's going to be cheerleader. At times, there's going to be some tough love. Sometimes it's going to be video and just looking at it technically. Sometimes, it's just simple advice, just looking around the corner. 'Hey, you shot 15 free throws this last game. This next game, they're going to close the paint on you. You might have to make some more jump shots.'"
But even as he tries to view his son from an objective lens, Barrett can't help but be filled with pride.
"It seems like this is kind of who he is and so, on the largest stage of your life to this point, to see him go out there without fear and just grab the bull by the proverbial horns, I think no matter how critically you want to look at it, you have to be proud of it," Barrett said. "But we'll still look at video. There are still some things we're going to look at, but we're definitely proud."
But the elder Barrett and his wife remain more concerned about R.J., the person, than R.J., the player.
"Outside of the game of basketball, we've got to create a well-rounded individual that - when the basketball stops bouncing - can contribute to this society," Barrett said. "My first focus with him is what's going on with your grades.
"Because if they're not right, then we're not going to let you play. That's the agreement we have with the school and he's on the honour roll, so we're far away from concern about that. He's home now, so he's going to have to take out the garbage and he's going to have to wash the dishes as much as he doesn't like that. I think those are the things that help you build the humility, the understanding of life so he's not in some sort of bubble."
The younger Barrett's profile has never been higher and speculation is swirling about whether he intends to reclassify for the 2018 class. Doing so means Barrett would forgo his junior year and graduate next June and head to the NCAA in time for the 2018-19 season.
"For us coming into this year, there were two things: One, we wanted to see physically how he was developing," the elder Barrett said. "Can he handle himself against the older boys? Does he get overrun? What happens?
"This year had made it clear there are no physical limitations for him. The second part was just academically because there's work you have to do to put yourself in position to leave early, like getting your SATs and making sure you have the right core average to qualify in the NCAA and all those kind of things. That's where we are right now and he's done all the requisite work, so now we kinda have to go back and look at all the pros and cons, write them out, look at them and make sure he understands them. Ultimately, he's going to be the one to make the decision and have to live with it."
For now, R.J. is noncommittal about the idea.
"I have goals, so you're always trying to see if you're on the right path to get where you're trying to go," the younger Barrett said. "But I think at the same time, I'm 17-years-old and there's time to be a kid and enjoy time with my friends."
Still, R.J. admits that the overwhelming interest from virtually every top program is flattering. Barrett, who averaged 22 points and seven boards a night in his sophomore season, has already received offers from perennial powerhouses like Kansas, UCLA and Arizona and drawn interest from Duke and Texas.
"I've watched all of those programs on TV growing up, so for the coaches to be recruiting me, it feels great," Barrett said.
And what about the effusive praise from Calipari, another rumoured suitor?
"He's a great coach and to beat them was pretty fun," Barrett said. "To beat the coach of Kentucky, it was a great experience."
And RJ, a potential No. 1 pick in the 2019 NBA Draft, won't talk a lot about his future beyond school.
"I've always wanted to be No. 1," he said. "But there's a lot of basketball that's going to come between now and then, so I'm just going to focus on the part in between."
Before that and a return to school, R.J. Barrett has a summer to enjoy.
"I'm gonna spend time with my family and be a kid, really," Barrett said.
"And learn to drive," his father interjected.
"Oh, and get my license," R.J. said.
The younger Barrett didn't seem thrilled with that prospect.
"No, I gotta get my license," he conceded. "I need it."