Canadian golfer Jerry Anderson dies at 62
Canadian golfer Jerry Anderson has died at the age of 62. PGA Tour Canada confirmed Anderson's passing on Sunday when it tweeted out condolences to his family.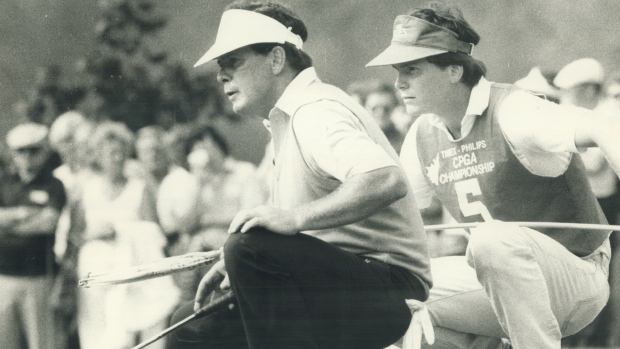 Golfer Jerry Anderson was unforgettable, leaving an indelible mark on the sport in Canada.
The Canadian golf community mourned Anderson's passing on Sunday after PGA Tour Canada announced that he had died at the age of 62.
Born in Montreal, Anderson became the first Canadian to win on the European Tour after he shot a 27-under par at the Ebel European Masters – Swiss Open in 1984. That performance elevated the visibility of golf in Canada and inspired a generation of golfers in this country.
"Myself and guys that were coming up, the likes of Mike Weir and Jim Rutledge, a lot of those guys, we were well aware of Jerry's accomplishments," said Ian Leggatt, who won the PGA Tour's Tucson Open in 2002. "Jerry's career was finishing as mine was starting and I got to play a lot with Jerry on the Canadian Tour in the early days.
"He was just always supportive. He was quiet but at the same time he had an incredible amount of talent."
Anderson's 72-hole 27-under par score was a record on the European Tour until Ernie Els shot a 29-under par score at the 2003 Johnnie Walker Classic. Anderson finished ninth on the European Tour Order of Merit that year, the only time he made the top 50.
"The players on the European Tour are the equivalent of the PGA Tour, so for his record to hold up for almost 20 years and for Ernie Els to top it, that's fantastic," said Kevin Thistle, the CEO of PGA Canada.
Anderson competed on the PGA Tour in 1990 and 1992 and won the Nationwide Tour's Ben Hogan Texarkana Open in 1991. He also represented Canada at the Alfred Dunhill Cup in 1985 and at the World Cup in 1983, 1987, and 1989.
"If he did those accomplishments starting today and for the next 20 years, first of all, he'd be a household name, second of all, he'd be rich beyond his wildest dreams," said Thistle. "It's like the NHL in the 1960s and 70s. He was ahead of his time."
"He was his own man," said fellow Canadian golfer Richard Zokol, who played with Anderson on the PGA Tour in the early 1990s. "He believed in himself, he persevered, and he climbed the ladder by himself. That's always very impressive."
Zokol has fond memories of Anderson's unique personality. In particular, Zokol remembers a mandatory players meeting with then-PGA commissioner Deane Beman at a tour event. As players argued about course conditions and greens, Anderson raised his hand.
"'What's with the blue Gatorade?'," recalled Zokol with a laugh on Sunday. "It was just hilarious. 'Instead of the green Gatorade? What's with the blue Gatorade?' It just caught me as absolutely hilarious. He had the courage to do that. I thought that was pretty cool."
___
Follow @jchidleyhill on Twitter