Grabner scores pair as Rangers drop Leafs
The rising Toronto Maple Leafs were cooled off by Michael Grabner and the New York Rangers on Thursday night, bounced 5-2 at the Air Canada Centre. Grabner scored a pair of goals, his 20th and 21st of the year, including a short-handed marker to put the game away in the third period.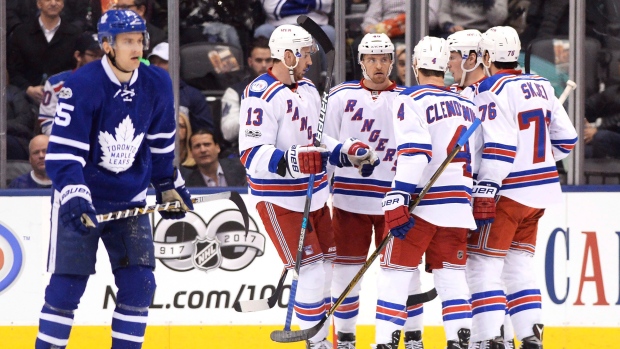 TORONTO — Michael Grabner observed a different-looking Toronto Maple Leafs squad than the last-place group he left behind last season, one with plenty more speed and skill.
"Obviously the young guys coming in, they're just flying around out there," Grabner said. "It's fun to watch, but it's also nice when you get the win against them."
Grabner continued his season-long revival Thursday night, scoring a pair — his 20th and 21st goals this season — to cool off his former team as the New York Rangers downing the previously scorching-hot Leafs 5-2.
New York outshot a mostly lacklustre Toronto squad 41-25, racing in front with three of the first four goals. Grabner added the two insurance markers, including his league-leading 20th even-strength goal of the year.
The 29-year-old has been one of the best bargains from last summer, joining the Rangers on a two-year contract that carries an annual cap hit of US$1.65 million. He's now up to 21 goals and 29 points, eclipsing the nine goals and 18 points he managed in 80 games for the Leafs last year.
Grabner hadn't scored 20 goals in a season since 2011-12 when he was with the New York Islanders. He earned fans in Toronto, where the Leafs used him on their penalty kill and matchup line.
"He (Grabner) did a real good job for us," Leafs coach Mike Babcock said on Thursday morning. "We would've loved to have kept him."
Babcock said the club opted against bringing Grabner back because it wanted to leave roster spots open for younger players, many of whom have thrived as rookies this season.
Among the better first period teams in hockey this season, the Leafs started slow against the Rangers. Playing without their injured No. 1 defenceman Morgan Rielly for the first time this year, Toronto got running around in the defensive zone early, matching a season-high in yielding 19 shots against.
Defenceman Roman Polak said the group was "lazy" in the opening frame, a pair of lost puck battles at one point leading Brady Skjei to the game's first goal.
Tyler Bozak tied it less four minutes later with his 11th goal this season, fed splendidly by 19-year-old Mitch Marner from the corner. Marner added his 27th assist of the year on the play while James van Riemsdyk also chipping in with a helper to extend his point streak to nine games (13 points).
But the Leafs generally failed to muster much in the way of quality of scoring chances against Henrik Lundqvist, who entered the night in a serious slump for the Rangers. Lundqvist had allowed 26 goals in his previous six outings, including a seven-goal shellacking two nights earlier against Dallas.
He finished with 23 stops against Toronto.
"Well I think it was a big game for me, a big game for the team, to respond," Lundqvist said after the victory, which snapped the Rangers' three-game losing streak.
Pavel Buchnevich gave the Rangers the lead for good about five minutes after the Bozak goal. The Leafs failed to recover when Skjei sent a shot from the point at Frederik Andersen, the rebound trickling around before the rookie Russian winger eventually managed to send it over the goal-line.
Zach Hyman pulled the Leafs back to within one on an impressive individual effort shorthanded before Grabner iced it himself on a Toronto power play.
The Leafs' defence struggled without Rielly and forced Babcock to shuffle around his pairs all evening with no effect.
Jake Gardiner, who played a career-high 29:24 two nights earlier with Rielly sidelined, garnered another 26 minutes against the Rangers. He played with every one of the team's other five defenders at even-strength: nine minutes with rookie Nikita Zaitsev, eight minutes with Connor Carrick, three minutes with Polak, and about a minute each with Matt Hunwick and Frank Corrado.
Corrado was getting only his second opportunity to play all season, his first and only game previously coming on Nov. 12. He perhaps predictably struggled in his 11-plus minutes, taking a pair of penalties in defeat while showing some nerves with the puck.
Carrick, too, had his troubles in 15 minutes, the Leafs' depth on the back-end showing wear without Rielly.
"Obviously the back end was in trouble lots tonight," Babcock said afterward.
The Leafs generally looked nothing like the cool, confident group of earlier weeks. Toronto had picked up 21 of a possible 26 points in the previous 13 games, a high-powered juggernaut with superb special teams.
They were sloppier with the puck versus New York, wobbly in the defensive zone and strikingly generated some of their best opportunities at Lundqvist shorthanded — Hyman often the driving force. The power play, which hummed at 36 per cent over the previous month, was held to two shots in two opportunities.
"I don't think Rielly (being out) made us not compete hard enough tonight or not take care of the puck or not stop on defence," Babcock said. "I don't think he had anything to do with that."
"It definitely wasn't the way we've been playing," Gardiner said.