Gretzky: "I knew it was bad as soon as he went into the boards"
Following the news the Connor McDavid would be out indefinitely, ESPN hockey writer Pierre LeBrun got a chance to speak to Wayne Gretzky about the burgeoning superstar.
Pierre LeBrun, ESPN Hockey Writer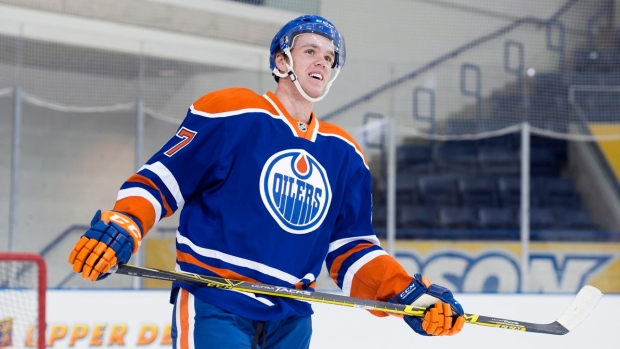 No. 99, like so many of us, happened to be watching Tuesday night when No. 97 crashed into the end boards.
And like many of us, he got that pit in his stomach fearing the worst.
"I knew as soon as he went into the boards," Wayne Gretzky said over the phone Wednesday. "They're so fast and big now in today's NHL. It's incredible how fast the game is. From the positive side, I'm just glad the two Flyers players did nothing illegal on the play, it was a hockey play gone bad."
Was it ever.
McDavid is out long-term with a fractured left clavicle. But he had already, in 13 games, as far as Gretzky is concerned, proved a ton.
"He had already shown everybody that a) he belongs in the NHL and b) he's an elite player," said Gretzky. "Every time he's on the ice, he makes something happen. Just as important, he thrives under the microscope, he thrives under pressure. And I think he took a lot of pressure off a lot of the other young guys there. They've been flourishing also. That's as good as I've seen [Taylor] Hall play and [Nail] Yakupov. So, Connor is definitely a huge part of that group now. That's what is probably so devastating for everyone."
People will say that this is the kind of adversity that will make McDavid stronger but as a player who also entered the NHL decades ago with major expectations, Gretzky says McDavid has already gone through important adversity in his young NHL career.
"I think his biggest adversity was his first 10 games," said The Great One. "People wanted to know how good he was, can he play here, is he everything that people say he is; and I think over those first 10-12 games he showed everyone he's the real deal. So, I don't think he has to prove to anybody that he belongs, we're past that point of view. He just has to get healthy and come back and play like he was before he was injured."
It's tough to find any silver lining in this, but Gretzky said at the very least having some rare downtime is something.
"He gets pulled in a lot of different directions by everyone from his own team, to the league, to endorsements, it's probably a very hectic schedule," said Gretzky. "So maybe the break at least will be good for him from that perspective."
But like everyone else, Gretzky looks forward to seeing him back on the ice doing his thing.