Guerrero Jr., Bichette star in Jays debuts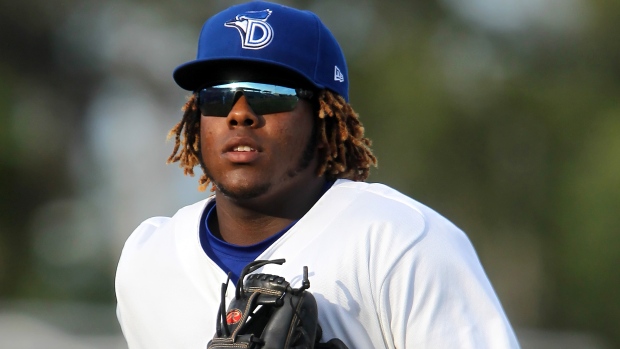 Highly touted Toronto Blue Jays prospecsts Vladimir Guerrero Jr. and Bo Bichette made their spring training debuts on Thursday as the Jays rolled to a 9-3 win over the Baltimore Orioles in Sarasota. They didn't disappoint.
Guerrero Jr., who was hitting sixth for the Blue Jays, went 4-5 with four singles and two runs
He singled to right field on his first at-bat of the day and scored on a single by J.D. Davis later in the second inning to put the Jays on top.
Guerrero Jr. singled again in his third at-bat on a ground ball to centre in the top of the sixth inning. In the top of the 7th, Guerrero Jr. picked up another single to make him 3-4 on the afternoon, this off Orioles pitcher Tim Melville.
In the ninth, the 18-year-old phenom got his fourth hit of the day on an opposite-field liner to right.
Fellow highly regarded prospect Bo Bichette entered the game in the third inning as a pinch runner for Lourdes Gurriel. After grounding out in his first at-bat, Bichette picked up RBI singles in each of his next two plate appearances, adding a stolen base and a run.
"It was exciting. They both handled themselves like champs," manager John Gibbons said after the game.
Here is a closer look at each plate appearance for the duo:
Guerrero Jr.
2nd inning - Single to RF (1-1)
4th inning - Flyout to CF (1-2)
6th inning - Single to CF (2-3)
7th inning - Single to SS (3-4)
9th inning - Single to RF (4-5)
Bichette
5th inning - Groundout to SS (0-1)
7th inning - Single to LF, scoring Anthony Alford (1-2, RBI, SB)
8th inning - Single to LF, scoring Roemon Fields (2-3, 2 RBI, SB)
---
Outfielder Anthony Alford also had a good afternoon at the dish, going 3-4 with two doubles, a triple and three runs, raising his spring OPS to an impressive 1.166.
Meanwhile, Aaron Sanchez was strong in his second outing of the spring, tossing three innings of one-run ball with five strikeouts.
It was the third outing of the spring for Sanchez, who threw three scoreless innings on Saturday in a win over the Minnesota Twins.
Sanchez had just nine starts last season after battling nail and blister issues for most of the year. He followed up a strong 2016 season with a 1-3 record and a 4.25 ERA in 36.0 innings, but said earlier this spring he is pain-free.
Newly-signed reliever Tyler Clippard is expected to make his Blue Jays debut on Friday, according to TSN's Scott Mitchell. Clippard was signed to a minor-league deal earlier in the week.
The club is hoping reliever Seung-hwan Oh will get his visa issues resolved in time to pitch at some point this weekend.
Starter Marcus Stroman (shoulder inflammation) played catch Thursday morning. The club will re-evaluate him on Friday.
The Jays will be back in action Friday as they host the Orioles in Dunedin.