Habs out of playoff spot with loss to Bruins
Patrice Bergeron broke a tie in the second period as the Boston Bruins downed slumping Montreal 4-1 on Tuesday night, leaving the Canadiens winless in five games. The loss, combined with New Jersey's win over Calgary, pushed the Canadiens out of a playoff spot in the Eastern Conference.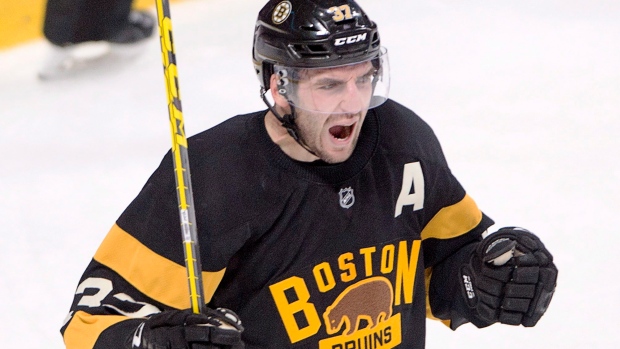 MONTREAL - Coach Michel Therrien's frustration is starting to boil over.
Once again, his Montreal Canadiens fired blanks despite outshooting their opponent as the rival Boston Bruins pulled out a 4-1 victory Tuesday night before a booing crowd at the Bell Centre.
After starting the season with a division-leading 19-4-3 record, the Canadiens have fallen into a 4-16-1 funk. The loss to Boston dropped them out of a playoff position.
"I honestly hope that not one person will criticize the effort," said Therrien, his voice cracking with emotion. "That has to stop.
"These guys are giving everything they have. Is the execution there? No, but that will come."
The Canadiens (23-20-4) outshot Boston 39-24, but managed only a second-period goal from defenceman Mark Barberio.
Patrice Bergeron broke a 1-1 tie in second period as the Bruins (24-16-5) won a third game in a row. Max Talbot, David Pastrnak and Brad Marchand, with an empty-net goal, also scored for the Bruins, who avenged a 5-1 loss to Montreal in the NHL Winter Classic on Jan. 1. The team's wore their Winter Classic jerseys in the rematch.
There was a report that Therrien may be fired if the Canadiens lost the game. There was no word on that afterwards, but it is widely believed the club won't make a decision on the coach until after star goalie Carey Price returns from a lower body injury, likely after the Jan. 31 all-star game
Back-up Mike Condon has played reasonably well in Price's place, but it is clear the team skates with more confidence with the 2014-15 Hart and Vezina Trophy winner in goal.
After a day off, the team will resume practice Thursday to get ready for its next contest Saturday night in Toronto.
Captain Max Pacioretty said the squad's troubles can't be blamed on Therrien, their coach since 2012.
"He's been absolutely phenomenal through all this and that's what makes it so hard," said Pacioretty. "I can't believe how well he's handled this and how positive he's been with us.
"Night after night we haven't been able to step up for him and that's frustrating because we all believe. We're all on board. We believe this is the way the game is supposed to be played."
It was a tough night for the top line as Pacioretty, Tomas Plekanec and Brendan Gallagher were all minus-3, and for defenceman Andrei Markov, who was benched — and booed — after some giveaways.
Therien leapt to the 37-year-old's defence.
"He is a true professional," he said. "But sometimes the body doesn't follow the mind.
"It happens to every player at a certain age. He isn't done, but sometimes it's tougher. We just played four games in six nights."
Markov was the goat on Boston's opening goal in the first period as Condon stopped Talbot on a breakaway, but Andrei Markov's weak pass went straight back to Talbot for a shot in off the goalie's glove.
Barberio tied it 8:48 into the second frame with a one-timer of a P.K. Subban feed from a tight angle that beat Tuukka Rask, who usually struggles against the Canadiens and even with the win is only 5-15-3 against them in his career.
Condon was bowled over by teammate Alexei Emelin as his clearing pass was picked off by Pastrnak and fed to Bergeron for a goal at 16:49. Bergeron moved past Cam Neely into eighth place in Bruins history with his 591th career point.
Condon was slow to get to the far post as Pastrnak circled the net and tucked one in at 12:14 of the third.
Montreal lost defenceman Nathan Beaulieu to a lower body injury in the first period and winger Paul Byron to a lower body injury in the third.
Notes — Denna Laing, the Boston Pride player who suffered a severe spine injury in the women's game at the Winter Classic, was honoured in a pre-game scoreboard montage. Jerseys signed by players from both teams will be auctioned to raise funds for her.
Note to readers: This is a corrected story. A previous version misspelled David Pastrnak's last name.