Markov won't return to Habs; off to KHL
Andrei Markov has played his final game with the Montreal Canadiens. The Canadiens announced Thursday Markov, who has spent his entire 16-year career with Montreal, will not be re-signed by the team. Markov later told reporters on a conference call he turned down NHL opportunities to return to Russia and play in the KHL.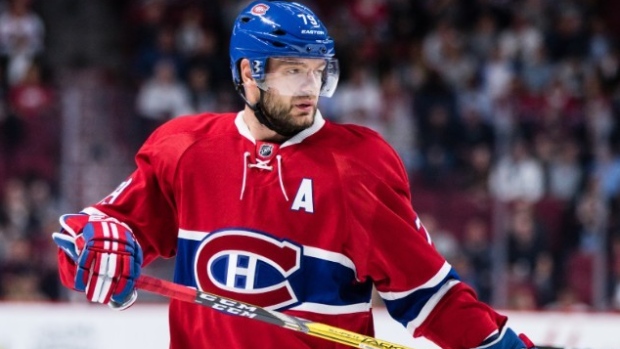 MONTREAL — After 16 seasons with the Montreal Canadiens, defenceman Andrei Markov is heading back to Russia.
The 38-year-old said on a conference call on Thursday that he will play in the KHL and possibly the Winter Olympics next season after failing to reach agreement on a new deal with Montreal.
Markov said he was not interested in skating for any other NHL club than Montreal, where he played 990 games and put up numbers that placed him among the best defencemen in the storied club's history. And he did not rule out returning to the Canadiens — or to the NHL — one day.
"It is tough," he said. "I made it clear at the end of the season that I wanted to stay with the Montreal Canadiens for the rest of my career.
"It didn't happen. It's a business. I'm not blaming anyone. I'm ready to move forward. But it is tough that I'm not going to play my 1,000th game for the Canadiens. At least not this year."
He did not name his new KHL team because he has not yet signed a contract.
According to Aivis Kalnins of HockeyBuzz, Markov will sign with AkBars Kazan. He will join Jiri Sekac, Anton Lander and Stefan Elliott as former NHL players on the team.
The move is a blow to the Canadiens, who lose a first-rate passer and puck mover who was solid at both ends of the rink despite limited mobility from age and three major knee injuries earlier in his career.
Markov elected to represent himself in negotiations with general manager Marc Bergevin rather than use an agent because, while he drew interest from other NHL clubs, he knew that he would only talk to Montreal and figured it would go smoothly. He has earned the same average annual salary of US$5.75 million in three contracts over the past 10 seasons.
He confirmed reports that he was initially seeking a two-year contract, but by the end was ready to accept a one-year extension. He gave no details on why the talks fell through.
Then the father of four, who got his Canadian citizenship in 2010, decided to take his family to Russia.
"I didn't see myself with any other NHL team," he said. "I didn't see myself wearing another jersey.
"Plus it's going to be tough for the kids to move for one year to another city in North America. It's going to be easier for them to adapt in Russia."
It's been an emotional year for Markov. He returned to Russia in February to bring his twin five-year-old sons back to Canada when his former partner died of cancer. Earlier this month he married Sonya Sonechka, with whom he has a one-year-old daughter. He also has a 10-year-old son.
"It's sad to leave but it's life and it's a business," he said. "I understand, but I'm looking forward to new opportunities and I'm happy I have my family next to me. Today's a sad day but tomorrow is going to be another day."
It appears to have been an amicable parting.
The Canadiens thanked him and wished him good luck on Twitter. Team owner Geoff Molson also tweeted his regards.
"Arguably one of the best defencemen in franchise history, Andrei was a model of dedication to the great game of hockey," said Molson. "A respected figure around the league and among his teammates, Andrei demonstrated leadership both on and off the ice.
"Andrei's commitment to our franchise was second to none, proven by his overcoming three serious and potentially career-ending injuries. I would like to wish Andrei the best of luck in the next step of his career, and happiness with his family."
Markov's 990 regular-season games are sixth most among Canadiens defencemen.
His 199 goals are third-most by a Montreal rearguard and his 572 points tie him with Guy Lapointe for second in team history.
He added five goals and 27 assists in 89 playoff games.
Montreal drafted the Russian 162nd overall in 1998 and he made his NHL debut two years later.
The Canadiens signalled Markov's departure this week with the signing of 39-year-old free agent defenceman Mark Streit. Like Markov, the Swiss veteran plays on the left side and is a strong power-play point man.