Hadwin makes debut for Team International at 2017 Presidents Cup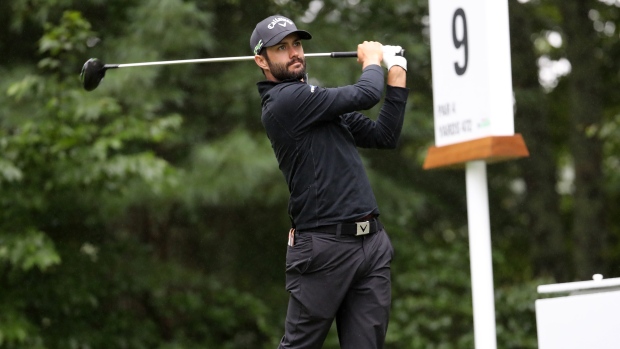 Canada's Adam Hadwin will be making his debut, along with 10 other newcomers, at the 2017 PRESIDENTS CUP, and TSN has golf fans covered as the network delivers the first two rounds of the prestigious biennial competition. Airing live from Liberty National Golf Club in Jersey City, NJ, TSN's coverage tees off Thursday, Sept. 28 beginning at 1 p.m. ET on TSN1 and TSN4, and continues through Day 2 on Friday, Sept. 29 at 11:30 a.m. ET on TSN1, TSN4, and TSN5 (see below or visit TSN.ca for the complete broadcast schedule).
TSN golf analyst Bob Weeks is on-site at Liberty National Golf Club to contribute frequent CUP news updates, interviews, and analysis for SPORTSCENTRE and TSN.ca.
Forming the cornerstones of a star-studded U.S. lineup, Dustin Johnson and Jordan Spieth arrive at the competition as the world-ranked #1 and #2 golfers. Team USA also includes US OPEN champion Brooks Koepka, PGA CHAMPIONSHIP winner Justin Thomas, plus five-time Major champion Phil Mickelson, who is 12 for 12 in Presidents Cup appearances. Led by captain Steve Stricker, Team USA is seeking their 7th consecutive PRESIDENTS CUP win.
Captained by Nick Price, Team International competes for their first PRESIDENTS CUP win since 1998, and features two of the Top 10 players in the World Golf Rankings, Hideki Matsuyama (3) and Jason Day (7), as well as Hadwin and seven-time PRESIDENTS CUP participant Adam Scott. Canada's Mike Weir also joins Team International as an assistant captain.
TSN's event coverage is available live to TSN subscribers via TSN.ca/Live and the TSN GO app. Complete event information, including rules and tournament scoring, is available at presidentscup.com.
Broadcast Schedule
TSN's broadcast schedule for the 2017 PRESIDENT'S CUP is as follows*:
Thursday, Sept. 28 – Day 1
1 p.m. ET on TSN1 and TSN4
Friday, Sept. 29 – Day 2
11:30 a.m. ET on TSN1, TSN4, and TSN5