Hall, McDavid take the ice as teammates for the first time
Dave McCarthy, TSN Radio 1050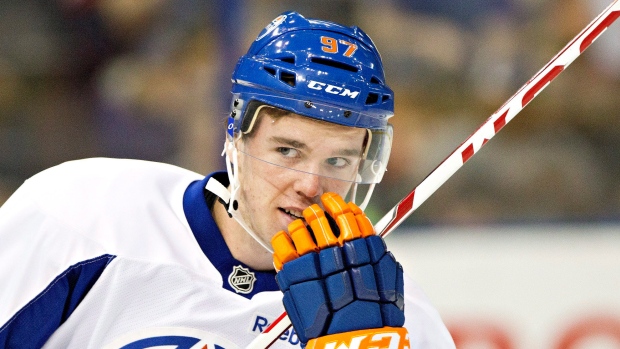 TORONTO - They say the night is darkest just before dawn. For the Edmonton Oilers, the night has been agonizingly long.
The last time the Oilers participated in playoff hockey, they fell one game short of the ultimate goal, losing 3-1 to the Carolina Hurricanes in Game 7 of the 2006 Stanley Cup Finals. Since then, it has been nothing but disappointment. Apart from the 2007-08 season, when they came up three points short of a playoff spot, the team hasn't even played meaningful games late in the regular season.
Improvement was expected after drafting Taylor Hall first overall in the summer of 2010, followed by Ryan Nugent-Hopkins in 2011 and Nail Yakupov in 2012. But despite three consecutive first overall picks, nothing changed. The Oilers have missed the postseason for nine straight seasons – the longest current playoff drought in the NHL.
With Connor McDavid, the most highly touted prospect to enter the league since Sidney Crosby in 2005, and Todd McLellan, arguably the most sought after head coach not named Mike Babcock, joining the organization this offseason, it seems the dawn has finally arrived and that the Oilers are poised for a new beginning.
"It has been a tough five years but there's something about the offseason that kind of lets you rewind and get focused again for the (upcoming) season," said Hall. "The changes that have been made are exciting. With Connor coming in, I feel like it's almost like my first year again."
That hope was on display at St. Michael's Arena in downtown Toronto on Monday at the first day of supplement company BioSteel's hockey camp where Hall and McDavid took the ice together for the first time as teammates.
"It was very exciting," said McDavid, after skating with Hall in a short scrimmage. "Obviously he's a great player. I think it was cool to get a sense for how fast he is. You watch it on television, but it's a whole different story watching it live."
You can consider Hall equally as impressed with McDavid.
"He's got a lot of foot speed," said Hall. "He seems to glide faster than most guys skate at full speed. It's fun to be out here with him and hopefully make him feel a little bit more comfortable for what he has in store ahead."
The expectations would be sky-high for McDavid regardless of which team he broke into the NHL with, but joining a team in a hockey crazy Canadian market in the midst of a nine-year playoff drought has to seem like a daunting scenario.
Scoring five goals in an Oilers intrasquad game at prospect camp in July in front of a crowd of 7,200 people certainly did nothing to temper anticipation. However, the calm, cool and collected McDavid was taking it all in stride.
"Obviously it's a little bit different. It's the NHL, right?" said McDavid. "It's just different in that way, but it's a lot of the same, high expectations and all that. It's something that I've been dealing with for a long time now and I feel confident with it."
Asked if anything scares him when he thinks about what is to come in his first NHL season, McDavid shrugged and shook his head.
"Nothing really," he said. "I'm not trying to think about what scares me. I'm just trying to do the best that I can do."
It's that confidence he carries that has allowed him to excel in the spotlight his whole life, whether it was after being granted exceptional status into the OHL at the age of 15, or helping Canada end a five-year gold medal drought at the world juniors this past winter on home soil.
"I think everybody has their own opinions and expectations are pretty high, but that's something I've been managing for a long time now," said McDavid. "There's no certain trick or certain thing that you do to be okay with it. It's just something that you've got to be comfortable with and trust in your own abilities."
It was the luck of the lottery that landed McDavid in Edmonton. He would have had attention had he landed in Arizona, Carolina or Buffalo but nothing like he will face with the Oilers. Hall, who is well aware of the pressure facing a first overall pick in Edmonton, feels it is more a benefit than a hindrance.
"It forces you to play well and it forces you to be up for every game and every shift," Hall said. "I think someone like him is going to thrive because it's pretty obvious he loves hockey and he's done well in the spotlight everywhere he's gone. I think it's a good thing."
Given his track record, it would not be a surprise to see McDavid make a seamless transition into the NHL. The Richmond Hill, Ont., native, who admitted he is hyperaware of what he says and is always careful to not say the wrong thing in interviews, would not set targets in terms of production in his first NHL season.
Is 50 points in 70 games a disappointment? Does he have to be a point-per-game player? Would 65 points in 80 games be considered a success?
"There's nothing like that [that he has in mind]," McDavid said. "I don't think that you can really have a certain number in your head that you want. At the end of the day, you just have to do the best you can do. I'm very hard on myself and I expect a lot from myself as well."
In terms of team goals, McDavid took the cautious approach as well.
"I don't think it's really my place to say. I have never even played a game in the NHL."
It's going to be a new world for Hall once camp gets underway this fall as well. Used to attracting the bulk of the attention and serving as the face of the team's young core since coming into the league, Hall will no longer be in that role. In Edmonton, it's now McDavid and then everybody else.
"Yeah, 100 per cent," said Hall, when asked if he's prepared for that change. "It hasn't worked out the last five years. I think we need a much larger supporting cast and we need guys to maybe step out of roles that they've been in. That doesn't mean you're going to get less points or less playing time, but as long as we have a team that rolls four lines that can play well in any position, that's going to be a good thing for us."
At this point, Hall is just hoping that the team can finally give the fans something to cheer for.
"It's going to be chaotic," said Hall. "There's always a sense of chaos in Edmonton. They love their hockey there. Good or bad they're going to come out, but I think they're going to want to cheer pretty hard now. For us, we have to give them a team that's going to compete and as long as we do that, I think the support is going to be there in bunches."