Hamilton and Giordano are the best pairing in hockey
The Calgary Flames defensive duo has been decisively dominant all season long, Travis Yost writes.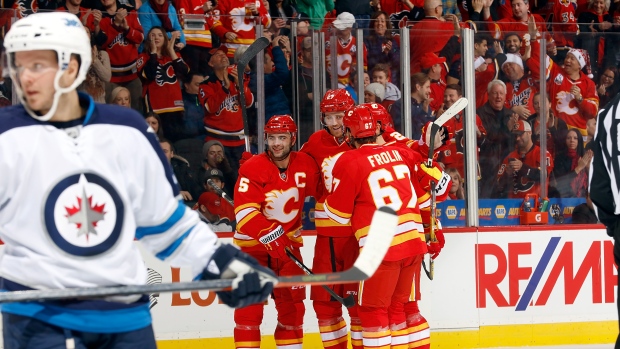 What has been the best blueline pairing in hockey this year? Well, that's easy.
It's Dougie Hamilton and Mark Giordano.
I have raved about the Calgary Flames quite a bit this year. One of the reasons I've been sold on this group as a playoff team is how talented they are on the blueline.
There is significant value in having a pairing that can absolutely obliterate the competition for 20 minutes or so a night at 5-on-5. The Flames have that in spades with the Hamilton/Giordano pairing. Add in the very talented T.J. Brodie picking up minutes down the lineup and you have a blueline that's getting the job done.
The data on the Hamilton/Giordano pairing is remarkable. They've already racked up 800 minutes together, which is impressive when you consider the fact that this pairing wasn't always a thing. To start the year, head coach Glen Gulutzan deployed Hamilton with young Finn Jokipakka, while Giordano saw minutes with the likes of Brodie and Wideman.
Gulutzan had to figure out the best way to optimize the talents of Giordano. Brodie seemed like an obvious talent fit, but with that duo you had two left-shot defenders. Wideman, though a right-shot, has really ran up the mileage over the years and struggles in a top-four role.
Enter Dougie Hamilton. Here's a right shot oozing with skating and puck-moving capabilities – the type of guy you can put out there with a stud like Giordano and know your team is going to control the pace and tempo on every shift.
Look at how Calgary has played in the 800 minutes they have been united:
These are video game-like numbers. You might look at the near 70 per cent goal rates that the Giordano/Hamilton pairing are getting and say, "It seems like they have had a bit of puck luck." And you'd be right. But the thing is, their volume numbers are so overwhelmingly impressive that it's hard to argue that what they're doing isn't real. When you are getting about 60 per cent of the shots and scoring chances, over the long run, you are going to get about 60 per cent of the goals. That's just freakishly high performance.
If you compare this duo against some of the league's other best pairings, it's still no contest. The Mattias Ekholm/P.K. Subban pairing in Nashville and the Brent Burns/Paul Martin pairing in San Jose – as just two examples – have been dynamite all year long, but their numbers pale in comparison.
It would be fair to ask about team effects at this stage. After all, a couple of players in Calgary probably have an easier time than a couple of players in, say, Colorado racking up chances, shots and goals.
Enter team relative stats – a good check and balance to see if pairings are truly enhancing their team's play when they are out on the ice. We can look at the same 10 pairings through this lens to determine if those big differentials – by whichever metric you prefer – are actually incremental improvements over team norms or simply the result of playing for strong teams. (Here, a 0.0 would indicate that a team is no better or worse with that pairing on the ice versus that pairing off the ice; a 5.0 would indicate a team is five percentage points better with that pairing on the ice versus that pairing off the ice.)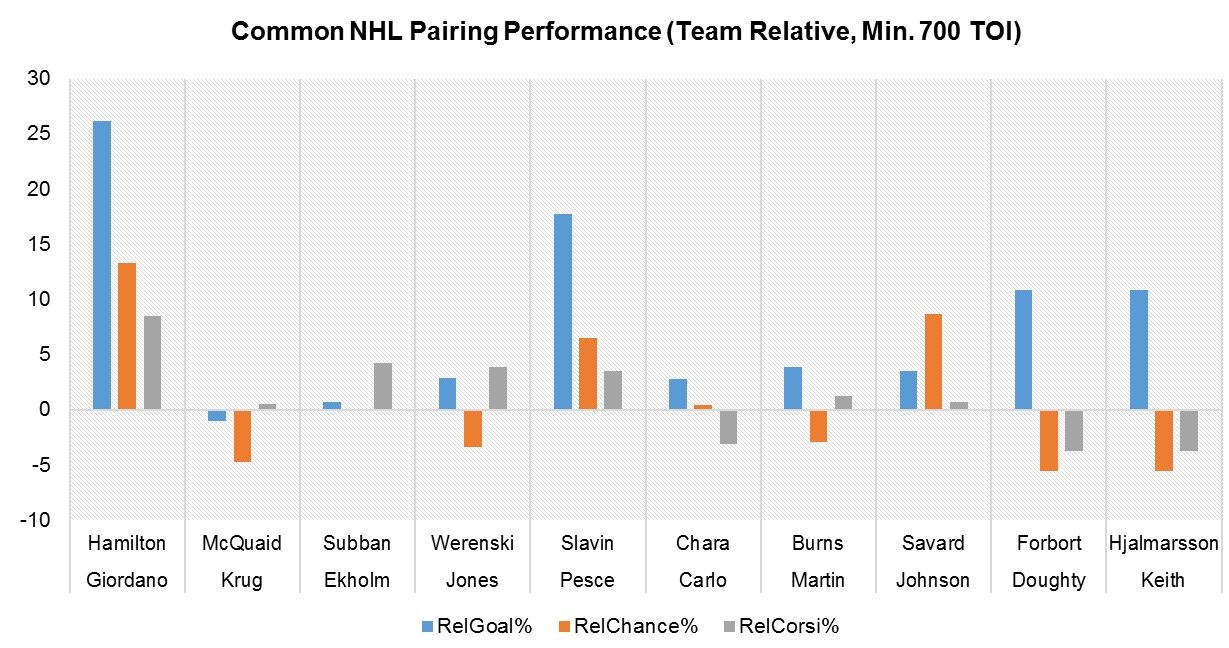 This is what we call an exclamation point. A colleague recently mentioned that we should be in the business of giving out a Norris-style trophy for the best pairing instead of the best defender. Based on Hamilton/Giordano's performance this year, I'm inclined to agree. When your team is 12 or so percentage points better at winning shot/scoring chance volume with you out there, it's a convincing argument.
While these numbers highlight the greatness of the Calgary pairing, they also signal that things get a bit dire when the duo takes a breather. Keep in mind that such massive relative numbers mean things are going awry during their breaks – the Flames get about 48 per cent of the goals, shots, and scoring chances in those situations. Those aren't terrible numbers for your second and third pairings, but they're definitely worth calling out.
I'm struggling to remember a pairing that has been this decisively dominant over the course of a full season. There have been a few great ones in the modern era – Erik Karlsson and Marc Methot in Ottawa; Victor Hedman and Anton Stralman in Tampa; and Marc-Edouard Vlasic and Justin Braun in San Jose come to mind as a few examples – but I'd argue that 2016-17 Hamilton/Giordano has set a new benchmark for greatness.