Heinen delivering for Bruins this postseason
Versatile two-way centre has given Boston valuable depth by consistently driving play as he moves up and down the lineup, Travis Yost writes.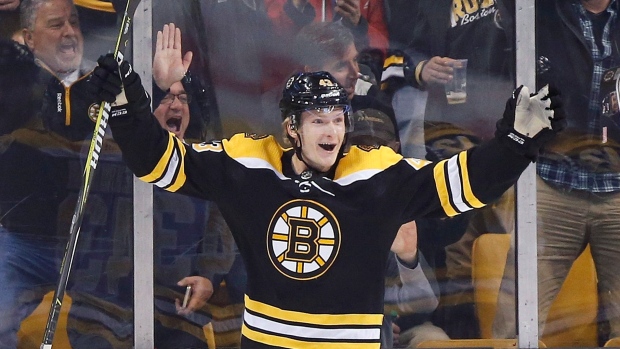 For years, the biggest limiting factor for the Boston Bruins was a critical lack of production beyond the Patrice Bergeron line. It never mattered much in the regular season, but against stiffer competition in April and May, the Bruins' lack of talent and depth throughout the lineup always felt noticeable.
This year has been different. We saw it in the first-round series against Toronto and are again seeing it against a comparatively deep team in Columbus. The Bergeron line continues to shoulder a significant portion of the workload, but for the first time in a while there are other skilled and competent players at head coach Bruce Cassidy's disposal.
No player is having a bigger impact on this front than Bruins centre Danton Heinen. The 23-year-old Langley, B.C., native (and BCHL graduate), in the midst of his second full professional season, is having an incredible postseason. The counting numbers – Heinen has four points in nine games – barely scratch the surface on how effective he has been.
Cassidy has used Heinen in a series of roles through the first nine games of the playoffs. He's seen some rotational time on the first line with Brad Marchand and Patrice Bergeron. He's played on a second line with rotating personnel in the form of Charlie Coyle, Marcus Johansson and David Krejci. More than anything, he's become the player that the Bruins appear most comfortable with flexing up and down the lineup because of how strong of a two-way game he is capable of playing.
On the wing, Heinen relentlessly harasses puck carriers and uses his speed and agility to his advantage. He often forces opposing puck carriers into dead angles in the neutral zone to produce turnovers. He's also instrumental in sequences where the Bruins are transitioning the puck, both as a carrier trying to gain the line and as a forechecker in dump-and-chase situations.
What Heinen may lack in shooting talent right now he makes up for with smart positional hockey and situational awareness. When he is on the ice, the Bruins are consistently driving play into the heart of the opponent's defence.
It shows in the underlying numbers. Through nine games, the Bruins see the most advantageous shot differential with Heinen on the ice. They also see the most advantageous scoring chance differential, expected goal differential and actual goal differential with Heinen on the ice.
It's somewhat rare to see a second-liner type lead in all of these statistical categories – doubly so when you remember he's playing either with or behind guys like Bergeron and Marchand who are notoriously impressive drivers of play.
Look at how the Bruins have fared with Heinen on the ice versus without in these 125 minutes of 5-on-5 play. (I have left goal differential out due to the relatively small samples, but again, the Bruins are plus-4 in goals with him out there.)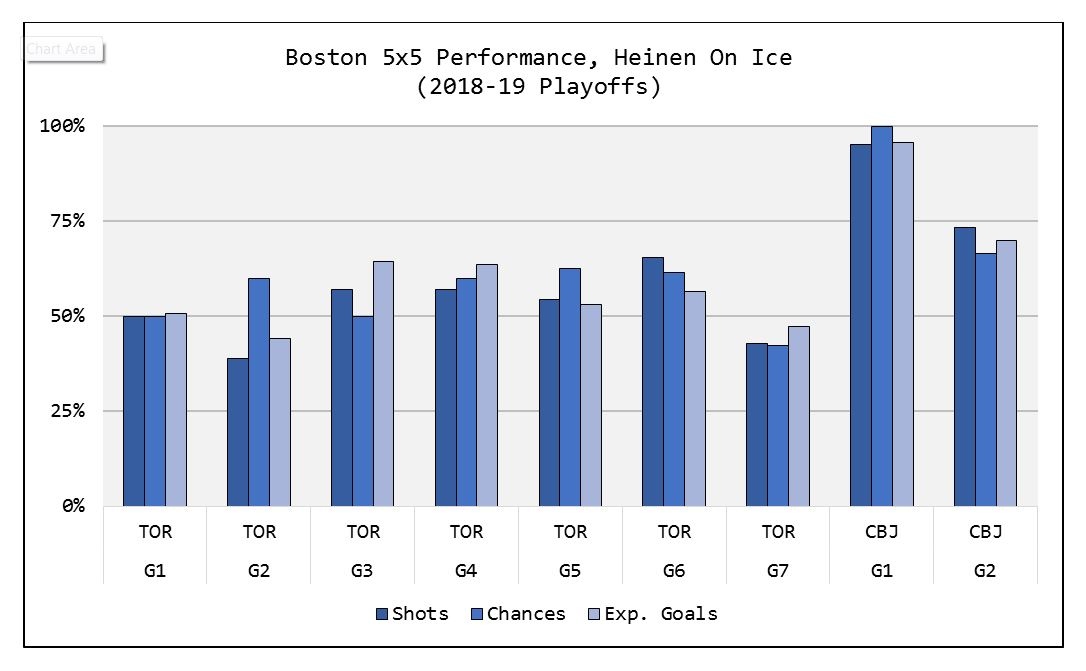 Outside of Game 7 in Toronto, the Bruins have generally seen flat or favourable on-ice performance with Heinen on the ice. The last two games in Columbus have easily been the most noticeable. I mentioned it on Sunday but in the Blue Jackets series alone, Boston is outshooting Columbus by a 42 to nine margin. Scoring chances are similarly tilted (14 to three, in Boston's favour.)
You might think that some of these numbers are juiced because of Heinen playing spot minutes on the Boston first line, but that's not exactly true. Bergeron has seen a significant slide in performance when separated from Heinen this postseason. Heinen, on the other hand, has seen stable performance regardless of whom he is playing with on any given shift.
Boston finding their way into a second line that can push teams back into their defensive third the same way the Bergeron line can is a game-changer. So much of Boston's success over the years has been because the top line's relentless puck control and punishing forecheck wears teams down. The Bergeron line would soften teams up, paving the way for Boston's depth players to produce. This year, the Bergeron line has some significant help within the top six, and that should pay some dividends as the Columbus series continues to evolve.
Boston's road to a Stanley Cup may never be more favourable, and if they can take care of a pesky Blue Jackets team, they have a real shot at running the table.
Data via Natural Stat Trick