Hextall: Flyers won't acquire D amid injuries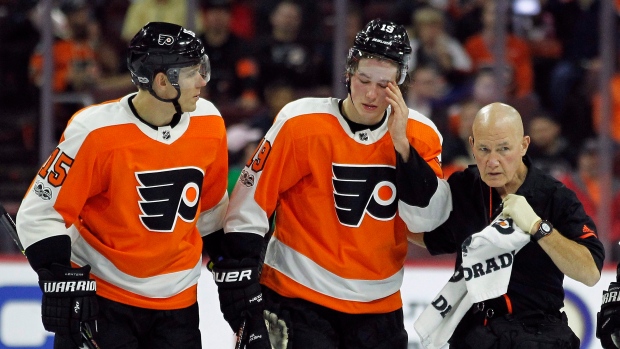 The Philadelphia are currently without three of their top-six defencemen due to injuries this season.
Flyers general manager Ron Hextall, though, has no plans to seek help on the blueline from outside the organization, noting such a move would fix a problem now, but create one in the near future.
"One reason you have depth is for when you get in situations like this. Unfortunately, some of our depth is hurt, too," Hextall told the Philadelphia Inquirer. "But to add a guy for a week and [then others return], you have too many players. It doesn't make a lot of sense."
The team will be without defenceman Andrew MacDonald for at least another two weeks, while Shayne Gostisbehere and Radko Gudas are both considered day-to-day with upper-body injuries.
Gostisbehere and second overall pick Nolan Patrick are both dealing with concussion-like symptoms, Hextall revealed Thursday. He said, however, both players are making progress and could return to the team's lineup on Saturday against the Colorado Avalanche.
The Flyers intially planned to call up former first-round pick Sam Morin from the AHL's Lehigh Valley Phantoms amid the injuries, but he was also dealing with an injury. The same could be said for T.J. Brennan, who is a veteran of 53 NHL games.
Instead, call-ups Will O'Neill and Mark Alt have been thrust into the lineup for the Flyers, and combined to play just 21:39 against the St. Louis Blues on Thursday night.
"We were banged up in '05 with the Flyers in the playoffs, but I'm not sure I've seen the big team and the depth [in the AHL]" hit so hard," Hextall said of the franchise's current injuries.
"That's life. Go with what you've got."
The team has leaned heavily on 2015 first-round pick Ivan Provorov to help their defensive woes. Provorov, who averaged 21:59 of ice time per game last season, has played 27 minutes or more in each of the team's past four games.