Hoffman: 'Impossible' to fully ignore rumours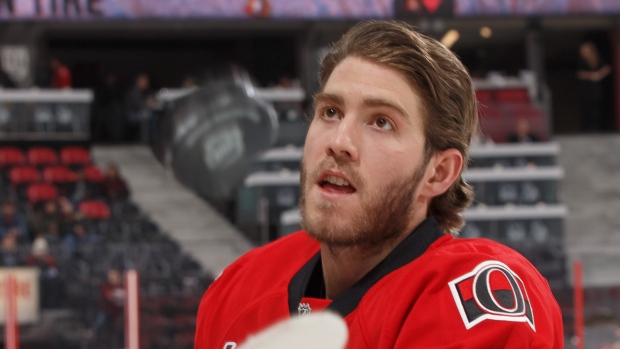 Mike Hoffman has seen his name pop up in the rumour mill throughout the past month as the Ottawa Senators have slumped towards the bottom of the Eastern Conference.
Hoffman, who owns nine goals and 15 assists in 37 games this season, told the Ottawa Sun on Tuesday he's doing his best to ignore the rumours.
"It gets brought up and it gets talked about," Hoffman said. "You try to block it out as much as you can, but it's impossible to fully block out. It's part of the business that we're in and things like this happen. It's something that, as a player, you can't control."
Hoffman sits tied for third on the team with 24 points this season, but also owns a career-worst minus-12 rating on the season.
The 28-year-old has topped the 25-goal mark in each of the previous three seasons. He owns a $5.19 million cap hit through the 2019-20 season, according to CapFriendly.
The Ottawa Sun reports the St. Louis Blues are believed to be among the suitors for Hoffman, though TSN Hockey Insider Darren Dreger said Tuesday the team has yet to receive a firm offer for the forward.
"There's lots of interest in Hoffman for a couple of reasons," Dreger told TSN Radio Montreal 690. "No. 1, he's quick. He's a fast hockey player when he decides he's going to play that way. Unfortunately for him, he hasn't been that consistent in that area this year and that's part of what's going on in Ottawa. He's certainly not alone there. He's got that big shot, which I think again a lot of general managers would have interest in from a power play perspective.
"But last time I spoke to Pierre Dorion, which isn't that long ago, he said that yeah, there's been interest, but there hasn't been any concrete offers – nothing that would make him stop and go, 'Oh, okay. There's something we can work with, so let's just keep talking on that.'
"Now, things can develop very quickly, as we saw in the three-way deal with Colorado and Nashville. I mean, that deal was dead and then a few hours later they find a way to get it done."
Hoffman said he's trying to keep his focus on the ice as the Senators look to revive their playoff hopes.
"The easiest way to deal with [trade talk] mentally is to tell yourself to go out there and do your job," Hoffman told the Sun.
"We're not playing with as much confidence or with the swagger that you need to be a good team, but obviously you're not going out there ignoring the game and thinking about trades."
The Senators visit the Detroit Red Wings (15-16-7) on Wednesday in their first game of 2018.