Holland helps Detroit get its legend back
Having told colleagues that his time as Red Wings' GM would soon be coming to a close, Ken Holland wanted to ensure that his reign ended well and that the team's future was in good hands.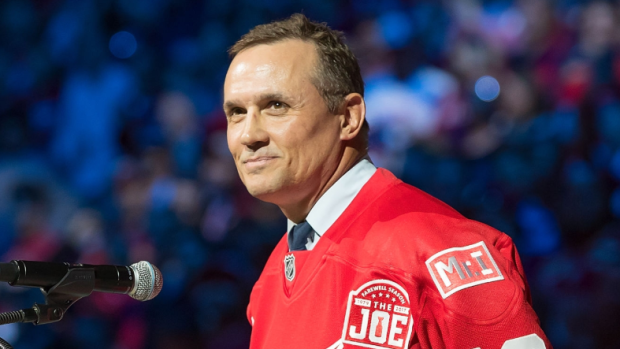 When the flare went up in Detroit, it could be seen all the way down in Tampa. The announcement in April, 2018, that Red Wings GM Ken Holland had signed a two-year contract extension didn't get much attention at the time, but the unusually short two-year term caught the attention of the man for whom it was intended: Red Wings' legend Steve Yzerman.
According to friends and colleagues, Holland had become increasingly frustrated and unhappy in recent years as criticism in Detroit began to mount. Asked if he was looking over his shoulder, Holland, normally calm with the media, replied curtly: "I've won three Cups, five Presidents Trophies. I don't look over my shoulder."
Holland told colleagues that his time as Wings' GM would soon be coming to a close.
What he wanted most was to ensure that his reign ended well and that the team's future was in good hands. Having overseen the start of the rebuilding process in Detroit, Holland wanted to make sure there was a key piece in place: a new GM.
Holland's two year extension was timed perfectly: Yzerman's contract with the Lightning was up in the summer of 2019, which gave him time to put things in order in Tampa.
For his part, Yzerman has great respect for Lightning owner Jeff Vinik, and also wanted the transition in Tampa to be smooth. Concerned that his assistant GM Julien BriseBois would soon be offered jobs with other teams (there were rumours Montreal was interested), Yzerman stepped down as GM last September, ensuring that BriseBois could take over while Yzerman would remain as a senior advisor for a year.
When the Lightning's season ended with a shocking sweep at the hands of the Columbus Blue Jackets, Yzerman was given permission to talk to the Red Wings. According to those familiar with the negotiations, the deal with Red Wings owner Chris Ilitch was done in short order, but not before Yzerman and Holland had several long discussions. Their friendship runs deep: Holland brought Yzerman into management in Detroit after his retirement as a player, and the two are close both professionally and personally, having worked together not only with the Red Wings but on the management staff of two Canadian Olympic gold medal winning teams.
Yzerman would like Holland to remain in Detroit in a senior management capacity, and he may very well stay. Holland has deep roots in Detroit, and is beloved by the Ilitch family. But according to colleagues, he is also a fierce competitor who loves the day-to-day challenge of running an NHL team. As the Yzerman negotiations concluded this week, the Red Wings granted teams permission to talk to Holland, who is believed to have been contacted by several teams.
As Darren Dreger reported earlier, Holland declined an offer to be interviewed for the Oilers' vacant GM position, but the NHL's newest expansion team in Seattle remains a strong possibility.
In the short term, the two most likely options for Holland are to remain in Detroit and work with Yzerman or pursue the Seattle job. Either way, his 22-year run as the Wings GM has ended the way he wanted it to: with the team in the hands of the Detroit legend he wanted to replace him.
*Note: After the Red Wings made Yzerman's new GM title official, they also announced that Holland has been promoted to senior vice president and senior advisor to hockey operations.