Homan, Jones heading in opposite directions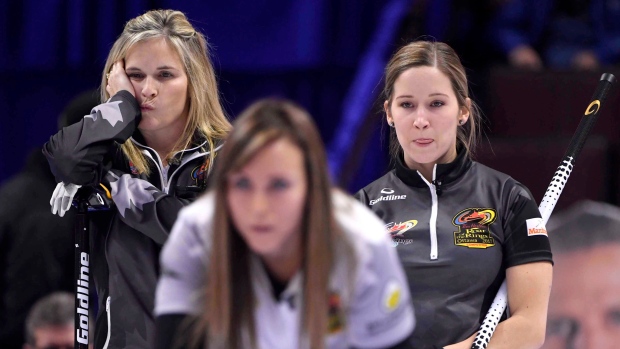 OTTAWA — They had the warmup act Friday night, but the real show goes Saturday afternoon.
Ottawa's Rachel Homan and Winnipeg's Jennifer Jones, two of the best skips in the game, go head-to-head Saturday in the women's semi-final at the Roar of the Rings Olympic trials.
The matchup pits the hometown favourite against the defending Olympic champion with a date in the final against Team Chelsea Carey of Calgary on the line. Carey's confident rink has rolled to a perfect 8-0 record this week.
Homan (7-1) and Jones (5-3) enter the semi-final on two very different paths.
After losing her opener last Saturday to Carey, Homan has rattled off seven consecutive victories, capping it with an impressive 9-4 win over Jones in just eight ends on Friday night in the round-robin finale.
"We take everything we've done all week and just keep building on that. We can't forget what we did to get here and what's working for us," Homan said after the game.
Team Jones, on the other hand, is coming in cold.
Prior to the trials, Jones and her rink were on a 14-game winning streak, thanks to two perfect 7-0 runs at Grand Slam events. They won their first five in the nation's capital to reach 19 straight before things turned south.
The 2014 Olympic gold medalists have lost three in a row, conceding early each time, heading into the playoffs this weekend. The opponents haven't been easy – Carey, Krista McCarville and Homan – but this is probably not how they want to be playing before a game of this magnitude.
Jones said she and her teammates are missing the wrong shots at the wrong time.
"We have to go back to making the big shots in the big moments and I think we're going to do that," Jones told reporters after Friday's loss.
It was a fourth end heavy draw by the veteran Jones in Friday's tilt that was the turning point. Homan stole two in that end to take a 5-1 advantage and they never relinquished the lead despite giving up three in the sixth. Another steal of two in eight forced Team Jones to early handshakes.
"It's all a new day tomorrow (Saturday). So it was kind of fun to come in here and play a game that didn't really matter. Just enjoy the crowd and even though they weren't (cheering) for us, that's OK," said Jones.
"Obviously, we'd liked a couple back, but I was pretty happy with how we were throwing and I thought we had a good handle on the ice and we're feeling good for tomorrow."
The Winnipeg skip shot 64 per cent Friday, after shooting 64 and 78 per cent in the previous two games against Carey and McCarville, respectively.
Homan will have the hammer in the opening end against Jones on Saturday thanks to her victory Friday night.
Despite the rinks going in opposite directions, the Ottawa native knows Jones is an Olympic and Scotties champion for a reason.
"I don't think anybody ever has Jennifer's number," said Homan. "She's a great curler and her team is phenomenal so we have to bring our A-game tomorrow."
The crowd at the Canadian Tire Centre on Friday was the loudest of the week by far, something Homan was thrilled to have been a part of.
"It's an experience I'll never forget," the 28-year-old told reporters. "Something you can't anticipate coming in and just hearing the whole roar of the building is unbelievable."
Jones said her team had some support at the rink as well.
"We actually had way more fans there than I thought, I could hear them. There were Manitoba flags, so it was good. It was fun out there…I can't wait for tomorrow. I'm excited to play.
"I just love to play in these big games, these big moments," Jones said.
"It's the Olympic trials semi-final. Who doesn't want to be there?"
Game time is 2pm et/11am pt on TSN3 and TSN GO.