How productive can Kovalchuk be on an NHL roster?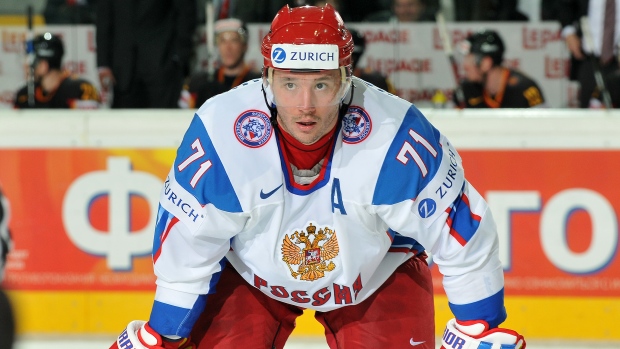 Perhaps the most intriguing name on the market this summer is that of Ilya Kovalchuk, the once-superstar winger who left the New Jersey Devils organization in 2013 to play in the KHL.
Most KHL departures – especially for veterans – usually tie back to a player's degrading performance and inability to secure a long-term contract. Kovalchuk, however, left right around the peak of his playing career. He was still comfortably scoring at a point-per-game rate with the Devils, and was one of the key pieces behind their Stanley Cup Finals run in 2011-12.
There's a reasonably strong argument he's perhaps the best individual shooting talent of the NHL's modern era, and even if that's slipped some, his finishing ability is worth an awful lot to a team.
If this were 2013, every team in the NHL would be lining up to try and ink him – perhaps even to a long-term deal. But that's what makes the Kovalchuk story so interesting. He's been out of the league for four years, and although he's been reasonably productive with SKA Saint Petersburg, the KHL is something of a different animal.
How should we treat a player who averaged 1.1 points-per-game in a second-tier league? And what does that look like when considering production across an aging curve, knowing full well that the aging curve starts to have exponential adverse impact on a player's production as you reach 35+ years?
What teams will have to answer this summer is then a simple question: How productive can Kovalchuk be on an NHL roster tomorrow? You can't just look at the success rate of KHL imports to the NHL, because Kovalchuk is clearly an anomaly. But you also can't extrapolate Kovalchuk's rates back and assume he'll still be one of the league's best goal scorers – the aging curve historically starts to play a big role here, and this doesn't even control for the fact that he really hasn't seen NHL-calibre competition in some time.
One thing we can do is look at historical production for forwards at various age intervals. For the purposes of this exercise, I pulled every season by a regular forward since the 2004 lockout and grouped them into five categories. The five categories are sorted by historical production rates before the age of 29 – my attempt at measuring the quality of each forward before and through his prime.
The criteria, for what it's worth, seems to work qualitatively – Sidney Crosby and Alex Ovechkin are in our 'star' group, while names like Evgeny Kuznetsov and Nathan MacKinnon are in our 'line one' group, and our true two-way grinders bring up the rear.
Now that I sense the groups are appropriate, here's how their scoring rates progressed at each age interval: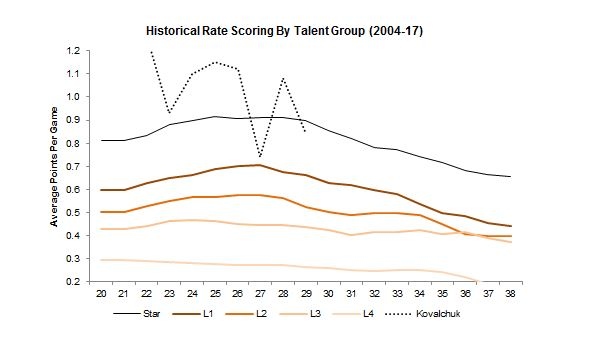 If anything, the 'star' group would have underestimated Kovalchuk's forecasted performance in the earlier parts of his career, and this makes sense – there have only been a handful or two of forwards who have out-produced him in this era, so comparatively speaking, he looks great.
The really interesting thing with these curves is how degradation in offensive production appears to hit in different years. Your line one and line two forwards, for example, start seeing performance slide after their mid-20s, with peak performance years somewhere between age 25 and 27. Our true star forwards seem to be able to hold on a bit longer – their performance peaks around the same age of 25, but can hold on until about 30 or so before things start to spiral downward.
Kovalchuk, again, is arriving back for his age-34 season. If you think Kovalchuk will behave like most star forwards historically, then we should expect two things: (1) still a high degree of production; but (2) substantially less than the Kovalchuk we were treated to in his Atlanta and New Jersey days.
If we assume that Kovalchuk produces along the same curve, then we should expect something around 0.75 points-per-game. Over a full season, that's worth about 60 points.
Sixty-point forwards don't usually make it to the free agency pool, which is what makes his return from the KHL such a fascinating case. Based on the above, I'm reasonably confident that Kovalchuk – at least offensively – has the talent to score at or near top-line rates. Organizations will have to figure out how best to shelter him defensively, and what centre(s) to play him with to optimize his wondrous shooting talent.
Contractually speaking, teams would be wise to remain risk-averse on the length of the contract – Kovalchuk's age-37 season forecast, obviously, doesn't look nearly as appetizing. But for the 2017-18 season, I'm bullish on him being able to contribute offensively.