Hudler takes home Lady Byng Trophy
Jiri Hudler of the Calgary Flames has won the Lady Byng Trophy as the NHL's most sportsmanlike player. Hudler was the NHL's eighth-leading scorer with 76 points while Calgary qualified for its first post-season trip since 2009. He received just 14 penalty minutes all season, the fewest among the league's top 20 scorers.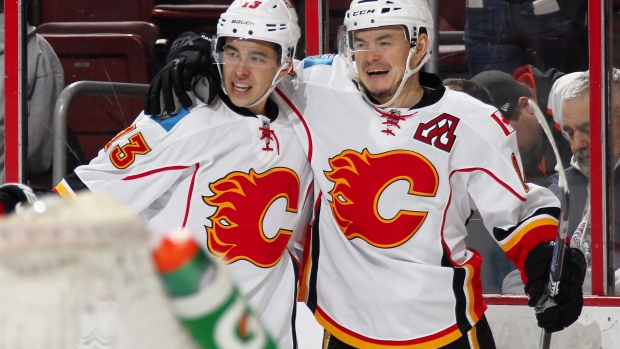 LAS VEGAS, Nev. - Jiri Hudler's brand-new shoes were too stiff. Winning the Lady Byng Trophy fit perfectly.
The Calgary Flames forward beamed about being the first native of the Czech Republic to win the award given for sportsmanship and gentlemanly conduct.
"I know Wayne Gretzky won it five times," Hudler said. "I know it started in 1925. And, I know I'm the first Czech player to win it, and that is all I care about."
Hudler thought Czech legend Jaromir Jagr must have won the award, but the future Hall of Famer told him he was always a fighter and took a lot of hooking penalties.
The 31-year-old had just 14 penalty minutes this season and finished eighth in scoring with a career-high 76 points. His peak came in March when he had 23 points and helped lift the Flames into a playoff spot.
Calgary coach Bob Hartley was also honoured Wednesday night with the Jack Adams Award.
Hudler bought a new suit when he arrived in Las Vegas and during the awards show couldn't handle the stiffness of his shoes anymore. He took the stage wearing only bright Flames red socks.
"I was sitting there for an hour and half," Hudler said with his shoes still off. "I thought Lady Byng was going to be first trophy, but it's not. Obviously it is the most important one."
Hudler finished ahead of Pavel Datsyuk from the Detroit Red Wings and Los Angeles Kings' Anze Kopitar to nab the Lady Byng. It's usually not a premier award, but Hudler stole the spotlight for a few minutes.
"He wasn't wearing shoes — the best thing I've ever seen," Masterton Trophy winner Devan Dubnyk of the Minnesota Wild said.