Hutton shuts the door on Penguins
Carter Hutton stopped 21 shots to pick up his second career shutout as the Nashville Predators beat the Pittsburgh Penguins 4-0 on Sunday. Gabriel Bourque, Roman Josi, Eric Nystrom and Mike Fisher scored, giving the Predators their first regulation win in Pittsburgh in 11 years.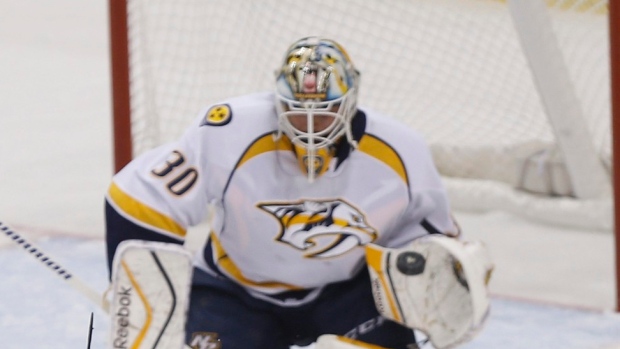 PITTSBURGH, Pa. - Carter Hutton knows he's not Pekka Rinne, so it makes no sense to even try.
Instead, the Nashville Predators' backup goaltender, thrust into a starting role while Rinne recovers from a sprained knee, figures it's better to just stick with what works for him.
"I just keep it simple, play my game and control what I can," Hutton said. "The guys battle hard in front of me and try to make the first save here and try to give us a chance to win every night."
The formula worked perfectly in a 4-0 romp over the Pittsburgh Penguins on Sunday. Hutton stopped all 21 shots he faced for his second career shutout as the Predators won in regulation in Pittsburgh for the first time since 2004.
Gabriel Bourque, Roman Josi, Eric Nystrom and Mike Fisher scored for the Central Division leaders, who ended a difficult post All-Star road trip through St. Louis, Colorado and Pittsburgh a respectable 1-1-1.
"We felt like lately we've been playing hard games, especially out of the break," Nashville forward Mike Ribeiro said. "We thought we could play better in front of our goalie. Got on our forecheck, were pressing and able to create turnovers."
Hutton improved to 3-1-2 while temporarily filling in for Rinne. The Predators ended a five-game losing streak to Pittsburgh by taking advantage of sloppy play by the Penguins, who have lost six of eight.
Nystrom and Bourque pounced on Pittsburgh turnovers — one of them by captain Sidney Crosby — to give Hutton all the support he needed.
Marc-Andre Fleury made 20 saves for the Penguins but received no help from Pittsburgh's sputtering offence.
"We had some mistakes that ended up in the back of our net and we're playing up hill from there," Crosby said. "We still had a lot of time to get back in the game, but we have to figure out how to score goals."
The Penguins have scored just twice in their last three games, both in an overtime win at New Jersey on Friday in which they took 43 shots. Pittsburgh kept Hutton a little busier two days later but spent most of the afternoon playing from behind as Nashville made former Penguins forward James Neal a winner in his return to the city where he became an All-Star.
Neal spent three-plus seasons with the Penguins, becoming a 40-goal scorer being shipped to Nashville last June on a draft-day swap for Patric Hornqvist and Nick Spaling. While Neal's scoring is down a bit, the Predators are off to the best start in the franchise's history. He was held without a point in 15:09 of ice time but provided a nice screen in front on Fisher's 12th goal of the season that made it 4-0 midway through the third period.
By then, Nashville was firmly in control thanks to more than a little help from the Penguins.
Josi's slap shot through traffic zipped past Fleury's glove 4:05 into the game and Bourque doubled the lead less than three minutes later when Pittsburgh defenceman Simon Despres' attempted clearing pass from the corner instead went right into the slot and onto Bourque's stick. He slammed it past Fleury and the Predators had matched their combined goal total in their previous two visits to Consol Energy Center.
"You just can't make plays like that," Penguins coach Mike Johnston said. "That wasn't a good choice by (Despres)."
Hutton rarely needed to be spectacular but made a couple of pretty saves when the Penguins were pressing in the second period. He stuffed a hard-charging Crosby at the end of a power play then turned aside a breakaway by Spaling and a wrist shot from in close by Paul Martin.
Nystrom put the notion of any sort of Pittsburgh rally to rest with less than a minute to go in the second. Taylor Peck poked the puck away from Crosby as Crosby attempted to exit the Pittsburgh zone and slipped a pass to Nystrom, who was behind two Pittsburgh defencemen. Two flicks of the stick and Fleury was badly out of position. Nystrom's sixth goal of the year pushed it to 3-0 and the Predators cruised.
NOTES: Fisher has 12 goals and 10 assists in 25 games since returning from an Achilles injury. ... Pittsburgh played its fifth straight game without forward Evgeni Malkin, who is out with an undisclosed injury. Malkin skated with the team on Saturday and could return at some point this week. ... The Penguins begin a three-game road swing through western Canada on Wednesday when they play at Edmonton. ... Nashville begins a three-game homestand on Tuesday against Toronto.