Ice Chips: Ducks' Perry week-to-week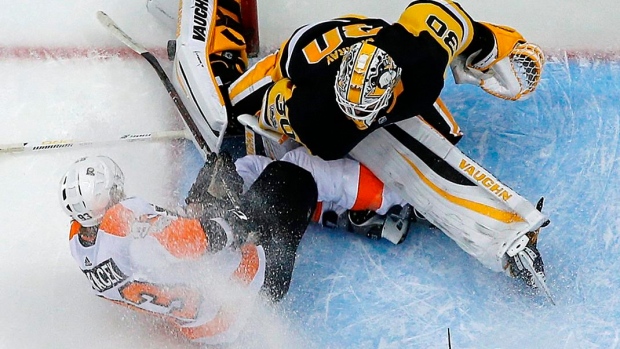 Keep updated on all the injury news and roster moves from around the NHL with daily Ice Chips.
---
Pittsburgh Penguins
The Pittsburgh Penguins have activated goaltender Matt Murray from the injured reserve, executive vice-president and general manager Jim Rutherford announced on Tuesday.
The Pens have also re-assigned G Casey DsSmith to the AHL.
Murray leads Pittsburgh with 11 wins in 21 games played this season.
The 23-year-old has missed the past five games with a lower-body injury suffered on Nov. 27 against the Philadelphia Flyers.
---
Toronto Maple Leafs
Centre Auston Matthews was not on ice for the team's morning skate in Philadelphia on Tuesday. Matthews was scratched from Sunday's game against the Edmonton Oilers due to an upper-body injury.
The Maple Leafs recalled winger Kasperi Kapanen on Tuesday and announced forward Nikita Soshnikov has been placed on the injured reserve.
Soshnikov, 24, last played with the Leafs on Nov. 24. He is without a point in three games this season. Kapanen, 21, is also without a point in three games with the Leafs this season. He last played with the team on Nov. 4.
Tuesday's morning skate lines:
Hyman-Marleau-Brown
Komarov-Kadri-Nylander
van Riemsdyk-Bozak-Marner
Martin-Moore-Leivo
Rielly-Hainsey
Gardiner-Zaitsev
Borgman-Polak
Andersen (starts)
---
Montreal Canadiens
Shea Weber skipped practice on Tuesday for maintenance. He returned from a LBI on Dec. 2 and hasn't taken part in a practice since then. The Habs also cancelled three morning skates since Dec. 2, so Weber has only been on the ice for games these days.
Lehkonen (UBI) and Montoya (concussion) skated prior to practice. - John Lu, TSN.
Lines at practice:
Pacioretty - Danault - Byron
Hudon - Plekanec - Gallagher
Galchenyuk - Drouin - Shaw
Deslauriers - Froese - Carr
De La Rose
D
Benn - Schlemko
Alzner - Petry
Morrow - Jerabek
G
Price
Niemi
---
Minnesota Wild
G Devan Dubynk left during the first period of Tuesday's game with a lower-body injury and did not return to the bench in the second. The Wild's twitter page says it is questionable that he'd return tonight.
---
St. Louis Blues
The Athletic's Jeremy Rutherford reports defenceman Alex Pietrangelo (lower body) has been moved to injured reserve. Pietrangelo didn't play Sunday after suffering an injury blocking a shot on Saturday against the Detroit Red Wings. In a corresponding move, the team has recalled Jordan Schmaltz.
---
Washington Capitals
According to NHL.com's Tom Gulitti, forward T.J. Oshie (upper body) in a green jersey for the Washington Capitals' optional skate. Oshie has missed the past three games after sustaining an injury on Dec. 4.
---
Boston Bruins
Defenceman Adam McQuaid took part in practice.
It was the first session he has had since breaking his fibula on Oct. 19.
---
Ottawa Senators
Mike Condon will be in goal for Tuesday's game against the Buffalo Sabres.
Condon has a 2-2-4 record this season with a 3.28 goals-against average and .902 save percentage.
Defenceman Fredrik Claesson will be back into the lineup for the Sens as well.
Claesson has been a healthy scratch for the last three games.
---
New Jersey Devils
According to New Jersey Devils beat reporter Amanda Stein, forward Marcus Johansson is day-to-day with an ankle bruise and will not play Tuesday night against the Los Angeles Kings
Forward Kyle Palmieri skated Tuesday morning, but will not be in the lineup when the Devils play the Los Angeles Kings.
Palmieri has been out since Nov. 20 with a broken foot.
---
Minnesota Wild
Defenceman Jared Spurgeon may be at practice on Wednesday. He's been out since Nov. 25th with a groin strain.
---
New York Rangers
Mika Zibanejad skated on Tuesday but he will not travel for the team's game against the Ottawa Senators on Wednesday.
Zibanejad hasn't been in the lineup since Nov. 26th.
---
Anaheim Ducks
Anaheim Ducks forward Corey Perry is on a week-to-week basis with a lower-body injury, as per Ducks head coach Randy Carlyle.
Perry left Monday night's game after suffering the injury and had to be moved to a local hospital.
---
Game Notes
Senators (25 points) at Sabres (20 points) - 7PM on TSN5 (regional)
BUF was 4-0-1 vs OTT in 16-17, 1-0-1 at home
BUF (7-17-6):
1-4-2 past 7GP, 9GF, PP 2/23
Kane (1G, 3A) 4 game PT streak
OTT (9-12-7):
0-3-1 last 4GP, all on road, shutout 3 times, PP 1/14
Karlsson (1A) last 12GP, -16
Kings (43 points) at Devils (36 points) - 7PM
LAK 2-0-0 vs NJ in 16-17.
NJ (16-9-4):
lost 2 straight, 5GA in each game, PK 4/5
Hall (1G, 1A) last 4GP
LAK (20-8-3):
won 8 straight, 13GA, PK 21/24
Kopitar (4G, 6A) 5 game PT streak
Maple Leafs (41 points) at Flyers (29 points) - 7PM on TSN4 (regional)
PHI 1-0-0 vs TOR in 17-18, winning in TOR.PHI 3-1-1 last 5GP at home vs TOR
PHI (11-11-7):
won 3 straight, all on road, 5GA, PK 6/6
Voracek (7A) last 3GP
TOR (20-10-1):
won 3 straight, 4GA, PK 8/10
Gardiner (2A) last 2GP
Avalanche (30 points) at Capitals (37 points) - 7PM
COL 1-0-0 vs WSH in 17-18, winning at home.WSH 3-0-0 last 3GP at home vs COL
WSH (18-12-1):
11-2-0 last 13GP at home, 28GA, PK 30/36
Ovechkin (3G, 5A) last 4GP at home
COL (14-13-2):
won 2 straight, both on the road, 9GF, PP 0/7
MacKinnon (6G, 12A) last 13GP
Oilers (26 points) at Blue Jackets (29 points) - 7PM
CLS 2-0-0 vs EDM in 16-17, CLS has won 5 straight at home vs EDM
CLS (19-10-1):
won 2 straight, 3GA, PK 8/8
Panarin (2G, 8A) last 5GP
EDM (12-16-2):
1-2-0 last 3GP, 7GA, PK 7/9
McDavid (1G, 4A) last 6GP
Lightning (44 points) at Blues (44 points) - 8PM
TB is 1-0-0 vs STL in 17-18, winning at home.STL 5 straight wins at home vs TB
STL (21-8-2):
won 4 straight, 16GF, PP 2/16
Schenn (6G) has scored in 4 straight games
TB (21-6-2):
won 4 straight, 20GF, PP 5/14
Stamkos (1G, 4A) last 3GP
Flames (34 points) at Wild (33 points) - 8PM
MIN 1-0-0 vs CGY in 17-18, winning in CGY.CGY 2 straight wins in MIN, 1GA
MIN (15-11-3):
4-1-0 last 5GP, 15GF, PP 1/11
Staal (4G, 1A) last 6GP
CGY (16-12-2):
won 2 straight, 2GA in each game, PK 4/5
Gaudreau (1G, 2A) last 8GP
Panthers (28 points) at Blackhawks (33 points) - 8:30PM
CHI 1-0-0 vs FLA in 17-18, winning in FLA.CHI 6 straight wins at home vs FLA
CHI (14-11-5):
won 2 straight, 3GA, PK 3/4
Kane (1G, 3A) last 7GP
FLA (12-14-4):
2-2-2 last 6GP, 18GF, PP 5/19
Huberdeau (1G, 5A) last 3GP
Hurricanes (29 points) at Golden Knights (29 points) - 10PM
First meeting between teams
VGS (19-9-1):
won 4 straight, 11GA, PK 9/11
Karlsson (9G, 5A) last 12GP
CAR (11-11-7):
0-2-2 last 4GP, all on road, 8GF, PP 11/11
Williams (1G, 1A) last 3GP