'It's a big matchup:' Bears, Seahawks both looking to avoid 0-2 start
The Seattle Seahawks and the Chicago Bears will try to bounce back from opening-week losses when the teams meet Monday night at Soldier Field. Watch the game LIVE on TSN1, TSN4 and TSN5 at 8:15pm et/5:15pm pt.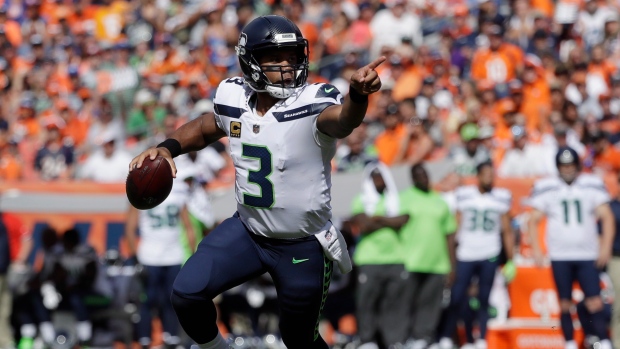 The Seattle Seahawks and the Chicago Bears will try to bounce back from opening-week losses when the teams meet Monday night at Soldier Field.
Watch the game LIVE on TSN1, TSN4 and TSN5 at 8:15pm et/5:15pm pt.
The Bears (0-1) led the Green Bay Packers 17-0 at halftime and by 20 points in the second half before the Packers roared back in the fourth quarter behind injured quarterback Aaron Rodgers to stun the Bears 24-23 at Green Bay in the latest edition of the storied rivalry.
The Seahawks (0-1) suffered a similar fate after leading at Denver early in the fourth quarter. The Broncos responded with a touchdown and held on for a 27-24 victory.
"It's a big matchup (between) two hungry teams getting ready to go on Monday night," Seahawks coach Pete Carroll said. "The Bears had a terrific game going and then, as we all know, Aaron Rodgers kind of stole the show. They had a really good-looking night going and showed their defense, showed their offense, showed the playmaking, all kinds of good stuff.
"We've seen them and they deserve a lot of respect. It's a great opportunity for us. We've got to get back on track and get rid of all that first week stuff and play a good football game, execute well and see if we can get ourselves a win on the road."
For the Bears, losing at Green Bay was a bitter pill to swallow after dominating the first half. But they showed some promising signs.
The defense, led by new addition Khalil Mack at outside linebacker, accumulated four sacks and five tackles for loss. Mack led the attack with one sack, a quarterback hit and a 27-yard interception return for a touchdown.
Mack will be the second dominant pass rusher the Seahawks face in a week's time after having to deal with Broncos outside linebacker Von Miller.
"They're different style athletes, but they're both extremely effective and really difficult," Carroll said. "Khalil is just a stronger looking guy. He plays in a more at you (style and) brings the attack to you. Von's all over the place. He's so, so athletic and so quick. They're just different style guys, but their effect is very similar."
Miller and the Denver defense sacked Seahawks quarterback Russell Wilson six times and forced two interceptions. Wilson finished 19 of 33 for 298 yards and three touchdowns.
This week, The Broncos will be coming after Bears quarterback Mitchell Trubisky, who received mixed reviews of his performance against the Bears.
Trubisky completed 23 of 35 passes for 171 yards but for no touchdowns, and he was sacked four times. He struggled in the second half when the Bears couldn't get much going offensively and failed to provide a response late in the game after the Packers took the lead.
One play in particular was scrutinized this week. A replay surfaced that showed Trubisky neglecting to throw to wide-open tight end Trey Burton in the end zone on a third-and-goal play in the first quarter.
"We just saw that there was a lot of good plays and then there's plays in there too that we can learn from and correct," Bears coach Matt Nagy said. "And that's very natural in his position. With where we're at in this offense, that's going to happen."
Trubisky was aware the criticism and wished he could have the play back, but there's nothing he could do after the fact but learn from it.
"I can't let any game, any play, define who I am as a player or as a person," Trubisky said. "I'm continuing to grow and get better. We want immediate results, everybody -- the media, the fans, myself -- but unfortunately that's not always part of it."
The Seahawks could be without several key players this week.
Linebacker K.J. Wright is still working his way back from arthroscopic knee surgery that kept him out of the opener, wide receiver Doug Baldwin suffered a sprained MCL against the Broncos and guard D.J. Fluker is recovering from a hamstring injury.
Carroll said Wright and Fluker are day to day. Baldwin could miss several weeks.
"Obviously, we all got to step up (with Baldwin out)," said Seahawks wide receiver Brandon Marshall, who had three catches for 46 yards and a touchdown in the opener. "It's hard to replace Doug; you can't replace Doug. What he does, no one else in the NFL can do. I'm just going to continue to be myself."