Jays back Dickey's 4-hitter vs. Tribe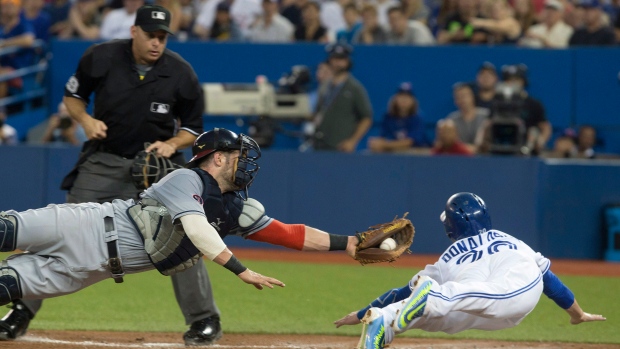 TORONTO - Even in an MVP-calibre season, Josh Donaldson finds new ways to impress.
The Toronto third baseman drove in a run in the first inning and two in the second, upping his MLB-leading RBI total to 111 in the Blue Jays' 5-1 win over the Cleveland Indians on Wednesday. He also showed off his hustle and athleticism, diving though the air to evade catcher Yan Gomes' tag and score on a shallow sacrifice fly ball by Troy Tulowitzki in the second.
"It's gotten to the point where nothing this guy does surprises you any more. I mean he's a super-hero, really," said Jays starter R.A. Dickey, who threw a complete-game four-hitter. "He is in a special place right now."
"He's on a mission," echoed Toronto manager John Gibbons.
Donaldson played down his second-inning heroics, saying he just saw the opportunity with second baseman Jason Kipnis back-peddling to get to the ball.
"So I took it," he said.
With the sellout crowd chanting M-V-P, Donaldson singled, doubled and doubled before Cleveland finally induced him to ground out in the seventh inning. And Donaldson made that play close at the bag.
In the third, he challenged Indians left-fielder Michael Brantley and won, turning a single into a double.
It was Donaldson's 48th multi-hit game and 14th three-hit game this season. His RBI total is the most by a Blue Jay since Jose Bautista's 124 in 2010.
The surging Jays (76-57) have won 10 of their last 12 and are 31-11 since the all-star break. They are 33-13 in their last 46 home games.
Still, the New York Yankees defeated Boston 13-8 earlier in the day to remain 1.5 games back of the Jays in the American League East.
Dickey (10-10) retired the Indians in order in seven of his nine innings, dispatching 14 straight batters at one point for his 99th career win and 15th complete game.
"Dickey was so good. ...He just threw a lot of strikes," said Cleveland manager Terry Francona. "First time through you saw him show the fastball and then go to the knuckleball. Once he got it rolling, man, for a ball to move that much and for him to command it that well, it was really impressive."
Toronto continued its onslaught on opposition pitching, leading 5-0 after two innings with the Rogers Centre roof open on a sticky September night before 46,538 — the 15th sellout of the season. Cleveland was certainly sweating, using four pitchers in the first four innings.
Dickey, meanwhile, shut the door on Cleveland as the Indians (64-68) lost their second straight after a six-game win streak. The 40-year-old knuckleballer retired Cleveland's first nine batters.
Dickey is the first Toronto pitcher to go 7-0 after the all-star break since Roger Clemens in 1998.
"I'll tell you what's worked is the bats have exploded when I pitch," Dickey said with a chuckle. "And that's always nice, to pitch with a lead.
"It's such a gift to get to come and watch these guys play. It really is — to watch Donaldson and Bautista and Tulo (Tulowitzki). Everybody is playing a part and it's really a rare gift to get to come to the park and see these guys perform."
Tulowitzki drove in Toronto's other two runs.
Toronto's Edwin Encarnacion, who had his 26-game hitting streak snapped Tuesday, had a walk in four at-bats to extend his on-base streak to 33 games
Toronto showed its teeth early, scoring twice in a first inning that required 30 pitches from Cleveland starter Trevor Bauer (10-11). In contrast, Dickey needed just 31 pitches in his first three innings.
Bauer, a 24-year-old right-hander, gave up four runs on six hits and a walk in 1 1/3 innings in a miserable Rogers Centre debut.
There was good news for the Jays elsewhere as Marcus Stroman, in his first rehab start since undergoing knee surgery in March, struck out seven and walked one in 4 2/3 no-hit innings for the Class-A Lansing Lugnuts against the Great Lakes Loons.
Toronto has an off day Thursday before hosting the Baltimore Orioles on Friday.
Follow @NeilMDavidson on Twitter