Jays' Donaldson wins Silver Slugger at 3B
Toronto Blue Jays third baseman Josh Donaldson won his second consecutive Siler Slugger award. The honours, which go to the best hitter at each position, were given out Thursday.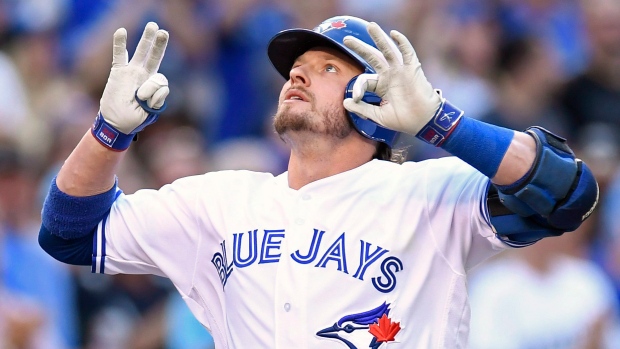 Toronto Blue Jays third baseman Josh Donaldson won the Silver Slugger on Thursday as the best offensive player at his position.
Donaldson hit .284 with 37 home runs and 99 runs batted in and seven stolen bases, helping the Blue Jays to the American League Championship Series.
"Grateful for silver slugger #2. Cheers to all my teammates and fans for the support all year long," said Donaldson from his verified Twitter account adding the hashtag #strivingforexcellence.
Donaldson also won the Silver Slugger in 2015 when he won AL MVP.
The award is selected by major league coaches and managers and sponsored by baseball bat manufacturer Louisville Slugger.
Other winners in the AL were Kansas City catcher Salvador Perez, Detroit first baseman Miguel Cabrera, Houston second baseman Jose Altuve, Boston shortstop Xander Bogaerts and outfielders Mookie Betts (Boston), Mike Trout (Los Angeles) and Mark Trumbo (Baltimore). David Ortiz, Boston's retiring designated hitter, also earned the award.
In the National League, Washington catcher Wilson Ramos, Chicago first baseman Anthony Rizzo, Washington second baseman Daniel Murphy, Colorado third baseman Nolan Arenado, L.A. shortstop Corey Seager and outfielders Charlie Blackmon (Colorado), Yoenis Cespedes (New York ) and Christian Yelich (Miami) were named. Chicago's Jake Arrieta earned the award as a pitcher.