Jays P House expects to make full recovery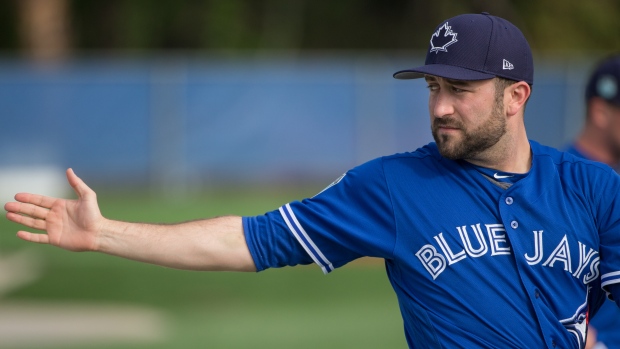 LAKELAND, Fla. — Toronto Blue Jays reliever T.J. House says he'll be O.K.
House was taken off the field in an ambulance Friday after being hit on the head by a line drive in the ninth inning of a spring training game against the Detroit Tigers.
"Guys things are looking good," said House in a tweet from his verified account. "Today's moment was the scariest of my career but after much testing and time I'm going to make a full recovery."
House was talking before the ambulance left the field, Toronto manager John Gibbons said.
The team announced House will spend Friday night in the hospital, but all of his tests were normal.
Tigers manager Brad Ausmus said House's injury was among the scariest things he has witnessed in a baseball game.
"When I went out there, his face was in his glove," Ausmus said. "There was blood on his face, blood in the glove — everything."
The pitcher was hit on the back of the head by a ball off the bat of John Hicks. The ball ricocheted about 30 feet into the air before being caught by catcher Mike Ohlman.
"Before he even caught it, people were signalling for the trainers to come out. You could tell the infielders were shaken by what they saw," said Nick Brzezinski, who works for the Blue Jays' Class A Lansing Lugnuts and was watching from along the first-base line.
House fell to his stomach and was face down on the mound for nearly 20 minutes while being tended to by trainers. House was put onto a stretcher and gave a thumbs-up to the crowd as he was placed into an ambulance for transport to a hospital.
Gibbons said immediately after the game that the 27-year-old House was talking and had feeling in all of his extremities.
"I couldn't get near him," Gibbons said. "They were working on him. It's scary, you know. He was talking, he could feel everything, so, hopefully, that's a good sign."
The game was called with Toronto ahead 6-2, with a runner on first and one out in the ninth.
House was grateful to everyone who reached out to him after the accident.
"I appreciate everyone who reached out through social media and texts/calls," said House in a second tweet. "I hope to be back out doing what I love soon. Much love!"