Jets' Wheeler chimes in on Trump's tweets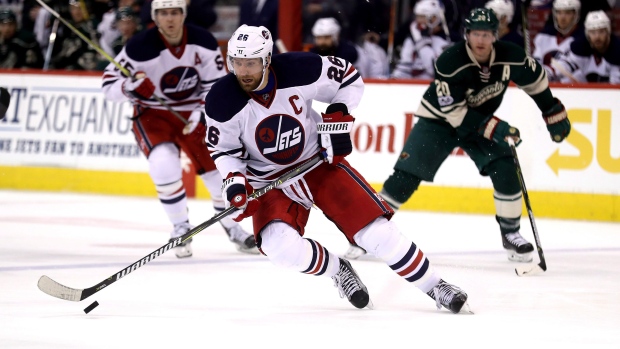 U.S. President Donald Trump came under criticism from many pro athletes and teams on Twitter Saturday and Winnipeg Jets' captain Blake Wheeler was the first NHL player to chime in.
"It's the First Amendment to our Constitution. The First one!!" the American-born Wheeler tweeted. "Regardless of how it makes you feel individually, these are literally the principles the US was founded on. Come on, Mr. President".
Wheeler's comments stemmed from tweets this morning made by the President of the United States, who doubled down on denouncing in-game protests by NFL players and withdrawing NBA star Stephen Curry's White House invitation.
His tweets drew immediate response from football and basketball stars and prompted Cleveland Cavaliers' superstar LeBron James to call the President a "bum."
James took to Twitter Saturday evening to clarify his reasoning for tweeting what he did. "[President Trump] has tried to divide us once again ... and now it's now it's hit [closer to home] for me because he's using sports as the platform to try and divide us even more," James said in a video posted on The Uninterrupted's website and Twitter account. "It's not something I can stand for or something I can be quiet about."
The Golden State Warriors released a statement Saturday afternoon, expressing their disappointment with the remarks that President Trump made on Twitter.
The team added that if they are given an opportunity to still make the customary trip to the White House in February, they want to use it as a way to celebrate the positive values that the organization stands for.
The New England Patriots met with the President at the White House after they won the Super Bowl, but several players declined to attend.
According to the Pittsburgh Post-Gazette's Dave Molinari, the Pittsburgh Penguins, who won their second-straight Stanley Cup in June, will not turn down an invitation to the White House. Molinari added that a Penguins official said no player would be forced to attend the ceremony.
"The Pittsburgh Penguins would never turn down a visit to the White House and, if invited, we would go as a team," team CEO/president David Morehouse said on June 13 in a prepared statement.
The only instance of a hockey player not attending the team's trip to the White House was Boston Bruins' goaltender Tim Thomas. He declined to accompany the team in 2011 when Barack Obama was President of the United States.