Wheeler: 'We haven't even made the playoffs yet'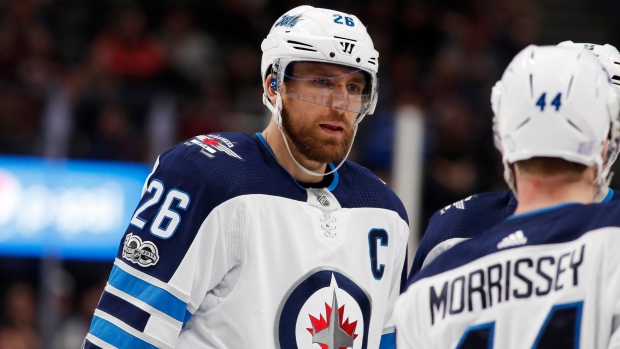 The Winnipeg Jets improved to 33-15-9 on Tuesday night with their comeback victory over the Washington Capitals, but team captain Blake Wheeler isn't ready talk about a deep playoff run.
"I just think that we've got to pump the brakes here a little bit," he said after the game. "We're talking Stanley Cup contender, we haven't even made the [expletive] playoffs yet. We're building this up a bit bigger than it is. We're just trying to get better every single game."
The Jets scored shorthanded with 15 seconds left to force overtime against the Capitals, while Tyler Myers' sixth goal of the season gave them the 4-3 win in overtime.
The 31-year-old Wheeler said the team being under a microscope is part of the allure of playing in Winnipeg but felt the need to put the team's current success in perspective.
"That's what makes this a special place to play," Wheeler said of the spotlight on the team. "But this is an organization that has never won a playoff game. So we're working on changing that culture every single day."
Wheeler is the Jets leading scorer this season with 14 goals and 61 points in 57 games. A veteran of 754 games with the Boston Bruins, Atlanta Thrashers and Jets, Wheeler has appeared in 25 career postseason contests.