Johnson, Allen vying to fill void in Lions' backfield
Andrew Harris left a big hole in the backfield when he bolted the B.C. Lions for free agency this winter.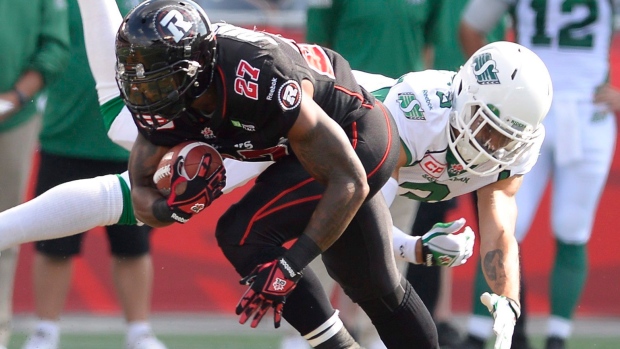 KAMLOOPS, B.C. — Andrew Harris left a big hole in the backfield when he bolted the B.C. Lions for free agency this winter.
The move wasn't unexpected — the Winnipeg native expressed frustration after last season and wound up signing with the Blue Bombers — but his consistent production on the ground and through the air had to be replaced.
A couple of CFL veterans with something to prove are hungry to fill the void.
"This is an incredible opportunity," said Jeremiah Johnson. "My whole dream is to just be that guy, be that every down back to take my team to the highest level."
Open competitions for starting running back jobs are few and far between in professional football, so when Johnson and fellow free agent Anthony Allen saw what was unfolding in B.C., both jumped at the chance.
"My third year in the league and this is really my first time being able to come in and compete for a position that's not already taken by somebody," said Allen.
The pair signed contracts less than 24 hours apart in February and are the most likely candidates at Lions training camp to assume Harris's old spot.
"They're both excellent backs," said B.C. head coach and general manager Wally Buono. "Both run the ball well between the tackles and are both also very good receivers."
Johnson, 29, entered the league in 2014 after a couple of NFL stops, spending parts of two seasons with the Ottawa Redblacks where he rushed for 448 yards on 97 carries in 2015. Perhaps most impressive were his CFL-high nine rushing touchdowns in just 10 games before going down with a foot injury.
The Los Angeles native also impressed the Lions with a 100-yard, two-TD performance in the Redblacks' 31-18 victory over B.C. in September. But he didn't leave the nation's capital on the best terms after sitting out Ottawa's Grey Cup loss to the Edmonton Eskimos despite claiming he was healthy enough to play.
"They thought not putting me in, not playing me was best for the team," said Johnson, who lives with his wife and two kids in Oregon in the off-season and is excited at the opportunity to play closer to home. "I have personal things to say about it, but I'm going to keep that to myself. At the end of the day they still gave me the opportunity."
Allen, meanwhile, rushed 169 times for 930 yards and five TDs with the Saskatchewan Roughriders in 2014, but had to share duties with Jerome Messam last season, collecting 574 yards on 92 attempts to go along with three scores.
The 27-year-old won the Super Bowl with the Baltimore Ravens in 2013 and took a moment after one of the practices in Kamloops to marvel at his journey.
"This game can take you anywhere," said Allen, a native of Tampa, Fla. "I'm out here looking at mountains and stuff and a couple years ago I was winning a Super Bowl. It's just a testament to this game."
The decision to let Harris go represented a shift in philosophy for the Lions — allowing a big-ticket Canadian talent to walk so they could allocate the resources to address issues elsewhere, including the offensive line.
"I've always had a lot of respect for (Allen and Johnson)," said Buono. "When we had an opportunity to sign guys like that we were quite pleased."
The pair have each averaged more than five yards a carry since coming to the CFL, but their styles differ. Johnson is closer to the ground, checking in at five foot nine and 209 pounds, while Allen is a more upright runner at six foot one and 220 pounds.
They are joined at camp by second-year Canadian running back Shaquille Murray-Lawrence, standout return man Chris Rainey and rookie J.C. Coleman.
Allen and Johnson know they are in direct competition — Buono said keeping both on the roster will prove difficult — but that doesn't mean the players aren't working to make each other better.
"The team that usually wins is the one with the most camaraderie," said Allen. "Even if you are battling with a guy for a position, you have to have to be a brother to that guy. He has to be able to count on you and you have to be able to count on him.
"We just want to make it a fair battle. Everybody has the same amount of chips in and whoever performs the best on the field gets the position."
---
Follow @JClipperton_CP on Twitter.