Kadri apologizes for stick incident in penalty box
Maple Leafs centre Nazem Kadri 'kind of got out of control' after accidentally hitting the penalty-box attendant with his stick in Wednesday's game against Florida because he was furious after getting cross-checked by two Panthers defencemen on the same shift and he was the only player penalized when he retaliated, TSN's Mark Masters reports.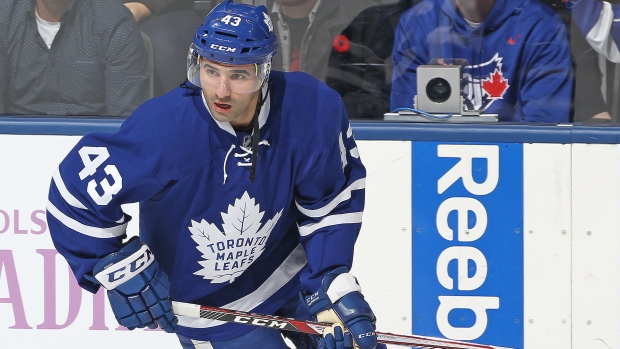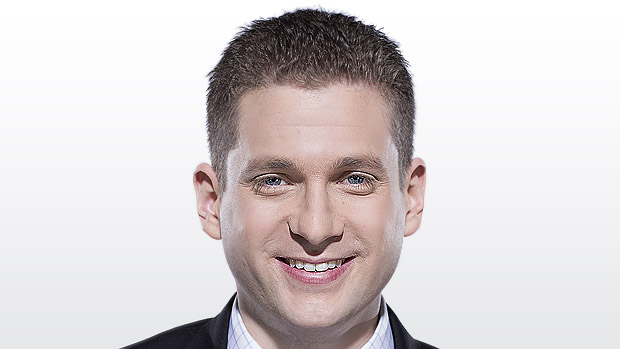 TSN Toronto reporter Mark Masters checks in daily with news and notes from Maple Leafs practices and game-day skates. The Maple Leafs practised at PNC Arena in Raleigh, N.C., on Thursday.
Before a question could be asked, Nazem Kadri addressed reporters on Thursday in Carolina.
"Before we start," Kadri said, "the incident that happened yesterday, I feel terrible about it. Obviously, it's an emotional game and I kind of got out of control."
The Toronto Maple Leafs centre apologized repeatedly for accidentally hitting the penalty-box attendant with his stick late in Wednesday's 2-1 shootout loss to the Panthers in Florida.
"I didn't even realize I hit him until I saw the replay afterwards. And then I must've apologized to him a thousand times in the penalty box and hopefully he forgave me. Like I said, it's an emotional game. I've tried reaching out to him and I'm going to send him something just to solidify my apology. I'm sincere about that. I lost control and that won't happen again."
Kadri was furious after getting cross-checked by Aaron Ekblad and then Mike Matheson on the same shift in the final minute of the third period. He retaliated with a cross-check on Matheson, which was the only penalty called in the sequence.
"These (hits) are behind me so I don't know they're coming," Kadri said of the blows from the Panthers defencemen. "I'm not expecting to be cross-checked. I'm being cross-checked in a very vulnerable area that doesn't feel very good to get cross-checked in. I don't have any padding there. It didn't feel great so (I) just wasn't happy. I really felt like I didn't even cross-check him that hard, but it was a cross-check, regardless."
After the game, Leafs head coach Mike Babcock said Kadri had to show more self-control, but also noted it was "awful" that the initial cross-checks weren't called.
"It was stupid, there's no question about it," Kadri said of his penalty which left the Leafs short-handed to start overtime, "and after you come to your thoughts in the penalty box you start to think about how irrational it was and there's no excuse for it. Were there a couple of incidences that happened beforehand that led to me acting that way? Sure, but I still got to keep my composure."
Kadri attempted to take his frustration out on a water bottle in the penalty box, but in his haste accidentally high-sticked the face of the official who was working there. The penalty box attendant responded by immediately getting in Kadri's face and offering what appeared to be a stern lecture.
"I wasn't sure why he was upset with me and then I looked at the replay and I said, 'Oh, dude, I don't blame you,' " Kadri said. "I was super surprised. I was like, 'What's this guy doing here?' But then I saw the replay and was like, 'Wow, I'd probably do the same thing.' I felt, honestly, very terrible about it and I'm reaching out to him and hopefully I can patch things up and make it better."
What did the attendant say to Kadri?
"I don't know. I wasn't paying attention, to be honest, because I was yelling at other people and there was a whole bunch of stuff going on so I didn't really hear what he said to me. But by the time I looked up he was a couple inches from my face and I was kind of confused. Then I saw the replay and there's no excuse for that. I mean, I seriously could have hurt him so I'm glad it wasn't worse."
At times, Kadri has been known to cross the line from being an effective pest to a liability, but his coach doesn't want the 27-year-old to change.
"When you're on the line, sometimes you cross it and you feel bad," Babcock said. "You can't put yourself before your teammates and he knows that."
"I play on an edge and that's how I play my best and that's never going to change," Kadri said. 
"You know, sometimes you can keep your emotions in check. I play with passion and ... sometimes you let it get the best of you."
Matthews, Marner sticking together
Auston Matthews and Mitch Marner​ remained together on a line at Thursday's practice alongside Zach Hyman.
"He's just really easy to play with," Matthews said of playing alongside Marner. "I feel like we always kind of know where each other's at, especially through the neutral zone. You get the puck to him and he's always looking to get it back to you or vice versa, so I think it works out pretty well. Obviously, he's a special player and can get it to you from anywhere."
On Wednesday, Matthews and Marner started a game together for the first time and Matthews responded by firing eight shots on goal, matching a single-game career high.
"We created chances," Marner noted. "I think we got through the neutral zone better in the third. We just moved the puck well, got down low and created chances for ourselves."
Matthews could have had even more shots when you factor in a close call in overtime and the puck he rang off the iron.
"In the third period, the whole team kind of got going, but I thought, for us, we definitely created a lot of chances," Matthews said. "I know (assistant coach) Jim (Hiller) told me this morning that our line generated maybe seven, eight or nine chances out of 18, 19, 20 so that's always a good sign. Obviously, you want to capitalize on some of those, but sometimes they don't go in."
Babcock believes the only thing that kept that line off the scoresheet was Panthers goalie Roberto Luongo, whom he coached at a pair of Olympic Games.
"Luongo was very, very, very good last night and you give Lu all the credit," Babcock said with a smile. "I actually bumped into him after and said, 'Geez, you're still good.' You know, helluva goalie and he was good last night."
So, Matthews and Marner get another chance even though Babcock said earlier this week he had no plan to put the dynamic 20-year-olds together. And the coach reiterated on Thursday that he isn't exactly sold on the pairing.
"We got to figure it out, because Mitchy's going to have to shoot the puck if he plays with those guys a bit, too, and he doesn't like doing that so we have to figure that out. We'll just keep plugging away and see how it goes."
Nylander due for big breakout game
Babcock was generally pleased with how the new-look lines performed despite Wednesday's shootout loss in Florida. He was especially happy with how William Nylander fared with Tyler Bozak and James van Riemsdyk. Nylander is looking for an offensive jumpstart after producing just one goal in the last 15 games.
"Well, I thought Willy was outstanding last night," Babcock said. "I thought it was Willy's best game in a long time. Willy's ready to break loose so, to me, when it doesn't go, it doesn't go. I thought that line – Bozak, van Riemsdyk and Willy – dominated, especially in the third period. I was very impressed with them."
Nylander played a season-high 19:16 against the Panthers registering three shots on goals and strong possession numbers (63% CorsiFor).
Marleau shifts to centre on the road
Many of the recent line tweaks seem to be motivated by the fact Babcock doesn't have last change on the road. That's why he's moved reliable veteran Patrick Marleau to centre once again. Babcock believes that by icing Matthews, Kadri and Marleau down the middle that eliminates mismatches while also freeing up the Bozak line to take advantage of easier matchups.
On Wednesday, the Leafs started a stretch that will see them play 14 of 18 games on the road so it seems like these new lines could stick around for a bit. But Babcock cautioned that's not necessarily true.
"I wouldn't spend any time evaluating it," he noted when asked about all the changes. "If it's going real good we don't change. Matty was out for a while, we won a whole bunch of games, Matty came back and we moved them around because we haven't got them going since."
Martin likely to sit as healthy scratch
It appears Babcock is making yet another lineup change for Friday's tilt against the Carolina Hurricanes. Matt Martin wasn't involved in the line rushes in Thursday's workout and projects to be a healthy scratch for the first time in his Toronto career.
"We have a deep team and you just got to stick with it," Martin said. "It's never easy. You want to play. It's difficult, but you come to work and work hard and wait for your next opportunity."
Did the move come as a surprise?
"Yeah, I guess a little bit," Martin admitted. "But, it is what it is and you move forward."
Babcock has often lauded the gritty winger for ensuring other teams don't take liberties with Toronto's young stars, but with goals starting to dry up the Leafs are in need of offence so Josh Leivo will draw in. Leivo skated on a line with Marleau and Connor Brown at practice.
The Leafs have scored just one goal a game in three of the last four games.
Hyman irked by concussion spotter, but likes rule
Hyman was forced to leave Wednesday's game late in the third period after he was knocked to the ice by Matheson and appeared to hit his head. As a result, the concussion spotter pulled him.
"I fell on my shoulder, but I watched the clip and it looks like I hit my head pretty hard, but I didn't," Hyman said. "But, it's good though. I think it's important for the league to recognize that and when you see a player that has the potential for a concussion to pull them, because oftentimes players aren't going to pull themselves. So, we went through all the tests and everything was good."
Was it disappointing in the moment?
"Yeah, it was really frustrating," Hyman admitted. "You're sitting in a room and doing all these tests and the game's on and you want to get back there and help the guys so it's frustrating, but at the same time it's good for the league."
Lines at Thursday's practice
Forwards
Hyman-Matthews-Marner
Komarov-Kadri-Soshnikov
Leivo-Marleau-Brown
van Riemsdyk-Bozak-Nylander
Extras: Moore, Martin
Defencemen
Rielly-Hainsey
Gardiner-Zaitsev
Borgman-Carrick
Extra: Polak
Goalies
Babcock confirmed that Frederik Andersen will start against the Hurricanes on Friday.
Curtis McElhinney is likely to get the call on Saturday against the Washington Capitals.