Keep an eye on the Carolina Hurricanes
An extremely young blueline is helping the Hurricanes win the territorial battle decisively on most nights, Travis Yost writes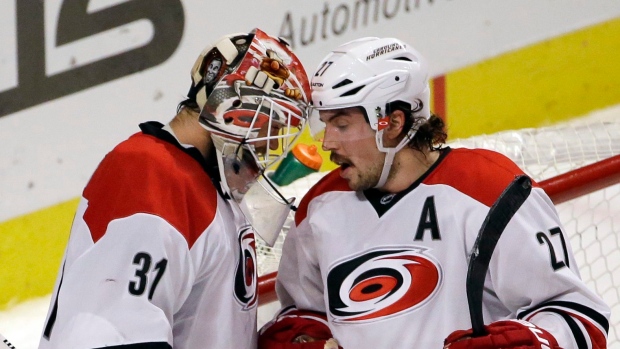 The Carolina Hurricanes are one of a couple of teams benefiting from the epidemic of mediocrity running rampant through the Eastern Conference right now.
Quiet as its being kept, the ragtag group of talent assembled by general manager Ron Francis is still in the middle of the playoff hunt. They are only two points back of Boston for the final wild-card position in what most figured would be a rebuilding year.
Is it fluky? I don't think so. It certainly doesn't fail any of our quick sanity checks. They aren't reliant on shootout wins – their 19 regulation and overtime wins is good for eighth in the East. Their PDO is actually cripplingly unlucky. Their shooting percentage (6.6 per cent) is 22nd in the league, while their save percentage is 27th. In most cases, this combination of goal variance would submarine a team in the standings.
As you might have guessed, Carolina's offsetting a lot of their struggles to score goals and stop pucks by decisively winning the territorial battle. Where they grade extremely poor in efficiency, they grade extremely well in volume. They're essentially the anti-Edmonton – a team whose poor efficiency was exacerbated by getting killed on the shot clock, earmarking them for lottery appearance after lottery appearance.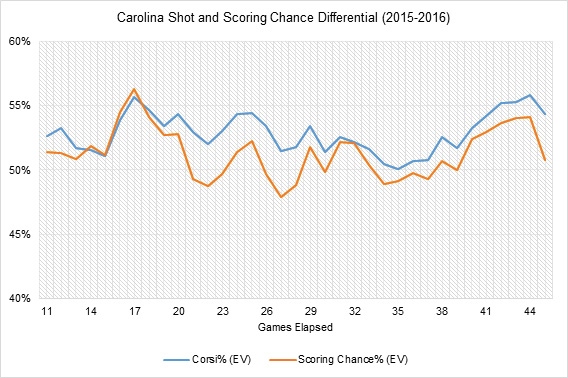 Carolina has not been out-shot over any 10-game stretch this season, and in most intervals they have graded somewhere between above average and dominant. The scoring chances show a similar story, though they have dipped in small intervals on that front. Still, they have never really extended below break-even for more than a blip. This is, of course, a great way to offset lowly shooting and save percentages.
But, saying Carolina is a decent team might understate the performance they've had in the first half of the year.
One of the big reasons why I'm so amazed at how Carolina's been able to legitimately stay in the fight is that their defence is so green. Of the defencemen who have suited up for at least 18 games this season, they have Justin Faulk (23), Ryan Murphy (22), Jaccob Slavin (21), Brett Pesce (20) and Noah Hanifin (18). Even when you consider the minutes older veterans such as Ron Hainsey (34) and John-Michael Liles (35) have played, it still feels like one of the rawest defensive corps we have seen in recent years.
Looking at every team's average age of their blueline (minimum 10 games played), Carolina shows as one of the youngest we have seen. I've colour identified the two youngest bluelines in a given year since 2007-08 – you'll see that the average age of Carolina's defence, even with those pair of veterans, is under 25.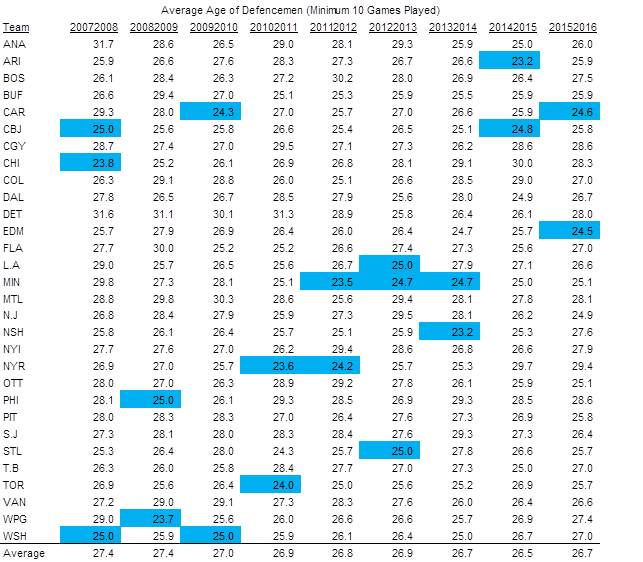 You can see that the average defence is about 27, so Carolina (24.6) and Edmonton (24.5) are giving up an awful lot of experience relative to the rest of the teams around the league. But let me show you just how impressive Carolina's underlying numbers are when you consider how young their defence is.
Below, I have looked at every team whose average age of their defence is about two standard deviations below the norm. Then, I have identified whether that team performed well by shot-differential analysis. The working theory is that most of these teams should have struggled historically, with many of them working through rebuilding phases where player development was prioritized over winning games in the immediate sense. Here, red means out-shot in the given season; blue means out-shot the opposition in the given season.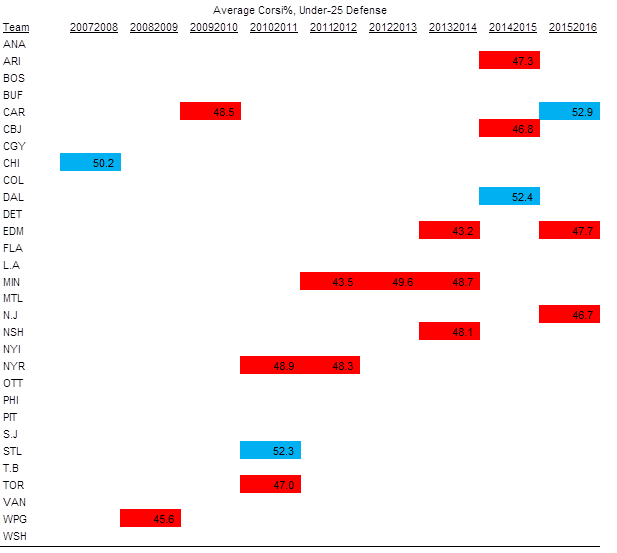 Fourteen of 18 teams (78 per cent) identified as having very young bluelines were out-shot over the course of the season. That leaves us with four teams – the 2007-08 Chicago Blackhawks, the 2010-11 St. Louis Blues, the 2014-15 Dallas Stars and the 2015-16 Carolina Hurricanes – as the teams that managed to buck the trend.
When you work through the three rosters that preceded Carolina, the numbers start to make sense. The Chicago team was bringing Dustin Byfuglien, Niklas Hjalmarsson, Duncan Keith, Brent Seabrook, James Wisniewski, and Cam Barker into the fold. Every one of those defenders, except Barker, became impact players — the majority forming the backbone of Chicago's vaunted blueline.
St. Louis? They didn't play a single player over the age of 30 in the 2010-11 season, all while bringing along young talents in Ian Cole, Alex Pietrangelo, and Roman Polak. Last year's Dallas team was much of the same – outside of Trevor Daley, the roster was loaded with young players (Jokipakka, Klingberg, Oleksiak, Nemeth) playing a lot of minutes.
Now, I'd be careful to draw a straight line between the relative success of Carolina and that of Chicago, St. Louis, and Dallas in those years (and subsequent years). Unlike those teams, the forward talent is still a question mark for the Hurricanes, and it's hard to imagine they could turn into a major threat without some help up front.
That said, it's hard not to be optimistic about where this Carolina team is headed. We can see that most young defences put into sink-or-swim situations instantaneously drop to the bottom of the lake. Carolina? They're either suited up with life jackets or knew how to swim from the jump.
The Takeaway
We are likely a bit of time away from Carolina accelerating the rebuild into phase two, where they'll be expected to grab one of the eight playoff berths. But, the mere fact that they're in contention in a year that was pegged for lottery contention is hugely encouraging. Keep an eye on this team – and this defence – in the second half of the season.