King says Flames are no longer pursuing new arena
Calgary Flames president and CEO Ken King said on Tuesday that the team is no longer pursuing a new arena. "No we are no longer pursuing it. We are very interested in doing it, but we can't make a deal," King told TSN.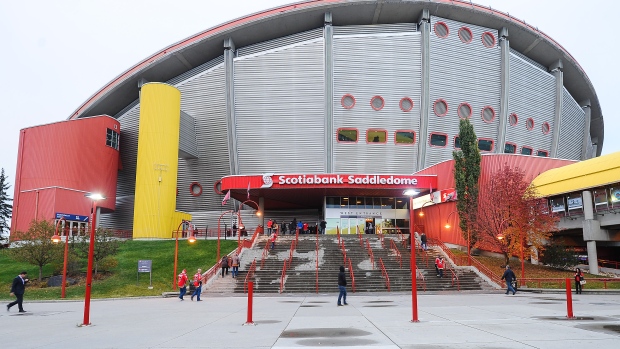 Calgary Flames president and CEO Ken King said on Tuesday at the Flames golf tournament that the team is no longer pursuing a new arena.
"I think they came to the right conclusion. We've been working for a long time trying to come up with a formula that really works to replace this building and we really put our best foot forward and I've come to the conclusion sadly and I'm very disappointed that I don't think we can make a deal that works for us," King told TSN.
"I think the city's come to the same conclusion, I don't think they can make a deal that works for them."
"Without a new building there will be consequences," commissioner Gary Bettman told Metro Calgary.
"Negotiations are over. They'll play out the string here as long as they can."
The Flames and Calgary mayor Naheed Nenshi have been discussing the possibility of a new arena for several months as part of a further redevelopment of downtown Calgary.
Nenshi is expected to comment on the situation Wednesday.
Back in March, Bettman confirmed he spoke with the mayor during his annual tour of NHL cities.
"This building was built in the 1980s, they don't build buildings like this any more," said Bettman on March 15. "It's a grand old building, it's got a great roof-line, it's historic in many ways. But these aren't the facilities that our hockey teams typically have."
He added that fan experience may suffer due to the lack of amenities.
"It doesn't hold a candle to what's been done in new arenas," Bettman said.
Flames president of hockey operations Brian Burke said in a speech in June that the team could end up relocating to another city.
Replying to what appeared to be a question from a member of the audience regarding comments King previously made on a possible relocation, Burke said: "What Ken King said was, 'we're not going to make a threat to move, we're just gonna to move if we don't get the deal we need.'"
The news comes on the same day of reports that KeyArena in Seattle – which has long since been pursuing an NHL team – could be ready to host an NHL team by 2020. A proposed memorandum of understanding between Seattle and Oak View Group was to be presented to Seattle City Council on Tuesday.
It will not be voted on until the first week of December at the earliest.