Kings re-sign F Pearson to four-year deal
The Los Angeles Kings have signed forward Tanner Pearson to a four-year contract extension, the team announced on Tuesday. Pearson's contract will have an Annual Average Value (AAV) of $3.75 million.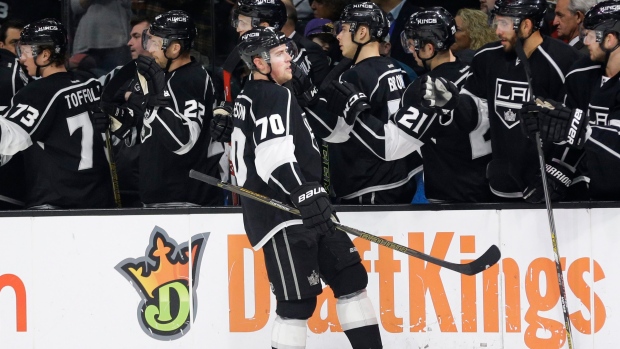 EL SEGUNDO, Calif. — Forward Tanner Pearson agreed to a four-year, $15 million contract to stay with the Los Angeles Kings on Tuesday.
Pearson had a career-high 24 goals and 20 assists in 80 games for the Kings last season, just his second full NHL campaign. He has emerged as one of the low-scoring Kings' top offensive threats in the past two years, scoring 39 goals while missing just five games.
"We were able to come to a good deal, and we were both pretty happy about it," Pearson said. "There's obviously a bit of negotiating that had to be done. Other than that, it went pretty smoothly and I'm happy with staying in L.A."
The 24-year-old former first-round draft pick won a Stanley Cup ring in 2014, scoring 12 points in 24 post-season games.
Pearson would have been a restricted free agent this summer, but negotiations on his new deal picked up three weeks ago. Rob Blake replaced Dean Lombardi as the Kings' general manager last month.
Pearson will return to a reconfigured franchise with the Kings, who fired Lombardi and coach Darryl Sutter after winning just one playoff game in the past three seasons. Longtime assistant coach John Stevens replaced Sutter, ensuring continuity along with an increased focus on offence for one of the NHL's most defence-minded teams.
"It will be good to have somebody you know behind the bench to keep us focused on the right things," Pearson said.
Pearson said he hadn't spoken about his contract negotiations with Tyler Toffoli, his fellow young forward and regular linemate in Los Angeles.
Toffoli also will be a restricted free agent this summer after scoring 47 goals in the past two years, including a team-leading 31 goals in the 2015-16 season. His return becomes the top internal off-season priority for Blake, who must figure out how to navigate around several lavish long-term contracts handed out to veterans by Lombardi.
Pearson has scored 103 points in 226 regular-season games for the Kings.
___
Follow Hockey Writer Greg Beacham on Twitter at http://www.twitter.com/gregbeacham
___
More AP NHL: http://apnews.com/tag/NHLhockey