Kotkaniemi's defensive prowess helping drive Habs
The teenage rookie has become one of Montreal's most reliable two-way forwards, helping the Canadiens find tremendous success at the team level when he's on the ice, Travis Yost writes.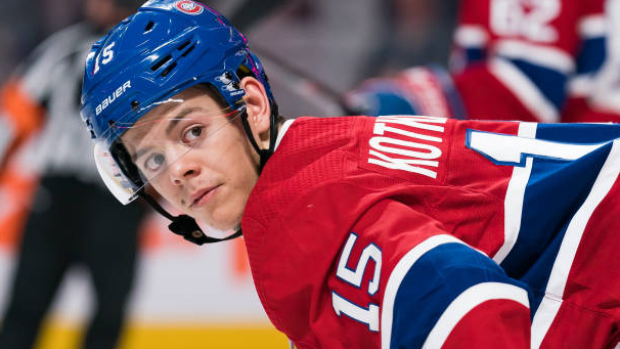 In a season full of positives for the Montreal Canadiens, there may be no bigger story than rookie phenom Jesperi Kotkaniemi.
Making a seamless transition to the National Hockey League is a challenge for any prospect, particularly those who are just 18 years old. But Montreal's third-overall pick in the 2018 draft has accomplished just that, and he's one of the core reasons why Montreal is in playoff contention.
It's worth reiterating just how hard it is to become an NHL regular at 18. A look at the last 10 years of player profiles shows only 10 teenage forwards who were utilized in a way that compares to Kotkaniemi this season. Most of these players, of course, were blue-chip prospects taken early in their respective draft years: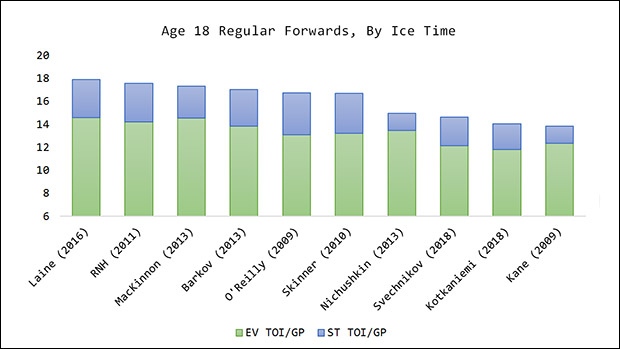 The table is really a proxy for two things: draft pedigree, and the ability to sustain performance when given the ice time. Nine of the 10 forwards were taken in the first round – most within the draft lottery. The lowest-drafted forward in this mix was Ryan O'Reilly at 33rd overall. Kotkaniemi is a couple minutes shy of the clubhouse leaders here – including Patrik Laine and Ryan Nugent-Hopkins – but he's still getting a uniquely heavy workload for a player of his age. (Keep in mind that there were plenty of very talented 18-year-olds who didn't see even a fraction of Kotkaniemi's workload, including Nino Niederreiter, Mika Zibanejad, Filip Forsberg, and Mark Scheifele.)
Usage is just one piece of the equation though. It's clear that Kotkaniemi, like every other player noted above, had buy-in from his coaching staff. But to sustain those minutes in a league this competitive, you need to show results. That's doubly true if you are a part of a roster that's serious about contending for the postseason, where every shift and every minute counts.
That's where Kotkaniemi shines. The individual scoring rates are good for now – he's amassed 11 goals and 21 assists (32 points) in 66 games, which puts him eighth overall on Montreal. But Kotkaniemi's game is deeper than individual rate scoring, and that's a good thing. He's become one of the team's most reliable two-way forwards, and Montreal is enjoying tremendous success at the team level when he is on the ice.
A lot of it has to do with how strong he is defensively. No player on the Montreal roster has a lower goals-against rate (1.8 per 60 minutes) than Kotkaniemi. If you control for goaltending and apply an expected goals against rate based on shot volume and shot quality against, the results stay the same (1.7 goals against per-60 minutes).
Kotkaniemi's expected goal against rate isn't just the best on Montreal - it's the second best in the entire National Hockey League, just behind Minnesota's Marcus Foligno.
Kotkaniemi is so defensively strong that it drives his overall numbers through the proverbial roof. Even with fairly limited offence, Montreal is bludgeoning teams with him on the ice. To summarize: with Kotkaniemi on the ice, Montreal consistently is getting about 60 per cent of the shots and goals. You can't ask for more than that from any player, let alone a teenage rookie: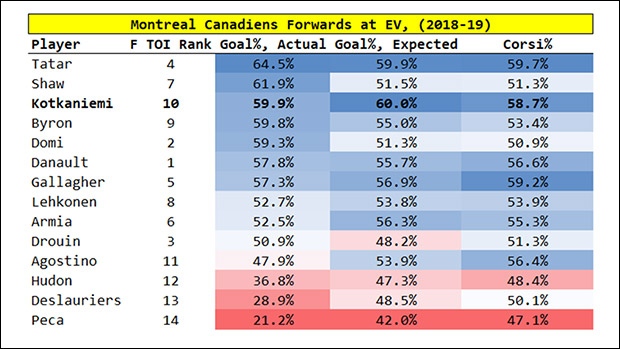 Montreal's numbers are shockingly impressive with him deployed, and there's tremendous value in being able to tilt the ice regardless of where he slots into the lineup.
Interestingly, Claude Julien recently remarked that Kotkaniemi may have hit a bit of a wall of late and gave him a "reset day" last Tuesday against Los Angeles. But the performance is just too strong to ignore for long. Knowing how coaches behave with defensively responsible players as the importance of these games increase (hint: they play them more), you would expect to see Kotkaniemi in heavier minutes as the season progresses.
My advice: let that be the last healthy scratch of Kotkaniemi's 2018-19 season!