Connor's two goals lead Jets past Blackhawks
Kyle Connor scored twice to hit 25 goals for the season, including an empty-netter, and the Winnipeg Jets rebounded from an early deficit for a 6-2 win over the Chicago Blackhawks on Thursday night.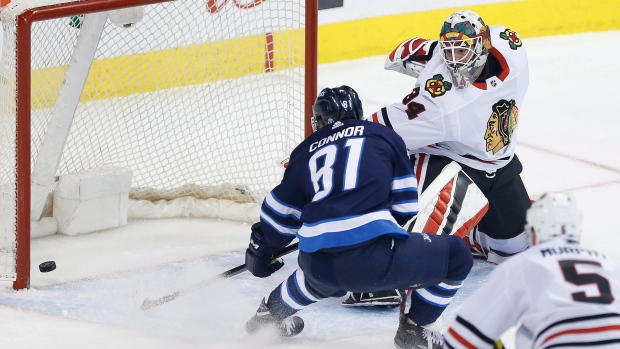 WINNIPEG — Kyle Connor hasn't exceeded his expectations for his rookie NHL season because he never set any.
The 21-year-old Connor scored twice, once into an empty net, to lead the Winnipeg Jets to a 6-2 win over the Chicago Blackhawks on Thursday night to raise his goal total to 25 on the season.
"Going into the season I didn't really set any expectations numbers-wise," said Connor, now with 44 points in 65 games this season. "I just went into it with an open mind and try to work hard and prove every game.
"It feels pretty good. Right now I'm just in the moment."
Bryan Little and Jack Roslovic had a goal and an assist each for the Jets (42-19-10), while Joel Armia and Paul Stastny also scored. Winnipeg goalie Connor Hellebuyck turned away 25 shots, increasing his franchise record for goaltender wins to 36.
"Sometimes the first shot goes in, that's not that big of a deal," said Hellebuyck of Chicago's Brandon Saad, who scored 11 seconds into the game. "I actually prefer it that way so I can shut them out the rest of the way."
Patrick Sharp also scored for Chicago (30-33-8), while Anton Forsberg was pulled from the game after he allowed three goals on six shots. J.F. Berube made 30 saves in two and a half periods of relief.
"It's tough, especially after the initial start of that game, (Saad) scoring that goal as quick as I've seen," said Sharp. "And then it was five unanswered pretty quickly, felt like everything was going in. Leave the puck in a bad area and it's a scoring chance or a goal against. It's a dangerous team over there and a tough first period."
A much longer than usual video review following Saad's goal stemmed from a coach's challenge for a possible offside but the goal stood. The Jets took over from there, chasing Forsberg from the Blackhawks' net.
"You score six, hey, it feels easy," said Jets head coach Paul Maurice. "I don't think we had a lot in the tank. Our drivers worked hard. The guys, Blake (Wheeler) is back-to-back 23-minute nights. A day off, but it's four (games) in six (days) and seven in 12. I thought the compete was good."
Patrick Laine extended his franchise-record point-scoring streak to 14 games with an assist on Stastny's goal. The 19-year-old has 16 goals and eight assists during the span - most of which came during the Jets' recent road trip - helping the 2016 second-overall draft pick earn NHL First Star honours for a second time this season.
Laine leads the NHL in power-play goals with 18, and sits second in goals with 40 on the year.