Lamoriello will not return as Leafs GM
Lou Lamoriello will not return as Toronto Maple Leafs general manager next season. President Brendan Shanahan says the 75-year-old will transition into a senior advisory role as part of an agreement reached when Lamoriello first joined the team.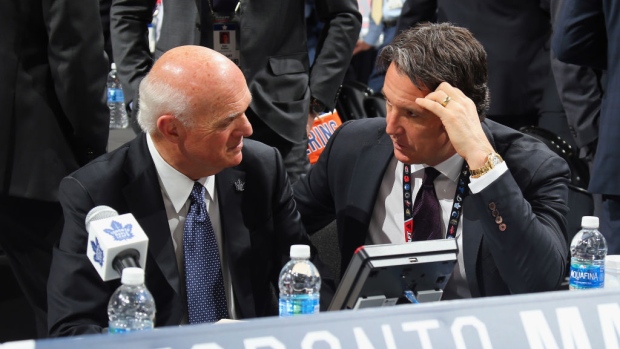 Lou Lamoriello will not return as Toronto Maple Leafs general manager next season.
"Three years ago, Lou and I agreed on a contract that would see him serve as general manager of the Maple Leafs for three years and then transition to senior advisor for the following four years," said Leafs presiden Brendan Shanahan in a release. "This morning I informed Lou that I was not going to deviate from that course of action. I will now focus all of my attention towards making a decision regarding our next general manager."
On a conference call Monday, Lamoriello said he intends to remain with the Leafs in the advisor role.
"My responsibility is right here with the Toronto Maple Leafs... it is my intent to honour that... there are no other thoughts in my mind at this time," Lamoriello said.
A native of Johnston, RI, Lamoriello joined the Leafs after nearly two decades at the helm of the New Jersey Devils. The general manager of the club from 1987 to 2015, Lamoriello was the architect of three Stanley Cup-winning teams in 1995, 2000 and 2003.
"I would like to take this opportunity to thank Lou for his tireless work over the last three years as general manager," Shanahan said. "His leadership in helping establish a cultural foundation, as well as his invaluable mentorship to everyone in this organization, has been instrumental in our development."
The decision to move Lamoriello into an advisory role mirrors the one the team made with Cliff Fletcher in 2008 after the hiring of Brian Burke. Then the interim GM in his second stint with the Leafs, Fletcher transitioned into a senior advisor role, one that he still has to this day.
Among the potential replacements for Lamoriello are the club's current assistant general managers, Kyle Dubas and Mark Hunter. Shanahan said there is no timetable to for when the team will name their next general manager.