Latest on Karlsson sweepstakes
It seems that Erik Karlsson is on his way out of Ottawa. Senators GM Pierre Dorion said Sunday the team offered their star defenceman a contract extension, but have reportedly since given potential suitors the right to negotiate with Karlsson to help facilitate a trade.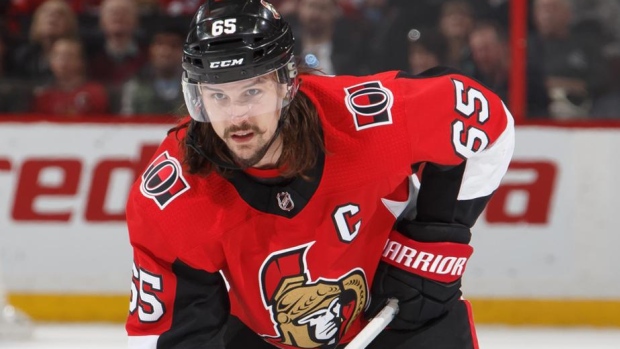 It appears inevitable at this point that Erik Karlsson is on his way out of Ottawa.
Senators general manager Pierre Dorion said Sunday the team offered their star defenceman a contract extension, but have reportedly since given potential suitors the right to negotiate with Karlsson in hopes of landing a better return in a trade.
Bruce Garrioch of the Ottawa Sun reported Tuesday the Vegas Golden Knights, Tampa Bay Lightning, New York Rangers, San Jose Sharks, Columbus Blue Jackets and Dallas Stars have all spoken to the Senators, in some capacity, about acquiring Karlsson.
But Garrioch told TSN's Gino Reda on Wednesday that the biggest issue now is the Senators' desire for forward Bobby Ryan be included in any Karlsson deal, which is proving to limit their options.
"If the Senators want a deal where Bobby Ryan is involved in it, then they're going to limit the return that they're going to get and they know that that's going to be the case," Garrioch explained. "If [the Senators] want to open the market a little bit and get a higher return for a franchise player, then they're going to have to do a deal without Bobby Ryan involved and that's an option for them as well, but they have to decide here, sometime in the near future, what kind of deal they want to do, what kind of return they want to get and if they want to get a higher return, then they probably have to take out Bobby Ryan."
Garrioch believes that the Vegas Golden Knights are the only possible destination for Karlsson that would be willing to take on the four years and $29 million remaining on Ryan's contract, but if the Senators want a higher return on Karlsson that doesn't package in the veteran winger, it seems to be down to three teams.
"I think we're down to a three-horse race here between the Vegas Golden Knights, the Tampa Bay Lightning and the Dallas Stars," Garrioch told Reda. "In the case of [the Lightning] and [the Golden Knights], they've been in this since the trade deadline and I believe they've had discussions with Karlsson's camp, certainly about a contract extension, and what they're looking at, but as far as the Stars are concerned, they came into this kind of late because they wanted to see what happened with John Tavares and I don't think they've had any discussions with Karlsson's camp yet, but I think they're very serious as well. Clearly the Senators have to determine if they're going to get enough in return and to me, that has to happen soon."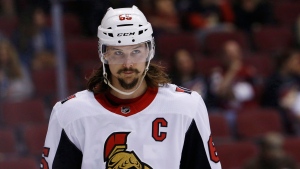 Chris Stevenson of The Athletic and TSN 1200 reported earlier in the day that the Stars had emerged as the front-runner to land Karlsson, but the two sides still had work to do. Stevenson, citing a source, said the Senators had focused on receiving 2017 third overall pick Miro Heiskanen back, while Dallas preferred to part with 2014 first-round pick Julius Honka. Honka, 22, appeared in 42 games with the Stars last season, posting one goal and four points. Heiskanen was named defenceman of the year in Finland's Liiga last season and Stars general manager Jim Nill has expressed optimism he could join the team's lineup this fall.
The Stars were among the teams chasing John Tavares last week and therefore appear to be prepared to add a cap hit of $11 million, or more, in the future by acquiring Karlsson. The team is also expected to extend centre Tyler Seguin this summer for an AAV north of $10 million. Since Karlsson will only carry of cap charge of $6.5 million this season, the teams could add him to their roster and afford to keep Jason Spezza's hefty $7.5 million expiring contract on their roster.
Acquiring Karlsson would give the Stars two of the league's top offensive defenceman, with fellow Swede John Klingberg leading all blueliners in assists last season.
The Golden Knights pursuit of Karlsson is nothing new since the team fell just shy of acquiring him, along with Bobby Ryan, in a deal at the trade deadline. David Schoen of the Las Vegas Review-Journal believes the Golden Knights offer for Karlsson would include defenceman Shea Theodore, a prospect and draft picks. Schoen notes the team could throw in another player if the Senators fall below the cap floor in the deal.
Theodore, 22, was acquired by the Golden Knights last summer in an expansion draft trade with the Anaheim Ducks. The promising blueliner had six goals and 29 points in 61 regular season games, and added three goals and 10 points in 20 playoff contests.
"We're sitting there now trying to decide – again, we kept our young assets, all of our draft picks – and we're trying to decide do we make another move now or not?" Golden Knights general manager George McPhee said Sunday, per the Review-Journal. "Is the right move there to make us even better? We'll have to decide that in the next few weeks."
Garrioch wrote Tuesday that the New York Rangers appear to have backed off in their pursuit of Karlsson, while the New York Islanders could still make their pitch.
As for a timeline, Garrioch reports the Senators are in no rush to deal their captain and Dorion will wait until he gets the package he wants to move Karlsson.