Leafs' back-up goaltending battle could heat up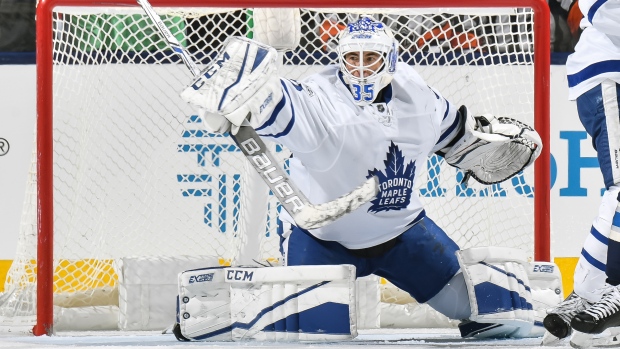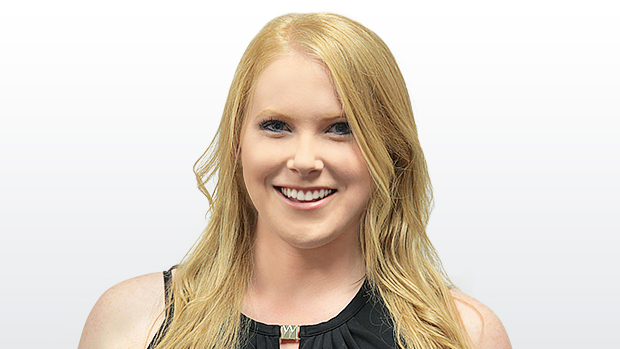 The last thing the Toronto Maple Leafs need is to start this coming season with one of the primary problems they had last fall: lacking a back-up goaltender they could trust.
In 2016, that player was Jhonas Enroth, an offseason signee meant to be Frederik Andersen's back-up for the year before losing all four of his first starts and winding up on waivers. When Toronto inked Curtis McElhinney to a two-year, $1.7 million contract in the offseason, it seemed they were on track to avoid a similar fate this fall. But his performance Monday night in the Leafs' first preseason game of the season, a 6-2 loss to the Ottawa Senators, may have cracked open the door to a wider goalie competition here in Leafs' training camp.
As head coach Mike Babcock mentioned on Sunday, the preseason is less about evaluating from a team perspective as it is evaluating individuals. McElhinney is now in his second go-around with Toronto after being acquired on waivers from Columbus last January and posting a 6-7-0 in 14 games from there, with a 2.85 goals against average and .914 save percentage. He got the call to start in net Monday and didn't show well from the outset, allowing four goals on nine shots in the first period. Like everyone else on the ice it was his first game action in months, but the veteran of 168 NHL games looked especially rusty in his positioning, like on Mike Hoffman's second of the game (Ottawa's third) when he was down too early outside the crease challenging, and giving Hoffman the top of the net to exploit.
McElhinney finished the game with eight saves on 12 shots before being replaced halfway through the second period by Garret Sparks, a customary move in exhibition play. Sparks appeared in 31 AHL games last season with a 2.16 goals against average and .922 save percentage while dealing with a number of injuries. He didn't fare much better coming in cold against the Senators, giving up two goals in a 1:25 span of the second period and showing his own struggles overcommitting to the puck. But Sparks settled in by the third and played well as he closed the door through the final 20 minutes, ending up with 12 saves on 14 shots in the loss.
It would be decidedly premature to dismiss McElhinney after he played poorly over 32 minutes of the preseason and he will have more opportunities to prove himself. Just as he was readjusting to being in the crease against Ottawa, the entire Leafs' defence in front of him was playing with new partners for the first time and experiencing a few necessary growing pains.
On the back-end, Morgan Rielly was testing the waters with the 11th partner of his young NHL career in Ron Hainsey. Connor Carrick was skating with Swedish signee Calle Rosen and then rookie Travis Dermott, and Timothy Liljegren was playing in his first NHL game of any kind with Dermott and then Rosen. Carrick had an especially rough outing, finishing minus-three; he also saw the least ice time among blue liners at 15:46. No one on defence finished better than minus-one.
When it was all said and done, the Leafs ended up being penalized for as many face-off violations (two) as they scored goals. The league is cracking down on players encroaching into the circle on draws, and both Dominic Moore and Connor Brown were called for offences; Ottawa was called for one too.
Babcock and the players were clearly frustrated with the calls, but those penalties were the least of the Leafs' worries on the ice. They will get back to work on Tuesday at training camp, and prepare for the second night of a back-to-back with the Senators where Andersen and Kasimir Kaskisuo are projected to split goaltending duties. For Kaskisuo, building on an impressive AHL playoff run last fall and strong rookie tournament performance earlier this month, it will be a chance to start making his case for why he should be thought of as a back-up-in-waiting for the Leafs.
Back in the saddle
There weren't many bright spots for the Leafs in Monday's loss, but the play of Auston Matthews and William Nylander was the biggest one. The two picked up where they left off in April, exhibiting incredible chemistry and dominating in the offensive zone nearly every shift. It's no surprise they accounted for the Leafs' only two goals, both on the power play. With the speed and strength on the puck they were showing, Matthews' line is poised to once again give teams fits.
Solid debut
In his first taste of NHL-calibre action, Liljegren played about as well as could be expected. He showed off good vision on the ice with breakout passes and overall his first passes were strong. He also showed off his offensive side with some quality work down low around the net. The final score wasn't the result Liljegren was hoping for, but he held his own against some of the toughest competition he's faced and that should serve to boost his confidence.