Leafs' Brown likely to give No. 12 to Marleau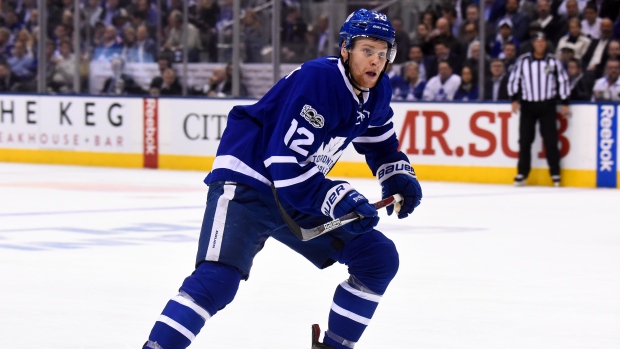 Connor Brown will likely have a new number to go along with a new contract this season with the Toronto Maple Leafs.
According to Lance Hornby of the Toronto Sun, Brown has had the No. 28 on his helmet during on-ice workouts this summer and is expected to give up his No. 12, which he's worn since debuting in March 2016, to veteran addition Patrick Marleau.
"It's a matter of respect," Brown told Hornby of Marleau's stature as a 19-year NHL veteran.
Brown remains a restricted free agent, one of 17 in the league yet to re-sign this summer after receiving a qualifying offer, but said earlier this month he wasn't stressing over the situation.
The 23-year-old scored 20 goals and added 16 assists in 82 games as a rookie last season. He posted one assist in the team's first-round playoff series against the Washington Capitals.
As Hornby points out, the No. 28, which Brown wore at the OHL level with the Erie Otters, was donned by Kasperi Kapanen last season.
Marleau signed a three-year, $18.75 million contract with the Leafs last month. He wore No. 14 for his first four seasons in the league before switching to No. 12 ahead of the 2001-02 season.